Original Hogwarts Express Pulling Into Leavesden Studio Tour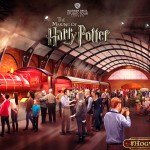 Jan 26, 2015
Warner Bros. Studio Tour London announced today that it will be bringing the original Hogawarts Express to its space this spring, allowing users to board the actual train used for filming one of the most iconic scenes in the Harry Potter films.
This will come as part of a 20,000 square foot expansion as well as a recreation of Platform 9 3/4. The new permanent section will also include a chance to pose with a luggage trolley as it disappears through the platform wall (the look of which, fans who've been to London will recognize, will likely differ greatly than the Kings' Cross photo op offered tourists today).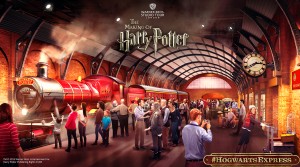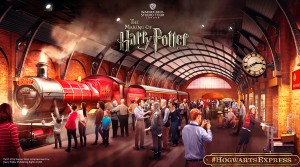 The train, British steam train no. 5972 ('Olton Hall'), was used for the very last scene shot for the films – of the epilogue, featuring Harry, Ron and Hermione sending their kids off to school. It was filmed on a soundstage, running the full 100-acre length of the backlot. The 78-year-old engine will be displayed on a realistic set of tracks, complete with billowing steam.
The attraction will also recreate the platform's glass roof, yellow brick walls and luggage racks, designed by production designer Stuart Craig and reassembled by a team of the original craftsmen.
Visitors may walk along the corridor and sit in the original carriage seen in the first film. Video "windows" will show the process used to create the train scenes from the flims. A selection of prop luggage will be on show and visitors can find out which character owned which items by turning an interactive dial (characters include Hermione Granger, Draco Malfoy, Luna Lovegood and more). A train-themed souvenir shop will also be open on the platform, stocking a wide range of goodies inspired by the Harry Potter films and, specifically, the Hogwarts Express.
Stuart Craig said:
"The Hogwarts Express was the setting for many iconic scenes, from Harry, Hermione and Ron's first meeting in Harry Potter and the Philosopher's Stone to the moment the trio's children embark on their first journey to school 26 years later. The wizarding world doesn't have a need for modern technology so we knew a traditional steam engine would make the perfect school train. Before we began filming in 2000, we scoured the country and found 'Olton Hall' at a preservation centre in Lancashire; realising pretty quickly that it was exactly what we had been looking for."
The new section opens March 19 and will be included in the standard ticket price.
Tell us what you think of the new expansion in the comments below!