Leaky Cauldron Restaurant Needs Your Vote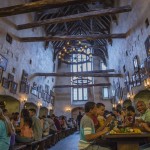 Jun 26, 2015
The Leaky Cauldron at Wizarding World of Harry Potter – Diagon Alley needs your vote to be ranked Best Amusement Park Restaurant.  USA Today has nominated 20 restaurants from theme parks across the United States and is asking readers to select their favorite to create a ranked list.  As of this morning, the Leaky Cauldron is ranked #2.
Harry Potter fans will love tasty British fare, such as fish and chips, cottage pie and bangers and mash at this pub located in Diagon Alley. The Leaky Cauldron was carefully-crafted to ensure authenticity after years of studying Harry Potter books and movies as well as typical British pubs. Of course, Butterbeer — the popular wizarding beverage — is available for purchase.
Several of our Leaky Cauldron staff have good things to say about the restaurant.  Emma Pocock says, "The Leaky Cauldron has a great atmosphere, and really adds to the 'English village' vibe they've got going in this section of the park – the food is great, too! It really feels like you're walking into the real thing, but the weather's probably hotter."
Alysha McLeod writes, "Stepping into The Leaky Cauldron is like being whisked into Harry's world by a portkey. The atmosphere is incredible, and the food is wonderful. It's a nice change of pace from most theme park food–everything is so comforting and homemade-tasting. The Yorkshire pudding and minted peas were a particular highlight for me."
Finally, Catherine writes, "When eating at the Leaky Cauldron, I found myself expecting to see Harry, Ron and Hermione, sitting at a table in the corner, huddled away with their glasses of Butterbeer. The extraordinary attention to detail makes one feel as if they have actually stepped into the world of Harry Potter; with every glance around the room I found something new. The family atmosphere, excellent witches and wizard on the wait staff, and good English food made the Leaky Cauldron exactly how I imagined it would be. One of the best parts of my visit to Diagon Alley was enjoying a Butterbeer at the Leaky Cauldron (and hugging the cracked Cauldron, of course). On my last night in Diagon Alley, as the park was closing, I specifically bought a Butterbeer from the near-empty Leaky Cauldron restaurant, and sat on the window sill, watching muggles and magical folk trickle back though the brick wall, while the music and the lights remained alive. It was a truly magical experience, and The Leaky Cauldron deserve to be voted America's #1 Theme Park Restaurant."
Each person can vote once daily until July 7 to support the Leaky Cauldron restaurant.  Thanks Robert Martinez Jr. and Marianella Zapata Noriega for letting us know that our shared namesake has made this list!
See here to cast your vote.