"Bringing the Films to the Wizarding World of Harry Potter" Q&A with the Universal Orlando Creative Team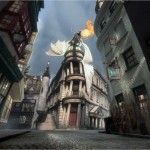 Jan 31, 2016
The final live stream from Universal Orlando's A Celebration of Harry Potter was broadcast today. The live Q&A featured a panel of members from Universal Orlando's creative team, who were there to talk about bringing the magic and wonder of the films to life in the theme park. The live stream itself was quite short, and can be watched below.
https://www.periscope.tv/w/1YqGozLMBWlKv
Today's Q&A related to yesterday's prop discussion in that many of the props used in the films were recreated for the theme park. A few fascinating tidbits were revealed, including that there are 106,000 props in the theme park version of Diagon Alley, and 29-30,000 in Hogsmeade. Universal Orlando's official Twitter account also posted a few interesting pieces of information during and after the live stream: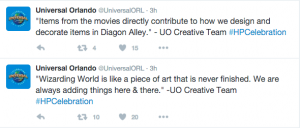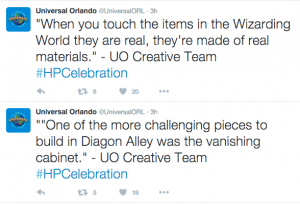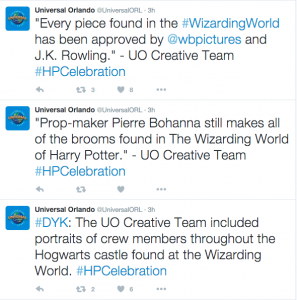 This panel discussion marked the final official event of A Celebration of Harry Potter, but if you'd like to relive some of the glorious details from this magical weekend, take a peek at Pottermore's highlights.