Dame Maggie Smith's interview with 'The Evening Standard' on winning Best Actress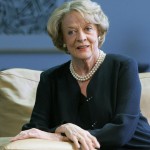 Feb 12, 2016
Last Sunday, Dame Maggie Smith was named Best Actress at the Evening Standard British Film Awards for The Lady in the Van. The Evening Standard caught up with Dame Smith to talk about Sunday's awards and her wide-ranging career.
On her latest win, Smith remained modest as ever, highlighting the brilliance of the actresses she was up against:
"Quite honestly, the things one was up against, it doesn't seem fair," she says. "Brooklyn [starring Saoirse Ronan], and 45 Years in which Charlotte [Rampling] was so terrific, and Sicario [with Emily Blunt], although I didn't really get that…" 

She puts on a Uriah Heep voice: "I just feel ever so 'umble. It does seem awfully unfair and I can't help feeling it's because I am so old."
The interview developed more on recent interviews about Smith's early career conducted by LA Times (read here) and CBS News (here). Smith tells more about her portrayal of The Lady in the Van's Mary Shepherd in Nicholas Hytner's West End production in 1999, alongside writer Alan Bennett:
"I was fascinated by the mystery of her," says Smith. "And of Alan, the way he coped with it and put up with her. I don't know who was the oddest. You just wonder where her head was. You think 'confused' but she was very clear in what she thought, trying to form these political parties and writing letters to [Seventies TV personality] Eamonn Andrews and all that. 

"As I have got older I wonder how the hell she did it. Honest to God, the filming finished me off and that was sort of deluxe. The van was… cleansed from time to time." She couldn't have been the Good Samaritan Bennett was, she says.

A film was immediately mooted in 1999 — "the material is actually more filmic" — but for some reason was only made 15 years later. "Whether it was just that Alan decided he wanted to do it, or Nick nagged him, I don't know," says Smith. "It certainly wasn't me! I didn't go on about it at all. But I was very pleased to sort of finish her off in a way." 
The loss of Alan Rickman is also mentioned in the interview, along with the recent passing of Frank Finlay – another member of the first National Theatre company in 1962. Smith starred as Desdemona alongside Finlay (who portrayed Iago) in Laurence Oliver's Othello:
"One night dear Frank came off stage and he flew to the prompt corner and started tearing at his eyes, like Oedipus," she recalls. "I got very worried, and went over, and said 'Are you all right?'. He had terribly bad sight, Frank, and was wearing contact lenses, which he never normally wore, and he said: 'I've just seen Sir Laurence for the first time! And I never want to do it again.'" 

She gives a husky laugh, then says: "You get a bit wobbly, you know, when you get to a certain age. It [mortality] seems to be too near."
For the first time in her career, Maggie Smith has found herself a lot less busy, and whilst The Evening Standard picks up on the fact that she hasn't much relished the fame brought on by her roles in Potter and Downton, Smith still finds the quietness 'weird':
Margaret Natalie Smith was born in Romford but moved to Oxford aged four, her father a pathologist and her mother a secretary who thought young Maggie would never work on stage "with a face like that". Actually, Smith says, she benefited from not being a "juve", or ingénue, and has worked constantly, though latterly she's been stuck playing "'orrible old women". This is the first time in her career that she hasn't had a job to go to, "and it's weird, because suddenly there is no shape to anything".
On the prospect of taking up future work, Smith says 'big TV shows' are out of the option, but on a role in film, she retains her sense of humour and answers:
"I can't think what the part would be, can you?" she says. "It'll be another old bag won't it, hurr-hurr-hurr."
Smith tends to keep her personal life away from the press, but her spoke briefly about her marriages:
Smith was married to the fiery but rackety actor Robert Stephens for seven years and they had two sons, Toby Stephens and Chris Larkin, both actors "and both out in South Africa at the moment, can you believe, doing this thing called Black Sails, being piratical". 

After her divorce from Stephens in 1974 she married playwright Beverley Cross in 1975. He died in 1998; Robert Stephens had died in 1995. Smith says it doesn't get any easier being on her own, especially when fans intrude. But she doesn't think she'll enjoy an autumnal romance like the one her friend Judi Dench is having: "No, I don't think I would get that lucky. I don't think I would find anybody who would come anywhere near Bev."
Given how rare interviews with Dame Maggie are, we're very lucky to have had so many recently! Read the rest of the interview here, and make sure you catch her latest award-winning performance in The Lady in the Van.