The Secrets Behind Half-Giant Hagrid to be Revealed at WB London Studio Tour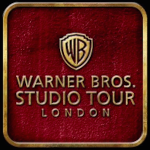 Feb 23, 2016
In honor of the 15th Anniversary of the first Harry Potter film, Warner Bros. Studio Tour London, The Making of Harry Potter, has been hosting a series of special events. Having just wrapped up their "Welcome to Hogwarts" special feature, yesterday, the studio is looking forward to new surprises. "The Secrets Behind Half-Giant Hagrid"  is next and coming soon, just in time for Easter vacationers!
Hagrid, one of the Harry Potter series most lovable characters, and a large part of the series since his appearance in the first chapter of Philosopher/Sorcerer's Stone, was played by Robby Coltrane in the Harry Potter films. Robby, being 6′ 1″, may seem like a giant to most of us averaged height muggles, but Hagrid was even bigger! For their next 15th Anniversary special exhibit, Warner Bros. will be revealing the secrets behind what made our lovable half-giant on screen. A new press release describing this exiting opportunity was released by Warner Bros, and reports:
"This Easter, a huge surprise is in store for film fans as Warner Bros. Studio Tour London reveals the colossal efforts taken by producers, costume designers and the special effects teams to create Hogwarts' famous groundskeeper – Rubeus Hagrid. The character who reveals the wizarding world to Harry Potter is celebrated during a special feature where lovers of the film series can understand what went into bringing this half-giant to life on screen.

"From March 25th to April 17th 2016, visitors to the Studio Tour will see the costumes worn by Harry's gargantuan guardian and find out how they turned 6'1" Robbie Coltrane into the half-giant Hagrid. During production two costumes were created for Hagrid, one which was worn by Coltrane and the other which was made 25 per cent larger and used by 6'10'' England rugby star Martin Bayfield who appeared as Hagrid in scenes where he needed to be bigger than the setting around him. 

"In order to exaggerate Bayfield's already significant frame, his suit was adapted to increase his size. As well as his complete costume, a deconstructed version will be featured at the Studio Tour showing the techniques used to create the gigantic character. As Bayfield had to wear the outfit for extended periods a special cooling system was incorporated to help him cope with the heat. Tubes were stitched into the fabric which had cold water running through them to bring down the temperature.

"As fans of the first film will remember, Hagrid wears an oversized coat made from moleskin. As the costume department wanted to stay true to the description, they cut imitation fur into mole shapes and sewed them together, each complete with tiny ears and tails.

"In addition to Hagrid costumes, filmmaking experts from Nick Dudman's team will be working in the Creature Effects department. One of the early encounters that Harry has with Hagrid is a trip to the vaults of Gringott's and the team will be demonstrating techniques used to create the prosthetic masks worn by Goblins at Gringott's bank. Made from silicon, each one was given a particular personality to ensure they all looked different."
The exciting new Half-Giant Hagrid exhibit will run for three weeks, from March 25- April 17, 2016. Tickets to the WB Studio Tour London can be pre-booked/purchased here. If you plan on going to the event, please share your experiences with us!