UPDATED: Pottermore, BuzzFeed Reveals Cover Art fro Illustrated Chamber of Secrets!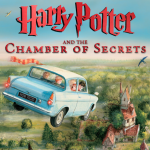 Mar 30, 2016
BuzzFeed exclusively revealed a first look at Jim Kay's new work on the illustrated edition of Harry Potter and the Chamber of  Secrets. The pop-culture news site revealed the cover art, as well as one beautiful diagrammed image of a Phoenix.
Please take a look at the new images below. Visit the original BuzzFeed article here.
Pottermore also released more exclusive images for the newest illustrated Harry Potter book. Of the new illustrations, Pottermore writes:
From a comprehensive da Vinci-esque study of Mandrakes, to an exquisitely detailed portrait of Rubeus Hagrid, we can now take a look at a few of the exclusive pages from his latest illustrated edition – and we suspect you may enjoy them.

The book will feature 115 new colour images, and is to be published in more than 21 languages around the world, so as many people as possible can enjoy Kay's artwork.

Fans can also expect Kay's take on the pesky, potato-headed gnomes that cause the Weasley's endless stress at the Burrow, a beautiful illustration of a female phoenix, and an ethereal take on the towering Hogwarts castle at night. The front cover, much like the original, features Mr Weasley's iconic flying Ford Anglia.
A couple of the new images can be seen below. To see more images and read the original Pottermore article, please click here. Jim Kay's illustrated edition of Harry Potter and the Chamber of Secrets hits shelves October 4, 2016.