'Fantastic Beasts' Expansions on the Horizon for Wizarding World Parks?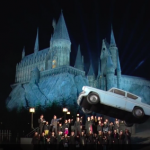 Apr 25, 2016
SnitchSeeker recently released an exclusive interview with Universal Parks and Resort's SVP of Creative, Thierry Coup, from The Wizarding World of Harry Potter in Universal Studios Hollywood. SnitchSeeker discussed the possibility of a Wizarding World  in the U.K., potential Fantastic Beasts expansions to the parks, and ideas for new attractions.
On a Wizarding World in the U.K:
"It's not in England yet, but Warner Bros does have a Harry Potter experience at the original studio, which is more behind-the-scenes of the sets and the movies. It's very cool and it's authentic to what it was. So, so far we feel it hasn't been a problem for us. We get a lot of guests from the UK coming to Orlando. They really love coming to Orlando and then all of a sudden being transported to Scotland. It works very well. It's what we do. We place our guests in the middle of the stories."
On possible Fantastic Beasts additions to the parks: 
" We think Fantastic Beasts has great potential, just like the first books did and the first movies. We haven't really gone too deep into figuring out what to do yet, but we can't wait to see and to collaborate with the production to see what the movies are about. For now, there's so much to explore already in the existing Wizarding World – so much to discover there. 

What we've done is taken the stories in the books and the movies and leveraged all the depth of storytelling. So every time you come here you feel that you can discover something new. And when the time is right, why not? If Fantastic Beasts looks like it could be another great theme park experience, why not?"
And on other ideas for further expansions (the Wizarding World could be an entire theme park in itself!):

SnitchSeeker: When Diagon Alley opened a few years ago, the actors were asked what they would like to add in as an expansion. Tom Felton mentioned he wanted Malfoy Manor. Bonnie Wright said she wanted a Quidditch pitch.experience. Are there any ideas for a new attraction?


Thierry: Currently, when you go on the Hogwarts Express in Orlando, you actually do see the Malfoy Manor. And in Forbidden Journey you go into the Quidditch pitch. So we've tried to bring all those iconic places already, whether they're through the use of film media or sets. But we always listen to our guests. We always want to make sure that we create the next best immersive experience for them. So, I can't say no or yes to that question, but why not?

SnitchSeeker: Do you have one place in the Wizarding World that you'd like to create and see come to life?


Thierry: I would say the Ministry of Magic has always been my favorite place. If we can find a way, sure. Why not? Again, I think we have so many incredible places, we couldn't bring all of them to the guests. What we did with J.K. Rowling and the filmmakers is we selected the 'best of' and the ones that were the most popular. 

I think Harry Potter and the stories are so timeless, there could be a lot more coming in the future. But for now, again, there's so much to explore with what we've created. Our guests can come back again and again and keep seeing new things. And we may add a few elements here and there just to surprise them. It's part of the fun.
We're glad to see that the SVP is open to ideas – the Diagon Alley addition has been a huge success, and Hollywood's Wizarding World had a fantastic opening. We can't wait to hear what's next!
Read the full interview over at SnitchSeeker here, or watch it below: