19th Anniversary of "Harry Potter and the Philosopher's Stone" Book Release in the UK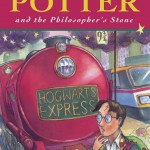 Jun 26, 2016
On June 26, 1997–nineteen years ago today–Harry Potter and the Philosopher's Stone was first published in the UK. It's hard to believe it's been nearly two decades since the story of our favorite boy wizard was first released in print!
Let's revisit a few interesting facts about the first Harry Potter book's journey to publication:
Jo first had the idea for Harry Potter during a delayed train ride from Manchester to London. Being without a pen, she mulled over the story in her mind for hours until she was able to write down her ideas.
The nom de plume "J.K. Rowling" was chosen after being told that the books would be more successful if written under a gender-neutral pen name. The "K" comes from her grandmother, Kathleen, as Jo doesn't actually have a middle name.
Philosopher's Stone was rejected numerous times before Bloomsbury made the decision to pick it up for publication.


.@babymegs_ Loads! First publisher to turn down Harry also sent @RGalbraith his rudest rejection. They don't even want me in a beard.

— J.K. Rowling (@jk_rowling) March 23, 2015
To quote Eden Ross Lipson, the children's book editor of the New York Times:
 "It's unprecedented in American children's books. It's unprecedented in English children's books. There's nothing that compares to the velocity of the success of Harry Potter."
From books to films, video games, plays, and everything in-between, we're proud to see that the world's love for the wizarding world is still going strong. Let's raise our wands and make a toast to The Boy Who Lived!