Twitter and the Fantastic Beasts Stickers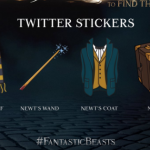 Aug 29, 2016
Fantastic Beasts and Where to Find Them is getting closer and closer. With the November 18th release of the film coming around in a couple months, Fantastic Beasts social media is trying to keep things interesting. Last week, Fantastic Beasts social media announced the chance for Harry Potter fans to win signed prizes on their Wizarding Wednesdays. This week, Fantastic Beasts social media made it possible to add wizard-related stickers to your tweets:
For the first time ever, you can now add a little magic to your tweet with #FantasticBeasts stickers #StickTogetherpic.twitter.com/9uJQHK1E3S

— Fantastic Beasts (@FantasticBeasts) August 29, 2016
Next time, when  you are uploading a photo from your camera role to your twitter, click the little smilie in the bottom right corner to add stickers, and there you will find Newt's scarf, coat, wand, and brief case! We can't wait to see if the Twitter Queen, J.K. Rowling adorns a sticker. Happy Tweeting!