First Look at Matthew Lewis in 'Unfaithful'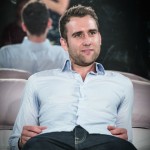 Aug 30, 2016
Matthew Lewis features in recently released production images for dark comedy play, Unfaithful.
According to Whats On Stage, the play is "a dark comedy about relationships on the brink". The production is directed by Adam Penford, written by Owen McCafferty, and first played at the Traverse Theatre at the 2014 Fringe festival in Edinburgh.
London Theatre gives a small synopsis of the play:
"Tom is enjoying a quiet pint after work. Tara lies awake whilst her boyfriend finishes his shift. When their paths cross, a spark is ignited that reveals the hidden truths of two tangled relationships; the unspoken desires, the piercing regrets, and the postponed conversations."
See photos of Matt in the production below:
You can view the full set of production images here. Posters featuring Matt Lewis were also released last month, which you can view here.
The play will run at Found111 from 31 August to 8 October and also stars Sean Campion (Stones in His Pockets), Niamh Cusack (The Winter's Tale) and Ruta Gedmintas (The Tudors).
Find out more and buy tickets to the show here.