Helena Bonham Carter: Howards End and More!
Aug 31, 2016
The 1992 movie Howards End, about the wealthy Wilcox family's estate and who will inherit the house that has become the object of everyones desire, was rereleased recently in New York and it set to do the same in Los Angeles on September 2nd. Helena Bonham Carter, who portrays one of the Schlegel sisters, Helen, sat down with Architectural Digest to talk about her memories of making the film.
Helena speaks highly about the film, calling it a classic. She believes it still holds relevance, even today. "There are things that don't change in humanity—the lack of tolerance, the class disparity—so the central messages remain true." She explains. She not only speaks highly of the film itself, but also the time spent creating it. Helena tells that the process of making the film was very enjoyable, that she had a very happy time throughout the production.
When asked if there was any memory she had of set that was particularly mad, she recounts a time that she had trouble with a prop. "I was terrible with props—I still am," Helena says. She explains that there was a lot of rain involved, so there was a scene where she had to walk across the square and then back into a doorway with an umbrella. But the umbrella was being quite difficult, it may sound easy but Helena had a frustrating time trying to keep the umbrella from turning out and getting it through the door in a timely manner.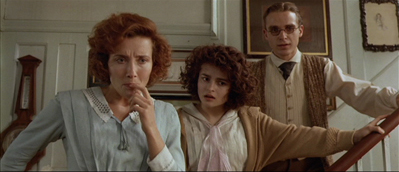 The interview then strays a bit from Howards End and into Helena's personal life. Since the movie revolved mostly around Howards End house and its aesthetic, Helena was asked about the architecture and decor of her own house. She describes it as a group of artists studios, resembling lofts. The house was built in 1800 and actually commissioned by artists. "Most people who come to the house think it's basically a film set I've created."
It's a bit of Wonderland. I think one thing I've taken from acting is that if you have an environment that helps you, it can change your life. It can change your outlook; it can make you happy or make you fantasize. I've always felt that because I use my imagination in my work life. As you grow up, you often forget it. But we have to live with imagination. It's a gift, and I try to teach my children to live with imagination. You don't have to let go of it just because you've grown up. My house looks as if it should be in a book, frankly, or should be in a make-believe land.
I feel as if, the way she describes it, Helena's house is just as I'd imagine it to be. Less of a house and more of a reflection of her personality.
Helena admits that she inadvertently collects accessories, mostly hats and shoes. "My mother always said, 'You've only got one head, you know.'" She says that whenever a friends needs a costume, they always come to shop in her closet due to the amount of things that she has.
The interview ends with a question that is impossible to get wrong, thought Helena still begins her response with "I think I am going to get this wrong." The question was: what famous person living or dead, would you invite to a dinner party? Helena responds right away with Shakespeare. She says she's always wanted to know who he was and how he did it all (or even if he did it).
Helena Bonham Carter and is an extremely interesting woman. I am never bored nor disappointed when reading her interviews.
Read the complete interview here.