Pottercast Episode #262 – LeakyCon 2016!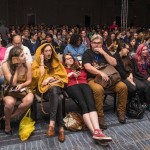 Oct 29, 2016
Pottercast came together at LeakyCon 2016 to bring Potter fans a chance to be apart of a live recording of Leaky's official podcast! LeakyCon just wrapped up another exciting, event-packed Harry Potter conference in Burbank (Lost Angeles), California.
This Pottercast hit iTunes feeds Wednesday, earlier this week. The description is as follows: "Witches, wizards, warlocks and magical creatures of LeakyCon 2016 join the cast of PotterCast in Los Angeles, California for an emotional and far reaching discussion on the current state of affairs in J.K. Rowling's Wizarding World and what its future holds for us all!" (Disclaimer, due to technology issues, a backup recording had to be used, and may sound a little echo-y.)
The live podcast got off to a slow start after a rock out with Wizard Wrock bands, such as Harry and the Potters, and a reunion of the Parsel Mouths. Melissa even joined Harry and the Potters to play a little keyboard!
Melissa recaps her experience of watching the first 10 minutes of the film, and the podcasters discuss a possible Grindelwald within Fantastic Beasts, Grindelwald's hair, VFX improvements (even since the last Harry Potter film), and the subject turned to MACUSA, Cursed Child and a Time Lord Dumbledore.
Debate about Cursed Child's fit within canon or not resumed, bringing about a venting session for Cursed Child therapy. The crazy, pumpkin-pastey bomb-throwing Trolley Witch received a lot of talk time–really, where was she in the Battle of Hogwarts?
The podcasters eventually looped back to the topic they had decided to focus on–the inconsistencies in the MACUSA backstories on Pottermore. American history just doesn't match up. The podcasters discuss the mixed up dates, and whether or not glaring errors were purposeful or a mistake, and managed to bring in the magical Benjamin Franklin. This also brought about a discussion on building and expanding the wizarding world.
The podcasters then decided to open up Q&A for the remainder of their time. Many great questions were asked about Melissa and her work with Pottermore, Ilvermorny lore, Voldything's babies, Voting on questions for Jo (that we just need answered), The Dep of Mysteries, Triwizard portkey, Who was the Cursed Child anyway?, What if voldy drank a love potion (a hilarious question from Andrew, our LeakyCon mainstage manager!), Why didn't Voldemort simply kill Harry, What if you drank your own love potion, Nagini and Animagi, Favorites and problems with the films.
The podcasters had fun taking these questions in so many different, ridiculous directions. The latest episode is now on iTunes!