Happy Birthday, Molly Weasley!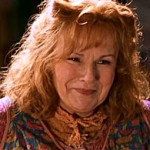 Oct 30, 2016
Today (30th October) we celebrate the birthday of one of the strongest and most giving, loving women in the Potter series: Molly Weasley!
Not only is Mrs Weasley a great mother, but a talented multi-tasker, clearly has a knack for crafts (I bet she could help me to knit my own Ravenclaw scarf!), a fighter – as we saw with her encounter with Bellatrix Lestrange – and an all-round wonderful, admirable woman. She took in Harry without question; she definitely deserves a statue of some sorts!
Join us here at Leaky in wishing a very happy birthday to one of our favourite witches!
---
NOTE TO READERS:
The Leaky Cauldron is searching for intern writers! If you'd like to take a glimpse at what it's like to share Potter news to a global audience, write about Cursed Childand Fantastic Beasts news and develop your writing and teamwork skills, please write a sample news article and a cover letter, and send it to [email protected]
Please note: this position takes up to around 5 hours a week and is voluntary, but you get to be a part of a #1 Harry Potter fansite, with a long history and an exciting future ahead – so many new stories are just around the corner!
We are also looking for volunteer editors. This position involves working with other editors and helping to oversee a team of around 15-20 writers to ensure Leaky is posting news promptly and updating social media where appropriate.
We'd love to hear from you and get more people on board, so please send in your applications by Saturday November 5th. Applications take a while to get through, so don't be discouraged if you don't hear from us for a couple of weeks – we'll get back to you ASAP!