J.K. Rowling Twitter Round-Up: 'Cormoran Strike' and 'Fantastic Beasts'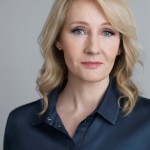 Nov 05, 2016
J.K. Rowling's Twitter has been busy the past few months, with so many Fantastic Beasts announcements to make, Cursed Child well underway, and the Cormoran Strike novels being translated into a TV show.
Her bio says simply 'Author', but we know her as even more than that. Producer, founder of a brilliant charity, she oversaw Jack Thorne's writing of Cursed Child and she's been executive producer on the Cormoran Strike TV series.
She recently tweeted a teaser of the show (which has been announcing major castings): the read though draft of TV script of The Cuckoo's Calling, as well as a Cormoran Strike (Tom Burke) name plaque:
So, today's been fun. pic.twitter.com/S7urFLFoYB

— J.K. Rowling (@jk_rowling) 3 November 2016
"Robert Galbraith" also tweeted similarly:
First readthrough for #TheStrikeSeries today with the talented Tom Burke pic.twitter.com/HUpb1sNuGz

— Robert Galbraith (@RGalbraith) November 3, 2016
She also gave us a sneak peak at the screenplay of Fantastic Beasts, with a fancy hardcover advance copy – it's beautiful!:
Advance copies never, ever lose their thrill! #FantasticBeasts pic.twitter.com/A6B03f1dB3

— J.K. Rowling (@jk_rowling) 27 October 2016
Eddie Redmayne is talking about the Niffler and everything else #FantasticBeasts with @mrjesscagle at @people Magazine today in NYC! pic.twitter.com/PGh2wModz4

— Fantastic Beasts (@FantasticBeasts) November 4, 2016
The #CursedChild cast had the pleasure of meeting Neville Longbottom himself — Matthew Lewis — backstage after the play last night. pic.twitter.com/GmAppFv1Bl

— Harry Potter Play (@HPPlayLDN) November 5, 2016
Are you excited to read the FB screenplay? Happy about the Cormoran Strike castings so far?
Be sure to keep up with her Twitter here!