A New Look at Emma Watson as Belle in 'Beauty and the Beast'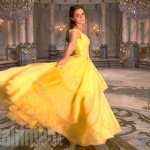 Nov 26, 2016
Disney's animated Beauty and the Beast celebrated its 25th birthday a few weeks ago, and as we are approaching the end of the year, March 17th, the premiere of Disney's live-action remake is getting closer and closer.
Empire has shared a new exclusive picture featuring Luke Evans as Gaston and Emma Watson as Belle. In addition, the article features the actors sharing some thoughts about the parts they play.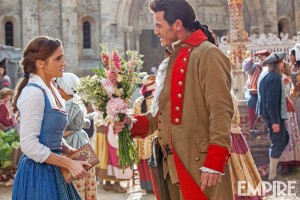 According to Luke Evans, Gaston "gets as dark as any Disney character could possibly get." While Gaston will work as a comic relief in the upcoming film, much like in the animated version, Evans tells Empire that Gaston is also an ex-soldier with a several shades to him.
In the picture, we can see Gaston offering Belle a bouquet of flowers. As those familiar with the animation know, Belle does not warm up for Gaston's advances. Evans comments on this by saying that Gaston is a "man, who for the first time in his life, hasn't got what he wanted."
Emma Watson, a Beauty and the Beast superfan since she was a child, tells Empire that Belle was one of her idols while growing up.
"I was born in Paris like Belle. We both love books, obviously. She is someone who doesn't really feel like she fits in, but she finds her place in the world and uses what makes her different. She was just inspiring to me."
Beauty and the Beast will premiere on March 17, 2017. In case you haven't already seen the trailer for the film, you can watch it from the video below.