Who is Leta Lestrange?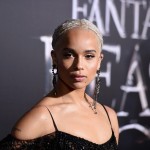 Nov 26, 2016
J.K. Rowling recently tweeted that – in light of revelations in Fantastic Beasts – the ins and outs of Leta Lestrange's character will be explored in the next movie:
hey @jk_rowling who is leta lestrange plz i can't live like this pic.twitter.com/gDqDe8WgC3

— nyatasha ? (@KUHNUCKLES) November 24, 2016
Next movie. https://t.co/xucE0TeUv4

— J.K. Rowling (@jk_rowling) November 24, 2016
David Yates also previously confimed this in a recent interview with MoviePilot:
"Leta Lestrange comes into the second movie. She's quite complicated and damaged and confused and Newt is absolutely still in love with her, so she has a kind of power over him, and she, yeah, she's a kind of tragic figure, so we will see a bit more of her in the second movie."
All we know so far from Queenie's handy skills as a Legilimens is that Newt and Leta attended school together, were very close, and Newt isn't in contact with her anymore (but keeps a photo of her – portrayed by Zoe Kravitz – in his briefcase). She clearly played an important part in his past, and is an early ancestor of the pure-blood Lestrange family.
Could she be the cause of Newt's expulsion? Queenie said she's a 'taker', but Newt seems very attached to her. Could Leta be linked to Grindelwald, or even young Tom Riddle in any way in the future? The films will take us to 1945 – when Riddle leaves Hogwarts, and when Dumbledore duels Grindelwald – so there's plenty of opportunity to see any Lestrange-Riddle-Grindelwald overlaps!
Who do you think Leta Lestrange is?