Maggie Smith to be Featured at Tricycle Theatre Event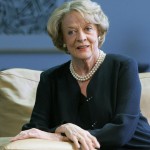 Dec 12, 2016
The Tricycle Theatre in London will feature the incomparable Dame Maggie Smith and Dame Judi Dench in an installment of their  "In Conversation With" series on February 26. This exciting event will include an hour-long conversationand a Q&A session with the two actresses. Jim Carter, of Downton Abbey fame and husband of Harry Potter's Imelda Staunton (Umbridge), will host the event.
"Talking today, Carter said: 'It's wonderful to be returning to the Tricycle, one of London's most vibrant theatres, to talk to these legendary figures of stage and screen, in what I hope will be an unmissable series of events.'

"Booking opens to Tricycle Theatre members at 1pm on 12 December, and to the public at 1pm on 14 December."
Proceeds from the event will benefit the Tricycle Theatre, as well as their creative learning program.
For information on purchasing tickets to the event, see the official announcement here.