Kenneth Branagh Directs and Stars in 'Murder on the Orient Express'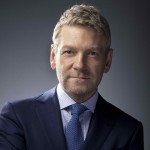 Jan 10, 2017
Kenneth Branagh is an accomplished member of the cinematic community, honing his craft over decades of work in film as a director and actor. In Murder on the Orient Express, he brings both extraordinary talents to bear yet again.
Branagh, who played the inept and self-involved Gilderoy Lockhart in the Harry Potter series, directs and stars in the upcoming film based on Agatha Christie's 1934 murder mystery classic. He portrays the main character, Belgian detective Hercule Poirot.
Mxdwn.com gives this plot synopsis:
"In the story, the famous detective investigates the murder by multiple stab wounds of a wealthy American on board the Orient Express, with a long list of possible suspects among the train's passengers who all have connections to the dead businessman."
As imagined, intrigue ensues as Poirot attempts to solve the case while containing the suspects to the most famous train in the world. Branagh will certainly have his hands full, both in character and while directing, in such a unique, closed environment with so many players afoot. It helps that those passengers will be played be a star-studded ensemble.
The stellar cast includes Johnny Depp (Gellert Grindelwald in Fantastic Beasts and Where to Find Them), Penelope Cruz, Michelle Pfeiffer, Michael Pena, Daisy Ridley, Derek Jacobi, Josh Gad (currently featuring in Beauty and the Beast with Emma Watson), Judi Dench, Leslie Odom, Jr. and, most recently, Willem Dafoe.
Murder on the Orient Express last graced the silver screen in 1974 with another famous–and Oscar-winning!–cast. It remains to be seen how this remake, set for release November 22, 2017, will be received by the public and critics. But with Branagh, previously nominated for an Oscar for both directing and starring in Henry V, at the helm, it seems to safe to say this will be no train wreck.
For the full Mxdwn.com article on the film, read here.