Jason Isaacs Talks Life and Career: Look Out for Others and Look Out for Good Material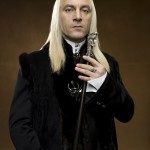 Jan 15, 2017
Jason Isaacs is most well known in the Harry Potter fandom for his chilling portrayal of the pureblood patriarch, Lucius Malfoy. He played Malfoy over the course of five films, seeing the character through highs and lows, a power player and a pariah.
In Chamber of Secrets, his disgust for muggles and muggle-friendly wizarding families, particularly the Weasleys, is palpable. In Goblet of Fire, he's arrogant and presumptive before being brought to task by Voldemort upon his return. Malfoy is then a man desperate to prove himself in Order of the Phoenix and, when he doesn't, he's the humiliated death eater fallen from favor in Deathly Hallows. He finally abandons Voldemort's cause in pragmatic self-preservation. He's a Slytherin through and through–cunning, ambitious and, above all, shrewd.
In the upcoming psychological thriller, A Cure for Wellness, Isaacs' character may not be so far off those well-traveled paths. He appears to head the treatment staff at an idyllic Swiss wellness center. But is it more than that? What are they really treating–and are the guests truly guests?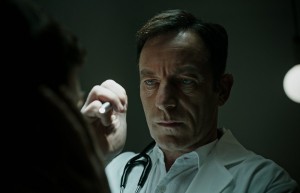 Fans will have to wait until the February 17th release to find out for sure, but it's an undeniable fact that many of Isaacs' characters happen to be legitimate bad guys and, based on the trailer, it's a safe guess which way this one goes.
It's these villainous roles that Isaacs' fans usually remember, though he has worked steadily in the industry since 1988. He simply makes them unforgettable, which speaks to his talent and presence as an actor. In reality, he's attracted to what all actors seek, complicated characters.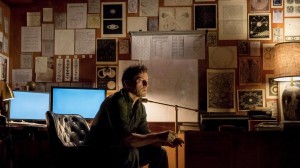 His most recent role, as Dr. Hunter Hap in the Netflix series "The O.A.", was no exception. He spoke to The Jewish Chronicle about the character:
"All I will say is, don't rush to judge him. One of the things that I always look for and I found in spades in this part is someone about whom it's easy to make an initial judgment and then the issue ripens…This guy is probably more morally conflicted than anybody I've ever played, and the cost of what he's doing and the reasons he is doing it weighs possibly more heavily on him than the people who may be his victims."
In a completely different turn, however, he'll appear in Armando Ianucci's satire, The Death of Stalin, currently in post-production. Isaacs was excited to take on the atypical comedic part, telling The Jewish Chronicle:
"I walked in on the first day and [Jeffrey Tambor, Michael Palin, Andrea Riseborough, and Simon Russell Beale] were all sitting at the table and I thought what an insane collection of people, how fantastic…My mates think I'm funny but I've never done it on screen. I'm normally killing or being killed or raping on screen, so I was thrilled to get the call."
Apparently, his mates have good reason to think he could take on the role. He recently engaged in a humorous repartee with Alison Sudol, Fantastic Beasts' Queenie, on twitter:
Also, @jasonsfolly you were so good at being creepy I am now slightly scared of you… but in a fun way! Yay for scary friends!

— Alison Sudol (@AlisonSudol) January 7, 2017
Can't wait to binge all 5 #FantasticBeasts and watch you be revealed as Voldemort's granny.
p.s. You should be scared x@AlisonSudol https://t.co/0yhm6AK9pc

— Jason Isaacs (@jasonsfolly) January 7, 2017
He clearly derives some enjoyment from being notoriously "scary," but don't be fooled, in addition to his surprising wit, he's also an extraordinary family man. He insists upon his two daughters having a religious education, which enables them to identify with their Jewish culture and informs their view of the world around them. He elaborated:
"What I mostly hope they inherit from it is the sense of identifying with victims or underdogs — a certain responsibility to look out for people who can't look out for themselves."
He models this empathy and responsibility toward others in his support of J.K. Rowling's children's charity, Lumos, recently tweeting: Got time to read Twitter? Then you've time to read about and support @lumos. It's the charity started by @jk_rowling that belongs to us all. https://t.co/Jvjs4HbtML
— Jason Isaacs (@jasonsfolly) January 14, 2017
More than that, Isaacs cares deeply about his country and global politics, observing frankly:
"I'm hoping at some point there is a centre left party that I can throw my increasing weight behind…I despair. People deserve better. In America and in Britain people deserve better leaders." 
He is evidently a thoughtful man, intentional in his home life and selective in his work. With this ethic, he will surely continue to be successful in both–the benefit of which is that we'll likely enjoy him in film for years to come. Case in point, speaking of "The O.A.," he said:
"You spend your life in search of good material and when something fantastic like this comes along you literally pack overnight and leave."
He's ready for it–and so are we.
To read The Jewish Chronicle's full interview with Isaacs, covering more on his Jewish heritage and other past and future projects, click here. Also check out the feature on Isaacs in this week's Shortlist:
Want to read about how we nearly lost @jasonsfolly, his show The OA & how he's never recognised in public?! All in this week's Shortlist pic.twitter.com/LOlOeFeMiX

— Witterpedia (@witterpedia_net) January 12, 2017