Daniel Radcliffe's West End Return to Be Broadcast Live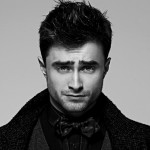 Jan 30, 2017
As reported by Leaky last fall here, Daniel Radcliffe will be making his return to the West End stage in the 50th Anniversary Production of Tom Stoppard's Rosencrantz and Guildenstern Are Dead. According to National Theater Live, the play will be broadcast live on April 20, 2017 from the Old Vic Theatre to cinemas around the UK. The broadcast marks the 50th anniversary of the original National Theatre production premiering at The Old Vic on April 11, 1967.
The absurdist comedy, which is set against the backdrop of Shakespeare's Hamlet, stars Radcliffe as Rosencrantz and Joshua McGuire as Guildenstern, two minor characters from the iconic drama whose comic blundering is intertwined throughout the action of the original plot.
Artistic Director Matthew Warchus said about the production being simulast live:
"Rosencrantz & Guildenstern Are Dead premiered here 50 years ago as a brand new play steeped in theatrical tradition but forging a revolutionary new path in playwriting. It's thrilling to welcome it home to The Old Vic to celebrate such a momentous anniversary, in a season which sees new writing and classics from the past shoulder to shoulder. Even more so to be able to share this new production with a global audience in our first live performance broadcast from The Old Vic."
Harry Potter fans were recently taunted by the debunked rumor (see Leaky's story here) regarding the original series trio starring in a future film version of Harry Potter and the Cursed Child. This live broadcast of Radcliffe's upcoming stage work may help temper that disappointment, at least a bit, for those lucky enough to see it!
Rosencrantz and Guildenstern Are Dead opens at the Old Vic Theatre on March 7, 2017.  Information on tickets for the live broadcast and participating venues will be available soon here.