World Book Day: 'Harry Potter' and 'Fantastic Beasts' Costumes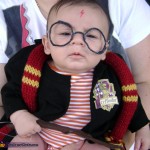 Feb 26, 2017
World Book Day is fast approaching! The annual global celebration of all things literature takes place on March 2nd 2017, and on double the 20th anniversary year of World Book Day and Harry Potter and the Philosopher's Stone, why not go all-out and dress as your favourite wizarding world character? (Not that we doubt that you dress as a Potter character every World Book Day!)
Blinds-Hut provided some statistics on the popularity of books and costumes on World Book Day and – as expected – Potter tops the charts. 85% of around 6.5 million children celebrating World Book Day in the U.K. will celebrate by dressing up in school. The number 1 costume choice and favourite book? You guessed it – Potter. The best thing about all this is that almost half (44%) of the 1000 parents of children aged 1-11 who took part in the company's online survey said they made their child's outfit themselves, but on average only spend around £13 on the costumes (and £11 on books!). I remember dressing up as Hermione on annual charity fun-runs to celebrate World Book Day, and I'm sure there's plenty of readers out there who can relate – please share your favourite photos of your Potter costumes in the comments, we'd love to see them!
If you're struggling for ideas, check out a few brilliant cosplays from Harry Potter events below:
This Newt Scamander caught our attention at GeekyCon 2016, and won the Cursed Child release party costume contest: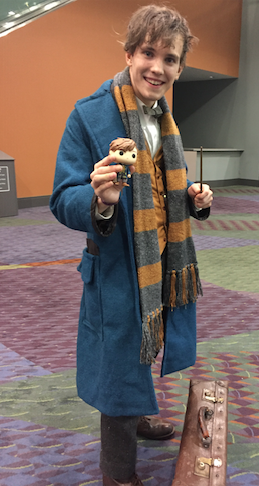 Tina, Queenie and Jacob showed up to A Celebration of Harry Potter 2017:
Look who we ran into at #HPCelebration! pic.twitter.com/jmEhPA5GF3

— Pottermore (@pottermore) January 27, 2017
Credence also made an appearance, recruiting outside The Blind Pig – fans are loving the new options for costumes given by Fantastic Beasts!
Credence is recruiting outside #TheBlindPig. #HPCelebration pic.twitter.com/CvkCEzkRSg

— Fantastic Beasts (@FantasticBeasts) January 28, 2017
Of course, the old-school Potter costumes are no less fabulous. This prisoner of Azkaban and Molly and Arthur Weasley from A Celebration of Harry Potter are brilliant!
Have you seen this witch? #HPCelebration pic.twitter.com/XY2PFetUNN

— Pottermore (@pottermore) January 29, 2017
Here's to the cosplayers of #HPCelebration and the inspired outfits we've seen this year! pic.twitter.com/QFWtLNVCpO

— Pottermore (@pottermore) January 29, 2017
If you're stuck for ideas, you could always rewatch the films, reread the books, visit the Warner Bros Studio Tour's costume section or browse the internet for ideas. Remember, charity shops are a cheap and underused resource for costume making, and the money goes to a good cause! Have fun and get creative – the more DIY involved the better!
Events at bookstores all over the world are the best part of World Book Day, and it's a great way to pick up cheap books. If you're feeling like celebrating in style, why not host your own Potter party? We've got some great tips from one of our contributors who hosted her own Yule Ball here, and some more tips in our crafts section here. £1 book tokens are being handed out in schools all across the U.K. and Northern Ireland, so take advantage of them! £1 is a suggested donation for school children to celebrate the event, which will go to Book Aid International, helping to send books to schools and libraries in Africa.
Who are you dressing up as this World Book Day? Are you hosting a fun event? Let us know in the comments!