Emma Watson Wins First Ever Gender-Neutral Acting Award
May 09, 2017
For this year's MTV Awards, the gender specific acting awards were eliminated in favor of new gender-neutral Best Actor in a Movie and Best Actor in a TV Show awards. Emma Watson was honored to win the Best Actor in a Movie Award for her performance as Belle in Beauty and the Beast.
For Watson, a strong supporter of women's rights and a UN Women Global Goodwill Ambassador, the award was particularly meaningful, especially considering it is the first of its kind. According to Huffington Post, upon accepting the award Watson stated:
"MTV's move to create a genderless award for acting will mean something different to everyone, but to me it indicates that acting is about the ability to put yourself in someone else's shoes and that doesn't need to be separated into two different categories. Empathy and the ability to use your imagination should have no limits."
The award was presented by Asia Kate Dillon, an actor who portrays a gender non-binary character on the TV show Billions. Being presented by an actor who personally challenged the Emmys to not put labels on their acting awards, made receiving the award even more special for Watson who said:
"This is very meaningful for me both to be winning the award and to be receiving it from you, Asia. Thank you for educating me in such an inclusive, patient and loving way. Thank you so much."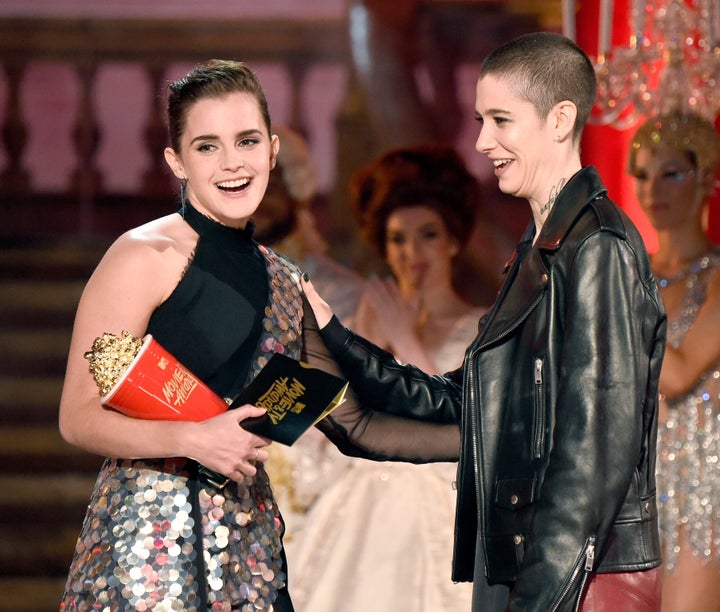 Millie Bobby Brown was awarded the gender-neutral Best Actor in a TV Show Award later in the evening for her performance in Stranger Things and Beauty and the Beast also won Movie of the Year.
According to a quote from CNN, Watson thinks she was chosen for the award because of the character that Belle represents:
"The villagers in our fairytale wanted to make Belle believe the world was smaller than the way that she saw it, with fewer opportunities for her. I love playing someone who didn't listen to any of that."

Watson's acceptance speech can be seen in this video from The Guardian below: