'Fantastic Beasts' Open Casting Call For Young Actors!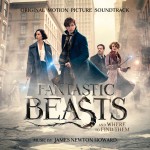 Jun 06, 2017
Know of any young actors who'd love the chance to star in Fantastic Beasts? Today's their lucky day! Pottermore just announced that Warner Bros are holding open calls for not one, but FIVE actors to join the cast!
Fantastic Beasts is looking for five young actors! Find out more about the Warner Bros. open casting call: https://t.co/fU3tq9fFSH pic.twitter.com/nKAvrjj3bb

— Pottermore (@pottermore) June 6, 2017
The teens will be portraying teen versions of Newt, Leta, Grindelwald and Dumbledore, as well as a character called Sebastian:
"An open casting call has gone out for three actors between the ages of 13 and 16 to play young versions of Newt, Leta, and another character called Sebastian.

They are also looking for actors between 16 and 18 to portray both Gellert Grindelwald and Albus Dumbledore as teenagers."
As for the implications of this casting call on the plot of Fantastic Beasts, it seems as though we're definitely going to get a glimpse at Dumbledore and Grindelwald's pasts, as well as delving into the reasons for Newt's almost-expulsion at Hogwarts (which we're betting has something to do with Leta!). We're looking forward to seeing the casting decisions, and wish all who will be auditioning luck! Just remember – as Pottermore points out – the lovely Evanna Lynch was once just one in 15000 Luna hopefuls during an open casting in 2006!
Head on over to Pottermore for more details on how to apply – no previous acting experience is necessary, but applicants must be eligible to work in the UK and available for filming between August and November 2017. Get your applications in quick – the closing date is 20th June. Best of luck!