Television News: Jude Law's 'Neo Yokio,' Warwick Davis' 'Star Wars Rebels,' Holliday Grainger's 'Electric Dreams,' and More!
Sep 09, 2017
The commensurate actors associated with the Harry Potter, Fantastic Beasts, and Cormoran Strike stories have been busy indeed–and the emerging medium for provoking and entertaining performances continues to be television! Here we review the upcoming small-screen endeavors of Jude Law in Neo Yokio, Warwick Davis in Star Wars Rebels, Holliday Grainger and Timothy Spall in Electric Dreams, David Bradley in Doctor Who, Rhys Ifans in Berlin Station, Jason Isaacs in Star Trek: Discovery, and celebrate the success of David Tennant's series Broadchurch!
Jude Law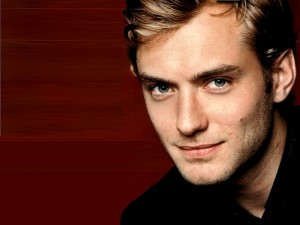 Refinery 29 reported that Jude Law (young Albus Dumbledore) will lend his voice to a new Anime series debuting Sept. 22 on Netflix. Titled Neo Yokio, the show is a combination of the best of New York City and Tokyo in much the same way that Disney's Big Hero 6 reimagined San Francisco with influences from the major Japanese city.
NEO YOKIO IS THE GREATEST CITY IN THE WORLD. ? to Studio Deen, Production IG, Jaden Smith, Kazuhiro Furuhashi & many more pic.twitter.com/dI88h7ZhPa

— Ezra Koenig (@arzE) September 5, 2017
Jaden Smith is the young man behind the main character, Kai, while Law brings his memorable vocal talents to play the robot butler, Charles. Developed by Vampire Weekend's Ezra Koenig, this looks to be an exciting new entry into the genre!
David Tennant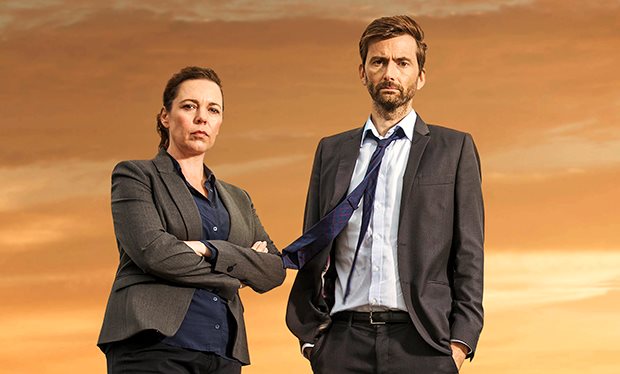 David Tennant (Barty Crouch Jr.) won big at the TV Choice Awards 2017. According to Digital Spy, Tennant picked up the award for Best Actor for his work as DI Alec Hardy in ITVs Broadchurch, while his costar Olivia Coleman completed the set with a win in the Best Actress category.
The series was also recognized for its excellence, getting the nod for Best Drama. The hat trick was well deserved, as the show was critically and popularly acclaimed over the course of its three seasons, which wrapped in the UK in April and brought the finale to the U.S. in August.
Warwick Davis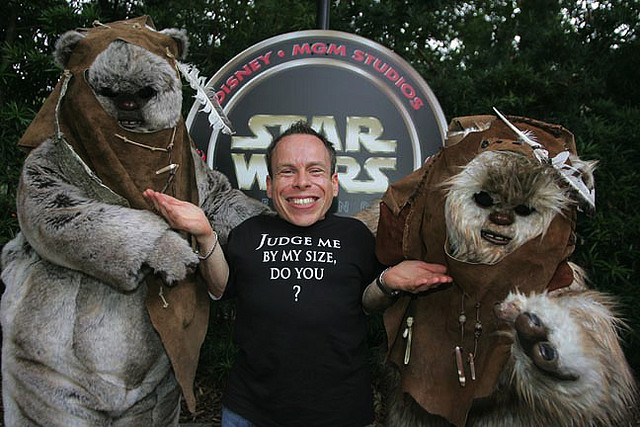 Warwick Davis (Griphook/Professor Flitwick) has a long history with the Star Wars films, dating back to his performance as the Ewok Wicket in Return of the Jedi. He has made regular appearances in the franchise since and, this time around, lends his voice to a villain in the fourth and final season of Disney's Emmy-nominated series Star Wars Rebels.
Davis voices Rukh, Grand Admiral Thrawn's assassin, in a conclusion that sees the Ghost crew join the Rebel Alliance in their fight against the Galactic Empire. Animation Magazine also revealed that the season will premiere Monday, Oct. 16 on Disney XD and the Disney XD App with a special one-hour episode. View the latest trailer below!
Holliday Grainger
Digital Spy reported that Holliday Grainger (Robin Ellacott) will appear in the first episode of Philip K. Dick's sci-fi series Electric Dreams. The episode, titled "The Hood Maker," "is set in a world without advanced technology, where 'mutant telepaths' are humanity's only method of communication." Grainger plays a detective partnered with actor Richard Madden, and the duo must investigate the rebellion of these mutants.
Each of the 10 episodes will be set in a different world facing unique circumstances, including one starring Timothy Spall (Peter Pettigrew) titled "The Commuter." According to TV Wise, "The Hood Maker" premieres on BBCs Channel 4 Sunday, Sept. 17 at 9 p.m.
David Bradley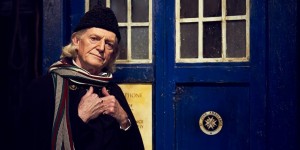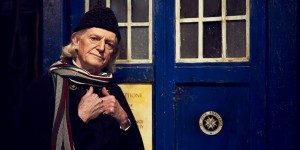 Comic Book released a message from Doctor Who writer Steven Moffatt on the upcoming Christmas Special, which features a return of David Bradley (Argus Filtch) as the First Doctor.
Moffatt gushed, "He exquisitely recreates William Hartnell's wonderful performance from all those years ago. A recreation of such beauty and precision." He also revealed that the special, airing on Christmas Day, will conclude the story of Peter Capaldi's Twelfth Doctor, sharing, "He's going to break your heart! Your heart is going to be in pieces by the end of this."
Leaky previously reported on the episode after catching up with Bradley at London Comic Con for an exclusive, where he teased a big surprise! He hinted:
"I've only seen the trailer but there's a big event towards the end that happens. When it happened, neither Peter nor I were expecting it. There was no CGI involved […] we were both almost blubbing by the time that the take ended. "I'm not going to say what it was but it was quite an event and we weren't prepared for all the things that were going to be going on around us as we were doing our dialogue."
It sounds like the episode will be a must-see for avid Doctor Who fans!
Rhys Ifans
TV Series Finale revealed details for the second season of the EPIX series Berlin Station starring Rhys Ifans (Xenophlius Lovegood). The thriller is described as follows:
"Season two of 'Berlin Station' opens in the thick of a New World Order that has taken root and is steadily deepening. In the wake of the Far Right tide sweeping across continental Europe, Germany finds itself on the precipice of a pivotal election. The series stars Richard Armitage as Daniel Miller, Rhys Ifans as Hector Dejean, Richard Jenkins as Steven Frost, Leland Orser as Robert Kirsch and Michelle Forbes as Valerie Edwards. New to the cast this season are Ashley Judd (Twin Peaks, Insurgent) as the new Chief of Station, BB Yates, and Keke Palmer (Scream Queens) as young case officer April Lewis."
Mark your calendars for the premiere Oct. 15–if the trailer is any indication, viewers will be in for a suspense-filled ride! View the video below.
Jason Isaacs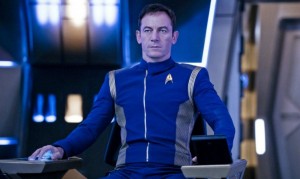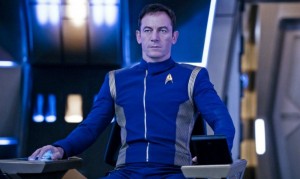 Jason Isaacs (Lucius Malfoy) attended Fan Expo Canada to promote Star Trek: Discovery along with many of his cast mates. They participated in interviews and panels, giving fans and press plenty to geek out about!
Promoting @startrekcbs startrekdiscovery w @SonequaMG@actordougjones@jasonsfolly@albinokid@may_wise@MrKenMitchell@shazad#gettingclosepic.twitter.com/6LVeanOsgp — Ted Sullivan (@karterhol) September 2, 2017
Can you tell I had a blast interviewing the cast of #StarTrekDiscovery?! ??? #SpaceFanExpo#FXC17pic.twitter.com/PSiFmWLes3

— Morgan Hoffman (@morganhoffman) September 4, 2017
Comic Book reported that Isaacs specifically shared his feelings on assuming the iconic Captain's chair during the panel. He said:
"I try not to get too excited, but then we got onto the bridge there was a chair there, calling my name…It's going, 'Stick your ass on me' and I wouldn't do it. I spent the first two or three episodes conducting the war, standing like the torpedoes were members of an orchestra. I just put off sitting in the chair… My buttocks where William Shatner and Sir Patrick Stewart and so many others have placed their holy buttocks! It's too great."
According to Flickering Myth, he also delved into his character's backstory:
"Jason Isaacs told the audience his Captain Lorca is a 'very messed up character' (though he humourously said he used a different descriptive backstage) and that he wanted to play the role a little more straight. 'There was no point trying to step into the gigantic boots of people who have captained starships before. I couldn't even push the foothills above of what William Shatner did, but this wasn't that. This was an interesting, complicated character, as they all are, on a long journey that felt like an acting job. It didn't feel like "go be the hero of a starship", it felt like a story for our times and that's why I did it.'"
Writer and producer Ted Sullivan also spoke to how the new series will fit into established Star Trek canon, assuring fans that they will be truthful while also focusing on character and thematic development. He said:
"Canon is like arithmetic. You start the story and you check your math. If we tell this story, does it bump up against canon, would we run into a problem down the road? But where story really lives is in the calculus of storytelling, the themes and the characters. Canon is an important part of it and we do a final canon pass afterwards, but we tend to focus more on what is the best story we can tell and how do we use these characters. We're also doing a version of Star Trek where people don't do a hard re-set at the end of the episode. I think it's a really interesting part, but it's a challenging part because it's essentially a 15-hour movie."
The new drama–and all the amazing series reviewed above–should make for some incredible television!