Fantastic Beasts 2: Ministry of Magic & Newt's Birthday & Address!
Oct 04, 2017
The official Fantastic Beasts twitter account just delivered a clue as to where we might be headed in the next Fantastic Beasts film, with a travel application from Newt:
Name of Applicant: Newt Scamander, Profession or Occupation: Magizoologist. #MagicInProgress #FantasticBeasts #WizardingWednesdays pic.twitter.com/oMarZbY285

— Fantastic Beasts (@FantasticBeasts) October 4, 2017
First we saw MACUSA, now it's the Ministry of Magic… See the #MagicInProgress behind the scenes of the Fantastic Beasts sequel! https://t.co/DtWoKqZ0Lf

— Pottermore (@pottermore) October 4, 2017
The document not only suggests that we could see the Ministry of Magic (supported by Pottermore's tweet on first seeing MACUSA), but also gives details as to Newt's application to travel for 'personal' reasons (presumably to give Tina his book?) and the Ministry of Magic's subsequent denial, with the given reason:
'Subject uncooperative and evasive on reasons for last trip'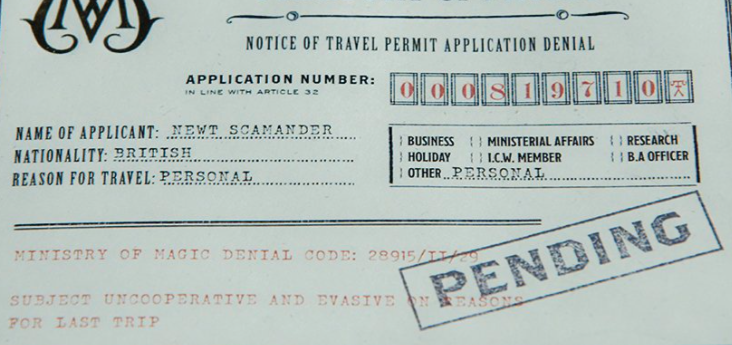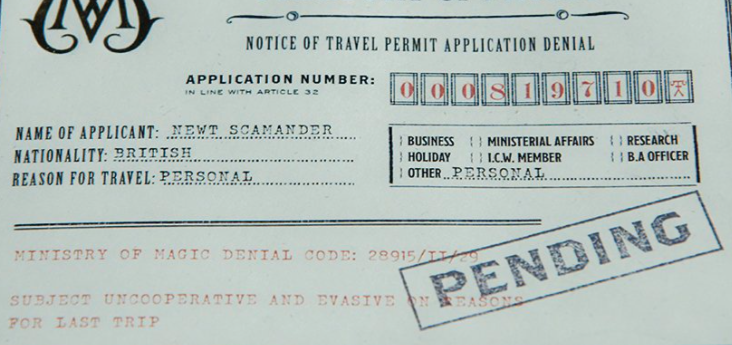 Newt's attached application (behind the denial) also gives his address: '9 ____ford Square, London, SE11'  – we've done some hunting and can't find any similar road names on Google Maps in this postcode area, but this could be 1) Made up or on a magical road, or perhaps 2) A road destroyed by WWII, thus nonexistent in the present day. Or it's just hard to find – let us know if you manage to spot it!
We also discovered Newt's birthday, which we've already missed this year (sorry, Newt!): 'February 24th  – 1897'.
He's a pretty tall 6'1″, and that appears to be all we're getting! What do you think this could mean for the next film? Find out everything we know so far here and share your theories in the comments!
There's #MagicInProgress on the #FantasticBeasts sequel set. Join us once again on #WizardingWednesdays for behind the scenes access. pic.twitter.com/uKdiyPKv2G

— Fantastic Beasts (@FantasticBeasts) September 20, 2017