Accio Art! The Pottermore Art Collection Now Ships to the U.S.!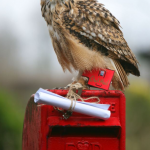 Oct 31, 2017
Be on the lookout for a heavy upswing in owl activity, Potter fans. The owl post will now run intercontinental! Pottermore announced yesterday that it will now deliver pieces from its exclusive Art Collection to the U.S.–and just in time for the holidays.
There are forty works of art to choose from, including a broad range of styles and interpretations from featured artists such as Olly Moss, Montse Bernal, Ross Crawford, Wanissa Somsuphangsri, Peter Strain, and Lesley Buckingham. The collection includes magical abstracts of the Marauders, re-imagined book covers, quotes from your favorites characters, and depictions of iconic scenes and locations from all seven books of the Harry Potter series.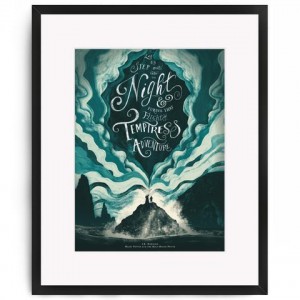 Relive Harry and Dumbledore's harrowing journey to recover the locket horcrux (or so they thought) from Voldemort's enchanted cave. Be mesmerized by ethereal Patronus drawings. Gaze at majestic renderings of the Dark Mark's reappearance or the trio's wild escape from Gringott's by dragon–and so many more!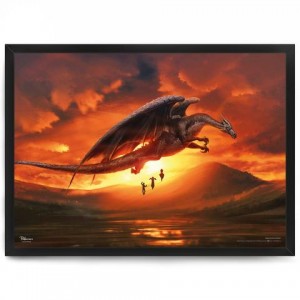 For a further introduction to the collection, Pottermore shared a featurette with two of its artists discussing the inspiration behind their work and an inside glimpse at Peter Strain's intricate lettering and Lesley Buckingham's sweeping brushstrokes in watercolor. Watch the video below.
Leaky previously covered the Pottermore collection and detailed many of the incredible pieces offered when it was first announced and available only to the UK and EU, so it is a delight to re-introduce these beautiful works of art to fans in England and abroad. (If Newt Scamander and the Cursed Child production can travel to America, why not Harry Potter art, after all! Merry Christmas to us!) Here's hoping you, too, get an "unexpected delivery" this holiday season…
This artwork is available to U.S. fans in two formats: 18 x 24 inch posters or as 16 x 20 inch mounted prints. Visit the Pottermore shop to peruse the full collection and make your selections. These are must-haves for your home collection–so which ones will go on your Christmas list, Potter fans?!