Fantastic Beasts 2 Title Announced!
Nov 16, 2017
We finally have a title for the second Fantastic Beasts film!
Yesterday, Warner Bros teased us with a shot of two wands – one of these is, of course, the Elder Wand, which we know Grindelwald stole when he was young and eventually loses to Dumbledore. The wand on the right, however, is pretty sleek, sophisticated and mysterious. We theorised it could belong to Dumbledore, and perhaps hints at the iconic stand-off we know is coming in future films:
Wands at the ready. On 11.16.18 the #FantasticBeasts story continues. Check back tomorrow for more #MagicInProgress. #WizardingWednesdays pic.twitter.com/FLxxfXP1Am

— Fantastic Beasts (@FantasticBeasts) November 15, 2017
Today, the title of the second Fantastic Beasts movie was announced via Twitter. Fantastic Beasts: The Crimes of Grindelwald will see Newt team up with Dumbledore to try to stop Grindelwald's rise to power after his escape from MACUSA. (Note the Deathly Hallows theme: a Cloak of Invisibility-esque 'A' and an Elder Wand "I"!)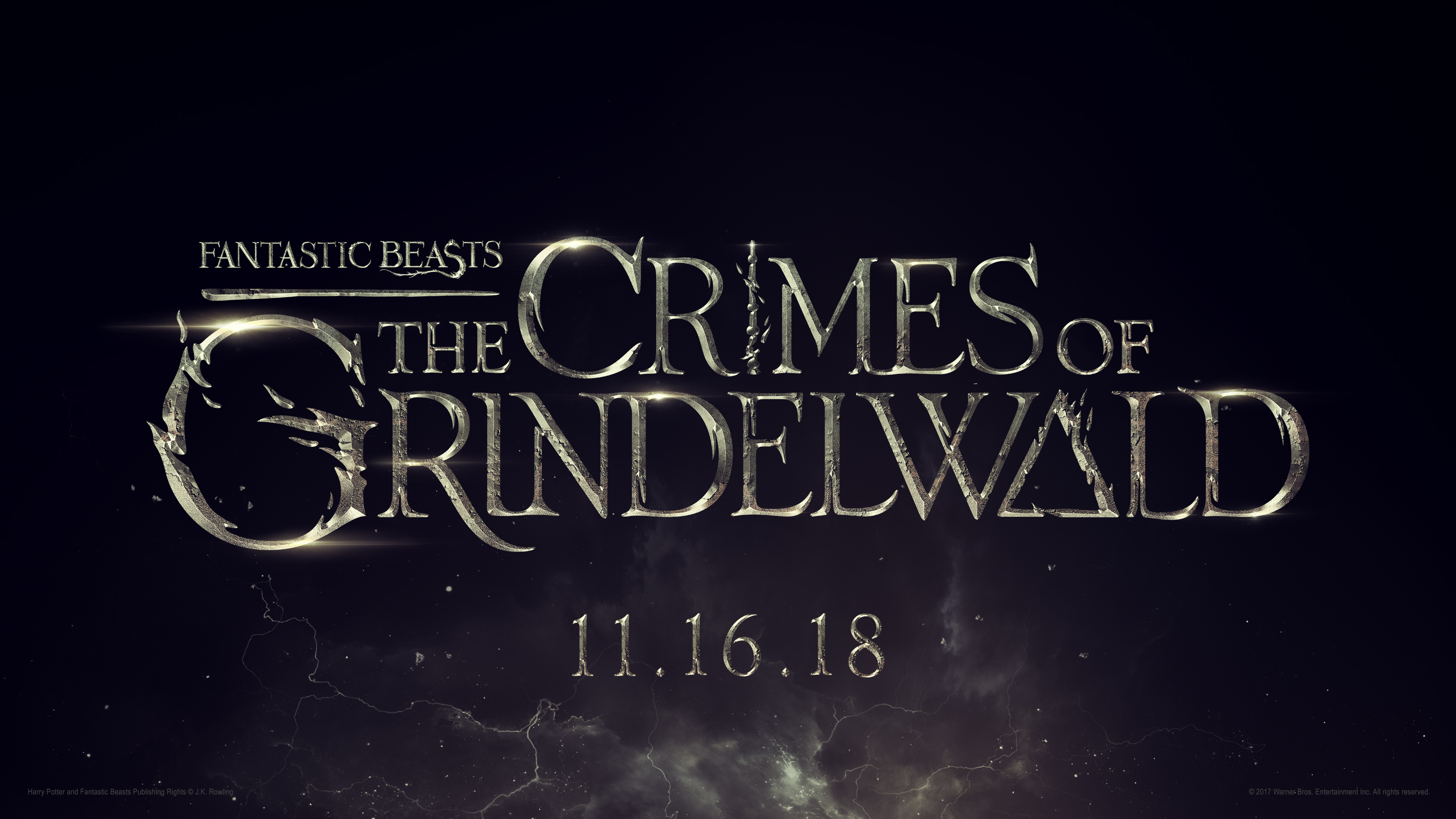 An image of the central cast was also revealed (below), which gives us a first look at 1920s Dumbledore, Maledictus, Leta Lestrange and Theseus Scamander. Credence is sporting a new look and appears to have ties to Maledictus – and perhaps the wizarding circus? Pottermore elaborates on her character:
"Claudia Kim's character is a 'Maledictus' – a carrier of a blood curse that makes her transform into a beast. This appears to be different to being an Animagus, as an Animagus can transform into an animal by choice. If we break up the etymology of the word, 'Mal', means 'wrongful' or 'ill' – and 'dictus' in Latin means 'to speak'."
It's also interesting to note Dumbledore and Grindelwald, each alone, on opposite sides of the image. The image also appears to show Dumbledore's wand (confirming our theory that it's the wand above), and Grindelwald appears to be holding the Elder Wand – has he been carrying it around this whole time or hiding it somewhere in Europe?
Leta and Theseus are also linked, and Pottermore explains that this is because they're engaged! Could there be some tension between the two brothers in this film? Will they end up on the same side?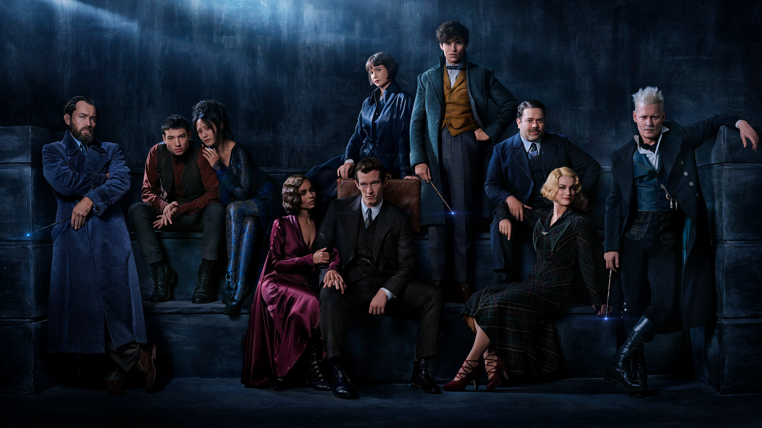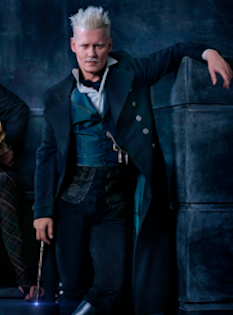 Pottermore shared more information in their summary of what we know of the film so far, with a clearer image of Dumbledore (who has dark brown – not auburn – hair) in the new cast photo, minus his extremely long beard – wonder how long that took to grow?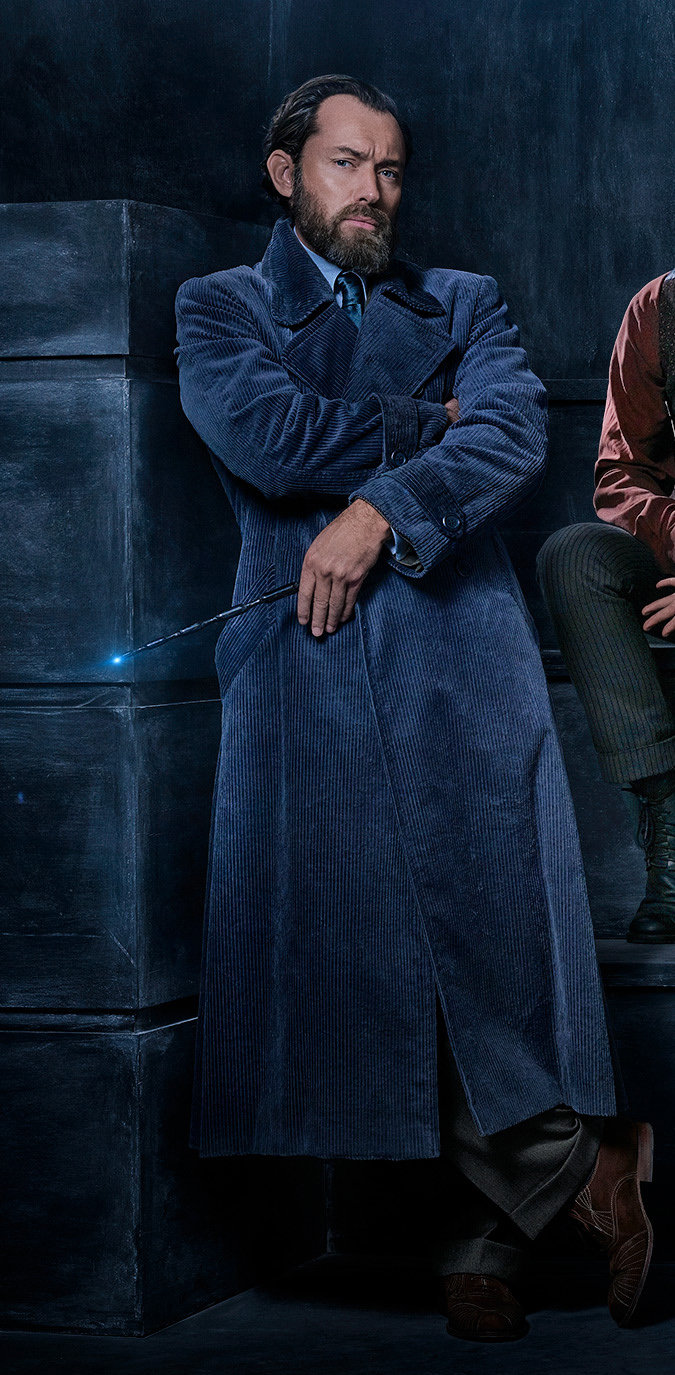 Warner Bros summarise:
"JUDE LAW plays a young ALBUS DUMBLEDORE, taking on the mantle of one of J.K. Rowling's most beloved characters; EZRA MILLER makes a return as the enigmatic CREDENCE, whose fate was unknown at the end of the first film; CLAUDIA KIM appears as a Maledictus, the carrier of a blood curse that destines her ultimately to transform into a beast; ZOË KRAVITZ plays LETA LESTRANGE, who had once been close to Newt Scamander but is now engaged to his brother; CALLUM TURNER joins the cast as Newt's older brother, THESEUS SCAMANDER, a celebrated war hero and the Head of the Auror Office at the British Ministry of Magic; KATHERINE WATERSTON returns as TINA GOLDSTEIN, who has been reinstated as an Auror for MACUSA; EDDIE REDMAYNE stars again as wizarding world Magizoologist NEWT SCAMANDER, who has now gained fame in the wizarding world as the author of Fantastic Beasts and Where to Find Them; DAN FOGLER reprises the role of the only No-Maj in the group, JACOB KOWALSKI; ALISON SUDOLreprises the part of Tina's free-spirited sister, QUEENIE GOLDSTEIN, a Legilimens who can read minds; and JOHNNY DEPP returns as the powerful Dark wizard GELLERT GRINDELWALD in Warner Bros. Pictures' "FANTASTIC BEASTS: THE CRIMES OF GRINDELWALD."
In the motion photo, Newt gives Tina a look before glaring at Leta and Theseus: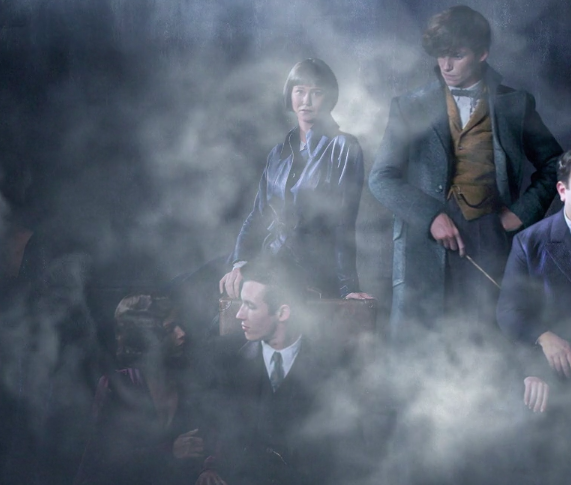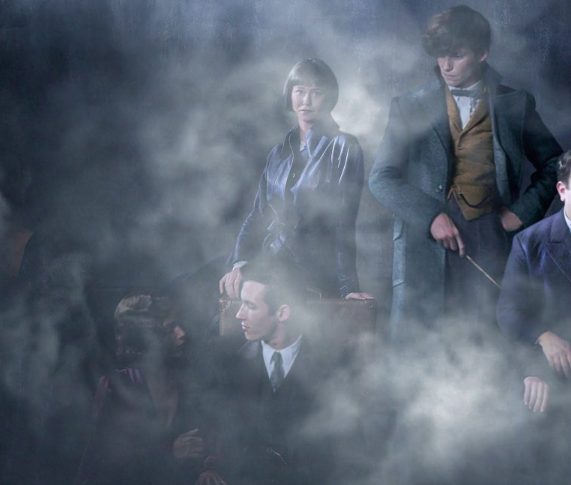 Jacob and Queenie, however, are wrapped up in Grindelwald's presence. Jacob giving what appears to be a guffaw and Queenie staring – has she managed to see into his mind at all?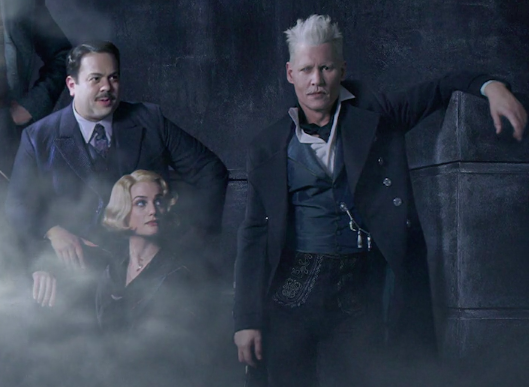 A ghostly Deathly Hallows symbol also appears before the title is revealed: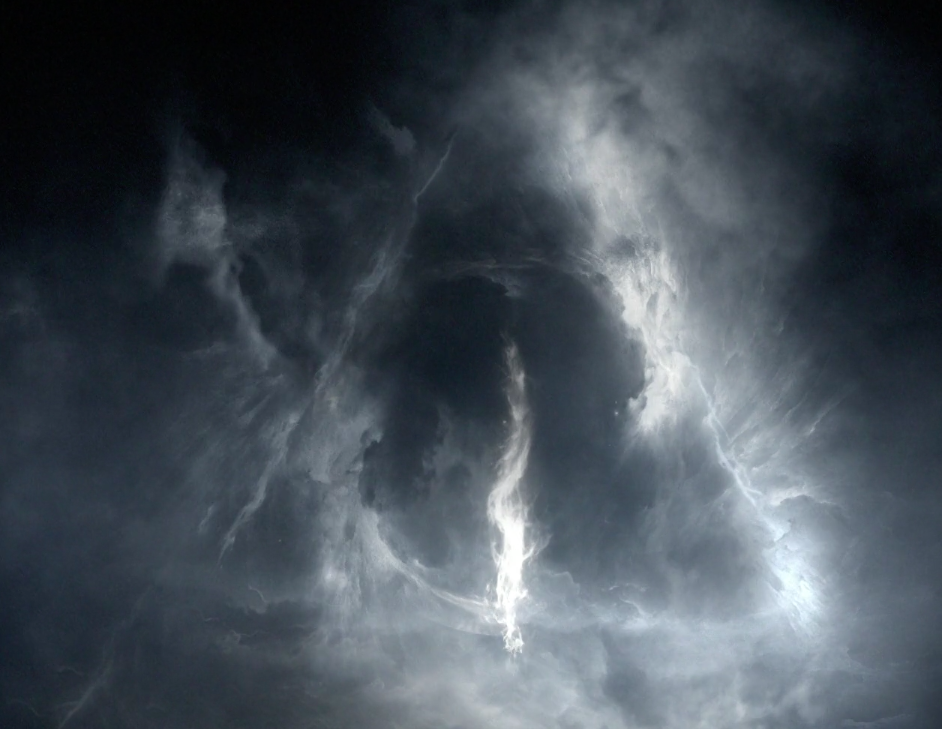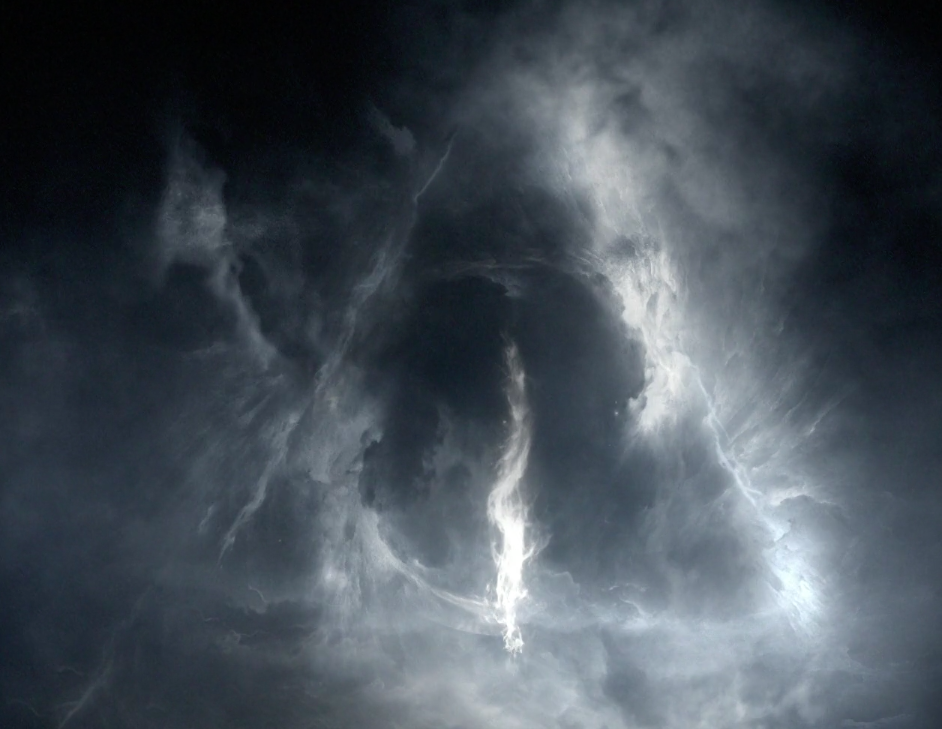 In one year, return to the Wizarding World with Fantastic Beasts: The Crimes of Grindelwald. #MagicInProgress #FantasticBeasts pic.twitter.com/8aWj8xhGj5

— Fantastic Beasts (@FantasticBeasts) November 16, 2017
The film will release in exactly one year, on 16th November 2018. Catch up with everything we know here, everything on the new characters here, and a couple more theories here! What do you think of the title?
All images, unless otherwise stated,  provided by Warner Bros – thanks for keeping us up-to-date!