Happy Birthday, Maggie Smith!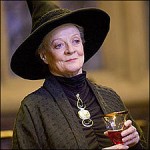 Dec 28, 2017
Whatever quibbles, major or minor, each of us may have with the Harry Potter films, most everyone can agree that the casting was spot-on.  Each of the notable British actors chosen to personify the books' characters rose to the challenge of measuring up to the image we had each formed in our mind's eye whilst reading the books — over and over and over, until the characters were as familiar as our own family and friends.  And with the Harry Potter series beloved by all ages, the actors had to measure up to the expectations of both children and adults.  A tough crowd, if ever there was one.  No actor fit their character better than Dame Maggie Smith, who turns 83 years young today.
Whereas the child actors got their big break with their Potter casting, most of the adults had long and illustrious careers before picking up their wands.  Smith's acting career began at age 17, in 1952, in the role of Viola in Shakespeare's Twelfth Night.  Like many British actors, she started on the stage, but she quickly moved into television and film, and made her Broadway debut in 1956.  She divided her time between stage and screen, and in 1969 won her first Academy Award for the title role in The Prime of Miss Jean Brodie.  If you have not seen this film, go watch it.  Also look up everything else she has been in and watch that, too.  She excels at playing prim, stuffy aristocratic types, most recently as Violet Crawley in Downton Abbey, but also the first role in which I saw her, when she played Charlotte Bartlett in the Merchant Ivory film A Room with a View.  A full accounting of her (still growing) list of roles and awards is beyond the scope of this piece, but you can find an overview here.
Incidentally, given the significance of the Hogwarts Express, with its route from London to the mysterious Scottish location of Hogwarts, it's an interesting coincidence that Smith's parents met on a train journeying between Scotland and London.  A bit of fortuitous foreshadowing, perhaps.  In any case, please join everyone at Leaky in wishing Dame Maggie Smith the happiest of birthdays, and many more.