Harry Potter first edition amongst rare books stolen in Norfolk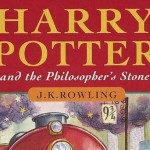 Jan 22, 2018
A first edition of Harry Potter and the Philosopher's Stone, stored in a red box and thought to be worth about £40,000, was one of 12 rare books taken in a break-in at SN Books on the night of 8-9 January.
First editions of The Hobbit and The Great Gatsby, as well as a signed copy of A Brief History of Time, were also purloined in the theft.
Secondhand booksellers and auction houses have been alerted to the stolen books in case they turn up for resale.
This isn't the first time Potter books have fallen victim to thieves, back in 2003, over 7000 books were stolen on the way to an Asda store, libraries constantly found copies missing, and – more recently – a rare prequel copy by J.K. Rowling was stolen in the West Midlands, which J.K. Rowling shared via twitter.
Remember: constant vigilance! If you happen to be a collector and come across a hardback first edition of Philosopher's Stone in a red box,  be sure to contact PC Weigelt-Holmes at the Thetford Police Station.