David Yates Addresses Questions Of Dumbledore's Sexuality In "Crimes of Grindelwald"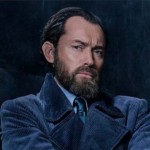 Jan 31, 2018
As many Potter fans will surely know, during a 2007 appearance at Carnegie Hall, J.K. Rowling revealed that she had always seen Dumbledore as a gay character:
"I always thought of Dumbledore as gay. Dumbledore fell in love with Grindelwald, and that added to his horror when Grindelwald showed himself to be what he was."
The news added depth to the relationship between the two characters, and many are eager to see if the beginning of a complex and troublesome time for Dumbledore in Crimes of Grindelwald explicitly handles his sexuality at all. One might assume that his feelings for Grindelwald would add to the narrative depth of the story of Grindelwald's rise to power, and Dumbledore's various attempts to thwart him. To love somebody and have to put those feelings aside to acknowledge the horrors they are capable of (and, in Grindelwald's case, using to advance their own power) and put an end to their violent dominion has to be a rather traumatic experience, and seeing this part of Dumbledore's history would add yet more depth to an already multifaceted man.
Jude Law will portray a younger Dumbledore in Crimes of Grindelwald, in pursuit of the dark wizard after his escape from MACUSA. Speaking to Entertainment Weekly, David Yates revealed that the sequel will "not explicitly" reference Dumbledore's sexuality:
"Not explicitly," Yates replied when asked if the film makes it clear that Dumbledore is gay. "But I think all the fans are aware of that. He had a very intense relationship with Grindelwald when they were young men. They fell in love with each other's ideas, and ideology and each other."
Yates also shares more on Dumbledore's "kinetic" character in this era, making it clear that Law's performance complements Depp as the deceptive and charismatic Grindelwald:
"He's a maverick and a rebel and he's an inspiring teacher at Hogwarts. He's witty and has a bit of edge. He's not this elder statesman. He's a really kinetic guy. And opposite Johnny Depp as Grindelwald, they make an incredible pairing."
Reminding us that this might not mean we don't see more of the Dumbledore/Grindelwald storyline in future films, EW shares a previous quote from Jo Rowling:
 "I can't tell you everything I would like to say because this is obviously a five-part story so there's lots to unpack in that relationship. You will see Dumbledore as a younger man and quite a troubled man — he wasn't always the sage…We'll see him at that formative period of his life. As far as his sexuality is concerned … watch this space."
The time period in which Fantastic Beasts takes place (and Dumbledore's tendency to conceal information, as Harry experienced) must also be considered when debating how explicit one would expect Dumbledore's sexuality to be, however, it would be brilliant to see both more representation in the series, and more of Dumbledore's intricate character!
Jude Law also commented on Dumbledore's feelings for Grindelwald in a previous interview, saying:
"That's another layer to what creates this great wizard we've come to know and love"
J.K. Rowling tweeted after the interview was released, telling of the abuse she's been receiving since the piece went live:
Being sent abuse about an interview that didn't involve me, about a screenplay I wrote but which none of the angry people have read, which is part of a five-movie series that's only one instalment in, is obviously tons of fun, but you know what's even *more* fun? pic.twitter.com/Rj6Zr8aKUk

— J.K. Rowling (@jk_rowling) January 31, 2018
The tweet in itself implies there's more to come (and also that people should stop being abusive on social media), and it'll be interesting to see how the next four Fantastic Beasts films are paced, and how deep we delve into Dumbledore and Grindelwald's past over the course of the series – will we, for instance, see Ariana Dumbledore? Time will tell!