Happy Birthday to Fred & George's alter egos!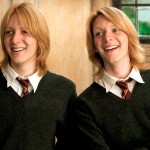 Feb 25, 2018
"Blown up a toilet? We've never blown up a toilet. Great idea though, thanks, Mum."  Fred & George Weasley, as they departed for their third year at Hogwarts.
When J.K. Rowling was asked if the actors in the films influenced her image of the characters as she wrote the rest of the books, she said that they did not, except for Evanna Lynch, because she was quintessentially Luna.  But one has to wonder about the Phelps twins.  They don't look like Fred and George Weasley as described in the books, but they embody them perfectly in every other respect.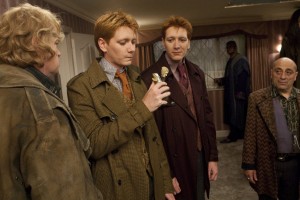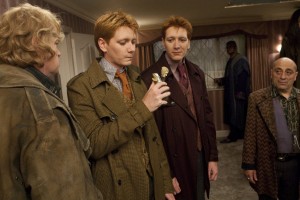 The Weasley twins are described as being short and stocky, in contrast to the other Weasley brothers, Bill, Charlie, Percy, and Ron, who are all tall and lanky.  The Phelps twins are definitely on the tall and lanky side of the spectrum, so a little creative license was used to depict them in the films as similar in build to their brothers.  They also needed a bit of dye to make their hair as flaming red as the Weasley kids' famous ginger tresses.  In the first film, they were also obliged to sport some extremely unfortunate haircuts: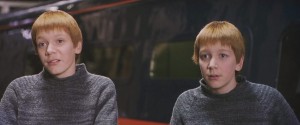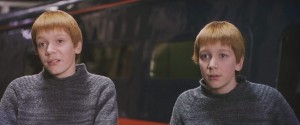 'What's that? Said one of the twins suddenly, pointing at Harry's lightning scar.
'Blimey,' said the other twin. 'Are you –?'
'He is,' said the first twin. 'Aren't' you?' he added to Harry.
'What?' said Harry.
'Harry Potter,' chorused the twins.
'Oh, him,' said Harry, 'I mean, yes, I am.'
Thank goodness that, by the time of the Yule Ball in their sixth year, they had wrested control of their hair style from their conservative and dowdy mother, who had also tried to cut Bill's hair without success.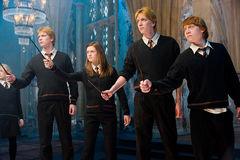 The Phelps twins had no acting experience before they (appropriately enough) skived off school exams to audition for the Harry Potter films.  After a total of six auditions, they landed the parts of Fred and George Weasley, which they played in all eight films.  Although the Phelps twins now have solid acting experience, they've dabbled in so many other professions that acting is but one of their many talents.  They've been featured as brothers in one episode of the TV show Kingdom, appeared in a documentary about Plato's philosophy called The Mind's Eye. and recently James was a guest star in the New Theatre Royal of Portsmouth's production of Spamalot. Late last year they announced the start of their new podcast and YouTube channel Double Trouble, and they have shared their experiences following various Harry Potter events (namely the exhibition and A Celebration of Harry Potter), traveling, playing and attending sporting events, and doing extensive work for charity.  They appear at Potter-related events around the world, and maintain a website for fans to keep up with their travels.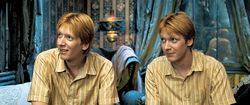 James and Oliver Phelps turn 32 today.  Their birthday, unfortunately, does not coincide with the Weasley twins April 1 date of birth.  Also, Fred is the elder Weasley twin but James Phelps, who played Fred, is the younger Phelps twin by 13 minutes.  Please join all of us at Leaky in wishing them a very magical and mischievous birthday.