Happy Birthday, Timothy Spall!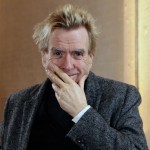 Feb 27, 2018
Today, we celebrate the birthday of consummate British actor Timothy Spall!  His career spans four decades, covers a wide variety of mediums and roles and his legacy was cemented long ago through iconic films such as Life is Sweet, Secrets & Lies, Topsy-Turvy, White Hunter Black Heart, The Sheltering Sky, Hamlet, A Series of Unfortunate Events, Sweeney Todd: The Demon Barber of Fleet Street, The King's Speech, Mr. Turner and, lately, The Journey, Denial, Stanley a Man of Variety and The Party. Therefore, it is an easy thing to honor the life work of so well-respected and prolific an actor.
Spall is most well known to Potter fans for his portrayal of the despicable and smarmy Peter Pettigrew. Pettigrew was one of the four Marauders, friend to James Potter, Sirius Black and Remus Lupin, and known by the tongue-in-cheek moniker Wormtail. He was a Gryffindor, like his cohorts, though his later actions would seem to call his sorting into question. In fact, Pottermore speculated only yesterday that he might have been better placed Slytherin!
Peter Pettigrew should have been a Slytherin and you know it. https://t.co/8gCk107mN9

— Pottermore (@pottermore) February 26, 2018
He did, after all, break his vow as Secret Keeper for the Potters and reveal their location to Voldemort, ultimately leading to the deaths of Lily and James and a cursing that would leave Harry curiously connected to the dark wizard. Spall played Pettigrew's complex devotion to the Dark Lord to perfection–the fear, the loathing, the awe, the need to be useful, powerful and respected. Sadly, Pettigrew achieved none, and Spall made his pitiful state and the burden of his choices all the more potent through his vivid portrayal.
This excellent, though unlikeable, performance aside, Spall continues to do brilliant work in television and film as an eclectic character actor. Most recently he starred in an episode of Philip K. Dick's Electric Dreams. The episode, written by Cursed Child's Jack Thorne and titled "The Commuter," cast Spall as Ed Jacobson, a man struggling to make sense of conflict in his relationships with his wife and son, played by Anthony Boyle (Scorpius Malfoy). His exposure to the existence of an alternate reality only complicated matters!
Spall will next be found on the big screen, starring alongside Harry Potter alum Imelda Staunton (Dolores Umbridge) in the romantic comedy Finding Your Feet. The film opened in UK theatres Friday, and a review in the Guardian, while not exactly glowing, strongly commends the contributions of the headlining stars. It said:
"Spall and Staunton, in particular, are tremendous. Her girlish pleasure when she rediscovers her joy in dancing lights up her face from the inside; his quiet grief, as he realises that his cherished visits to his dementia-stricken wife are causing her confusion and pain, is heart-wrenching."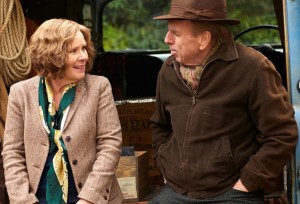 Fans can also hear Spall in Eddie Redmayne's Early Man, voicing Chief Bobnar, and he is slated to appear in two new feature films. The first, Mrs. Lowry and Son, is already in post-production. Few details about the film have been released, but Spall plays L S Lowry to Vanessa Redgrave's Elizabeth Lowry.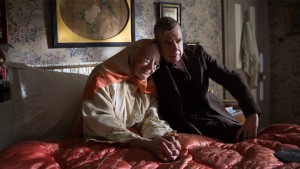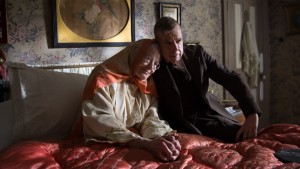 In 2019, The Corrupted will hit theaters. The film, currently in pre-production, stars Spall, Sam Claflin and David Hayman. Little is known about this crime thriller, but Ron Scalpello is set to direct with Nick Moorcroft penning the screenplay.
No doubt Spall will continue to produce work of exceptional caliber, and we pay tribute on his birthday to the incredible contribution he's made to film and to our favorite wizarding series. We wish him continued success in his career–and with that in mind, view the trailer for Finding Your Feet below and find it in a UK theatre near you!