Alfred Enoch to Star in 'RED' on London's West End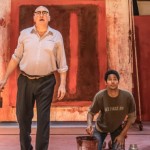 May 01, 2018
As previously reported by Leaky, Alfred Enoch (Harry Potter's Dean Thomas) will star in a new revival production of RED at Wyndham's Theatre on London's West End, with preview performances beginning this week!
The show tells the story of Mark Rothko (played by Alfred Molina, who is returning to the role for this revival performance), an artist commissioned to create an exciting new project and struggling with new trends in art as Ken (played by Alfred Enoch), his assistant, questions and critiques his work. A summary is as follows:
"Under the watchful gaze of his young assistant, and the threatening presence of a new generation of artists, Mark Rothko takes on his greatest challenge yet: to create a definitive work for an extraordinary setting."
RED is based on the original Olivier-winning 2009 Donmar Warehouse production by John Logan. This new production, directed by Michael Grandage, is the first U.K. revival of the award-winning show since Grandage originated the play at the Donmar, earning six Tony Awards (including Best Play!) when it moved to Broadway. Neil Austin (award-winning lighting director on Harry Potter and the Cursed Child) will also bring back his talents for the production.
Interestingly, Fantastic Beasts star Eddie Redmayne first took on the role of Ken opposite Alfred Molina in 2009, so it'll be interesting for those Harry Potter fans who originally saw the show to see Alfred Enoch assume the mantle of the starring role.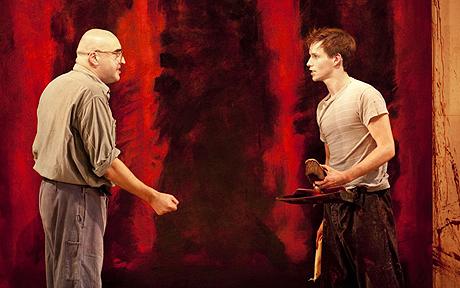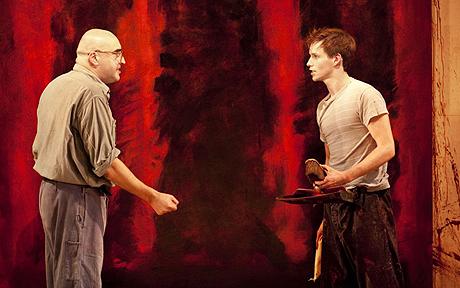 (See a full gallery of new images here)
In a recent interview with Enoch and Molina, Enoch spoke about his responsibilities in the role of Ken:
"I've been given a lot of freedom, so I think that my responsibility is to seize that."
He also discussed his knowledge of his predecessor's work in the role of Ken:
"You've got to find your own relationship with the play, your own take, and it's always going to be different. And then someone else is going to do it and see different things in it."
Read the full interview with Broadway World here.
RED will begin preview performances this week (May 4th), officially open on May 15th and will run until July 28th. Keep posted for a review, coming soon!