Theater Round-Up: 'Cursed Child' Leads Outer Critics Circle Award Wins, Tony Nominees Appear at Press Junket, Interviews and More!
May 07, 2018
The biggest theater news of the past week was the highly-anticipated announcement of the Tony Awards nominations on Tuesday, May 1–and, as expected, Harry Potter and the Cursed Child made a magical showing, bringing in 10 nominations after leaving audiences and critics alike spell-bound!
Though it would be easy to hang on Tony Awards news alone, the show must go on, so to speak, and life in the theater does as well. Actors such as Noma Dumezweni, Anthony Boyle and Poppy Miller gave interviews, and the stars attended press junkets and other events. Cursed Child has committed to participating in this year's Stars in the Alley, Warwick Davis' Eugenius! will return to theaters, Fiona Shaw was selected to host a new gala supporting women in opera and Jim Dale signed on to present at the Outer Critics Circle Awards, which announced its winners today!
Read on for more details.
Cursed Child Leads Outer Critics Circle Award Wins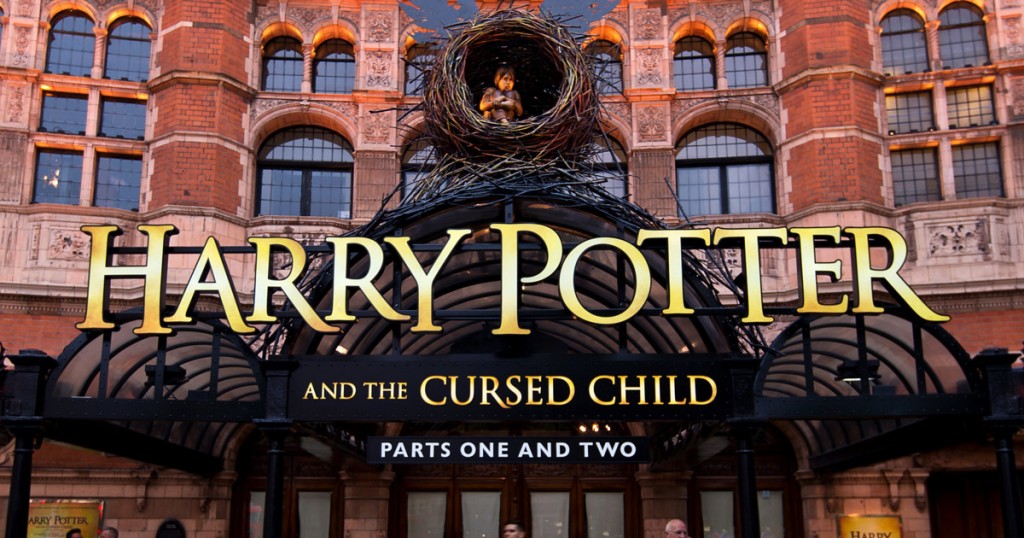 The Outer Critics Circle Awards announced winners for the 2017-18 season today, and Harry Potter and the Cursed Child continued its enchanted run through the awards circuit. According to Broadway World, Cursed Child picked up wins for Outstanding New Broadway Play, Outstanding Director of a Play (John Tiffany), Outstanding Set Design (Christine Jones), Outstanding Lighting Design (Neil Austin), Outstanding Sound Design (Gareth Fry) and Outstanding Projection Design (Finn Ross and Ash Woodward.)
#CursedChildNYC has won 6 #OuterCriticsCircle Awards! The most won by any production this season! Congratulations to all the winners and to everyone involved in the production. pic.twitter.com/NRWRoDucWL

— Cursed Child NYC (@HPPlayNYC) May 7, 2018
Playbill announced that Jim Dale, voice of the American and Canadian audiobook editions of the Harry Potter series, will present at the Outer Critics Circle Awards ceremony, which will be held May 24.
Noma Dumezweni: Interviews and Upcoming Roles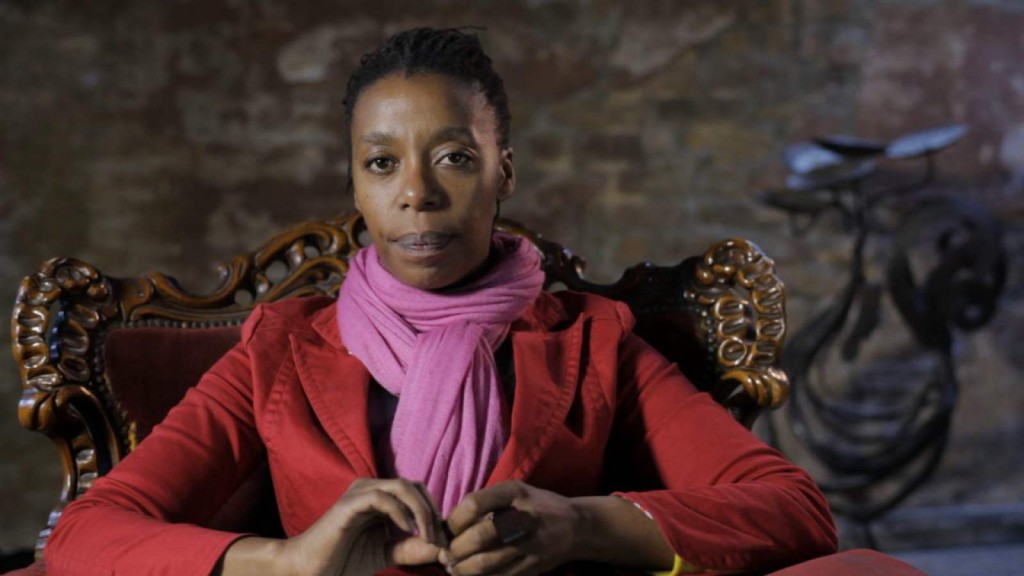 Backstage interviewed recent Tony nominee Noma Dumezweni (Hermione Granger-Weasley) about her unconventional but charmed stage career. Though typically a character actor, Dumezweni has been a star, it seems, from the moment she set foot in a theater, from her Olivier-winning turn in A Raisin in the Sun (2006) to her remarkable last-minute rescue of Linda right before the announcement of her casting in Harry Potter and the Cursed Child. While it seems her success shows no sign of slowing, Dumezweni, and the knowing realists among us, understand it has not always been so easy. Even for actors able to procure steady work, there are inevitable high and low points. For those moments of career uncertainty, she offered the startling advice:
"The ultimate thing that I'm saying is: Hold onto yourself and that journey might surprise you. Don't judge it. Let go of expectations. That's the biggest f***r: Let go of expectations. It's painful. You have to indulge in the pain for a moment, but don't sit in it; don't make it who you are. Surprise yourself. You can let the pain go sooner, and then the joy will come quicker and then the joy will come brighter…. You are where you're supposed to be, and sometimes it feels like s***, and sometimes it feels great. Be present, stop worrying. There's nothing for you to worry about. This is a lovely place to be."
This idea of tossing expectations is also essential, she said, for approaching potential jobs. Workshopping, or participating is readings, is not so much about parading oneself as it is giving into the material. She observed:
"When it's a workshop, a reading, it's not about putting on a show…You are there to serve the question of what wants to be delivered that day. It's about solving a problem, because once ego is out of the way, it's, 'How do we serve this moment?' I love that. You're workshopping the thing, so there is no ego—and if there is, you're in the wrong room." 
So it was a delightful, and confirming, surprise when Dumezweni's humble approach to workshopping the Cursed Child script turned into a job offer. And that humility, that innate understanding of how to let the material inform the performance, has served her and her costars well as they've adapted the Harry Potter epilogue for the stage, explaining:
"The group of actors that the production's casting picked, they're just great actors, because no one can be above the name of Harry Potter. That would never, ever work…We are all storytellers. The majority of us are all character actors who have just walked into and landed this amazing gig that has changed our storytelling lives. Knowing that [now], I go, 'Wow, this is a thing, isn't it? This show really is a thing.' " 
Though her fans hope she will continue to bring her shining talent to the stage for some time to come, Dumezweni will also be seen on the small screen later this year. Leaky reported in May 2017 that the actress had been cast in the drama Black Earth Rising for BBC2 and Netflix. Now, details on the upcoming program have been released! According to Variety, Dumezweni will be joined by leads John Goodman and Michaela Coel, and the following plot description was announced at recent BBC2 launch event. The synopsis is as follows:
"The story centers on Kate Ashby (played by BAFTA -winner Coel, pictured), who was rescued as a young child during the Rwandan genocide and adopted by Eve Ashby (Harriet Walter), a British prosecutor. Kate was raised in Britain and, now in her late 20s, works as a legal investigator in the law chambers of Michael Ennis (played by "Roseanne" star Goodman). When Eve takes on a genocide case at the International Criminal Court, prosecuting an African militia leader, it pulls Ennis and Ashby into a journey that will change their lives."
It is still unclear what part Dumezweni will play in the story, but Leaky reported that executives promised it would be "notable" and "significant," a "major pivotal role."
Anthony Boyle on Life in NYC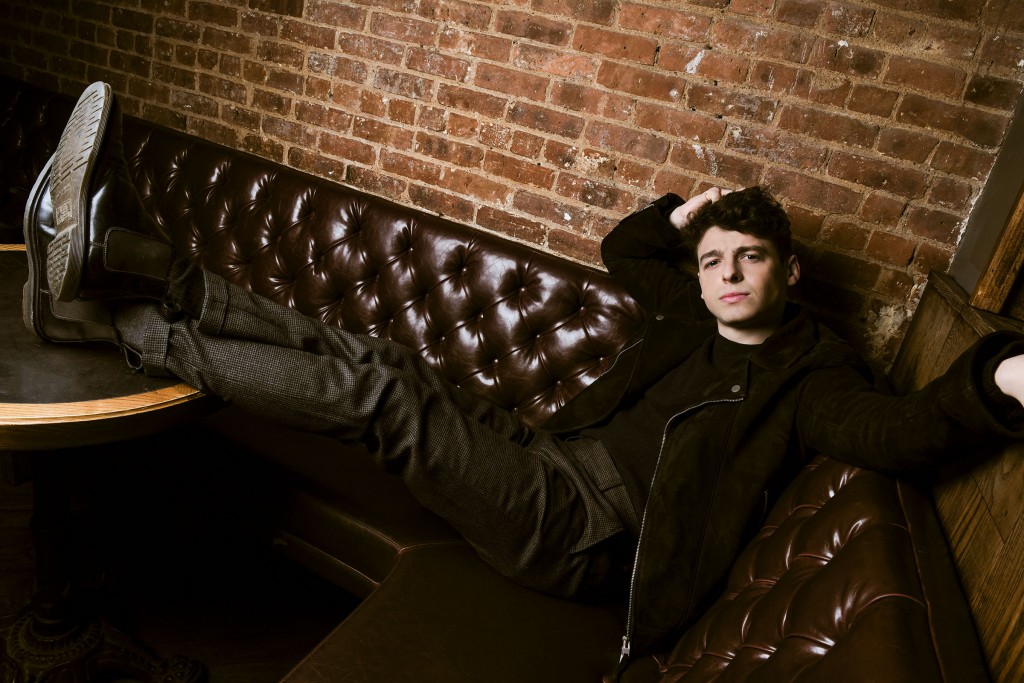 The Evening Standard caught up with Anthony Boyle to find out how he's adjusting to life in New York City and, in particular, the Broadway culture. He observed:
"It feels like you're in Hollywood. If feels like when you're on Broadway you're a star but in the West End you feel like an actor … I'm not used to it, so it feels a bit weird."
Granted, Boyle is overlooking the fact that he is, in fact, a bit of a star. With an Olivier under his belt, as well as Outer Circle, Drama Desk and Tony Award nominations on the table, he's no longer the unknown he was when he first set foot on the West End stage and into the role of a lifetime as Scorpius Malfoy. Still, we'll concede that Americans will conjure up an entirely different experience for both audience members and the actors, and Boyle confirmed that, noting:
"Audiences here are a lot more vocal with laughter and entrance rounds [of applause]. You can hear audible gasps and sobs and stuff."
We hope he enjoys the applause because he will undoubtedly continue to receive lots of it!
Cursed Child Tony Nominees Celebrate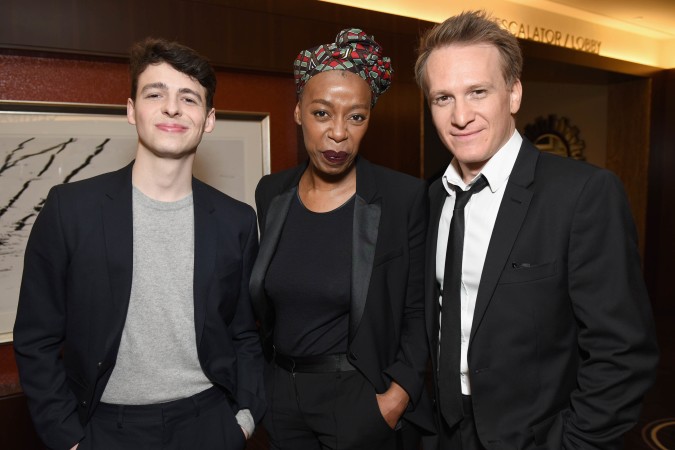 This year's Tony nominees, including Cursed Child's Anthony Boyle, Noma Dumezweni and Jamie Parker (Harry Potter), gathered at the InterContinental Hotel on May 2 for press junket day.
We're so excited to bring together all the #TonyAwards2018 nominees! Thank you @SofitelNYC for sponsoring this event. @ashleyparklady@MeanGirlsBway#ThisIsBroadwaypic.twitter.com/DUVkR6eOeJ — The Tony Awards (@TheTonyAwards) May 2, 2018
Best Leading Actor in a Play nominee, @DickLeFenwick bringing magic to the red carpet! @HPPlayNYC#TonyAwards2018#ThisIsBroadwaypic.twitter.com/EcLFJGXvM7 — The Tony Awards (@TheTonyAwards) May 2, 2018
This wasn't the only big event of the week, however. The cast and crew came together to celebrate the nominations as well–complete with a delicious Cursed Child cake boasting the iconic black and gold theme, wings and nest and a proud 10 emblazoned on one half!
Jack Thorne, the writer/collaborator behind the Harry Potter and the Cursed Child script spoke to Broadway World about the nomination for Best Play, saying:
"My wife and I were trying to get the live stream on but we couldn't! And, then once we finally did we realized that the category had already passed. I don't know how we missed it! This really means everything to me. Being given this chance to do this play… I never thought I'd get this chance and I don't think I'll get a chance like this ever again. Doing justice to this and Jo [Rowling]'s world was such a massive responsibility. My nephew is coming over today and my son is here, so we'll likely play some stupid games with them, then we'll go out for a nice dinner to celebrate!"
Director John Tiffany, nominated for Best Direction of a Play, gushed over his fellow nominees rather than discuss his own, saying:
"I'm over the moon that so many of the brilliant artists who I have had the great fortune of collaborating with on Harry Potter and the Cursed Child have been recognised by the Broadway League and the American Theater Wing."
Producers Sonia Friedman and Colin Callender echoed his sentiments and glowing praise of the cast and crew, saying:
"We are thrilled that the play, our incredible creative team and actors have been recognised in the Tony nominations – this production has been such a wonderfully collaborative experience from the very beginning, and these nominations are a reflection of the extraordinary and inspired artistry of everybody involved in the making of this production, both on and off stage."
Read the responses of Christine Jones (Scenic Design), Gareth Fry (Sound Design), Steven Hoggett (Choreography), as well as lead and featured actors Jamie Parker, Anthony Boyle and Noma Dumezweni, at Broadway World here. Also view behind-the-scenes photos from the press junket in Playbill's gallery here and official photos of Tony nominees from Broadway World here.
Cursed Child Joins Stars in the Alley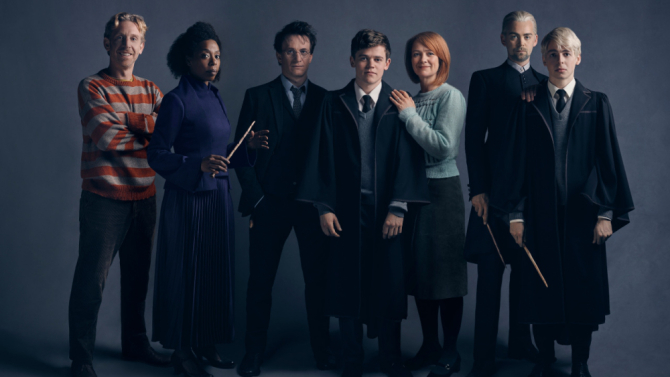 The Broadway League announced its annual Stars in the Alley will be held in Shubert Alley, west of Seventh Avenue and between 44th and 45th streets, on Friday, June 1 at 1 p.m.
Broadway World explained that Stars in the Alley is a free outdoor concert which marks the close of the 2017-18 season and ramps up excitement for the coming 2018 Tony Awards. Broadway League president Charlotte St. Martin enthused:
"Celebrating the end of the season with Stars in the Alley is always one of the highlights of the year! This free concert has something for everyone covering all genres and offering new music, old favorites with a lot more to discover!…Stars in the Alley is an opportunity to sample the very best of live theatrical entertainment featuring the most talented performers in the city and celebrate the Wonderful Productions that are now on Broadway."
Sonia Friedman's Mean Girls is among the many musical productions participating, and Harry Potter and the Cursed Child will make a non-musical appearance!
NY Drama Critics Circle Awards News


In other awards news, the NY Drama Critics Circle, comprised of 19 critics from New York magazines, newspapers, wire services and websites, announced their awards, which will be presented Thursday, May 10.
Broadway World reported that special recognitions will be awarded for Harry Potter and the Cursed Child's "staging, design, and illusions."
Poppy Miller on Ginny Weasley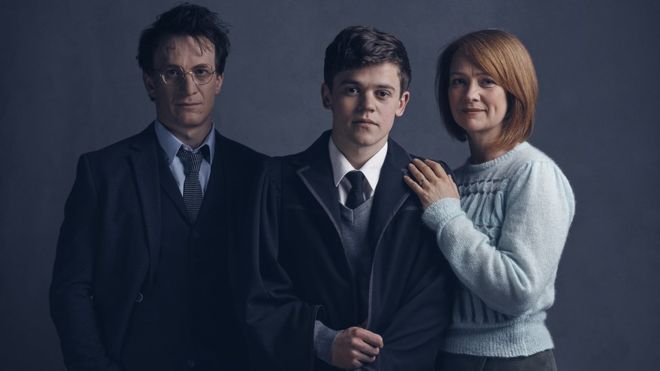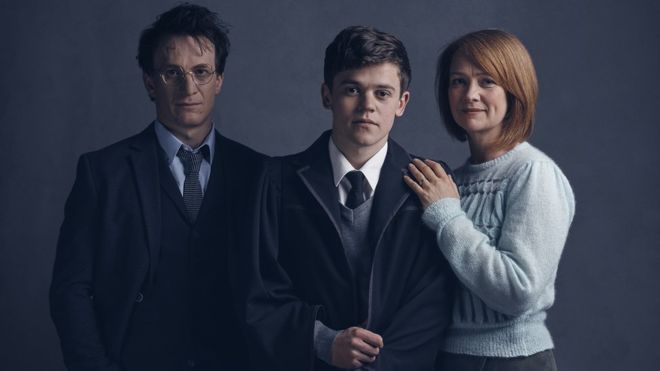 Now that the spotlight seems intractably centered on Cursed Child's Tony nominees, it's easy to forget that the rest of the cast are also incredible performers in their own right, bringing not only their superb acting talent but also depth of insight to their individual characters and the production as a whole.
Cursed Child NYC featured a vignette of Poppy Miller speaking on Ginny Weasley, and it's truly lovely to see how much energy she's invested in getting to know the character inside and out, so that she's not just pulling on a costume when she steps onto the stage but inhabiting a beloved person.
She identified Ginny as a woman who is balancing work and motherhood and loves her husband very much but must learn how to deal with the sometimes-frightening uncertainties of parenthood and conflict with grace and wisdom.
"What I really love about her is she's unwavering" – #CursedChildNYC's Poppy Miller (@Popski_emski) on playing Ginny Potter. pic.twitter.com/RtxP6rKemd

— Cursed Child NYC (@HPPlayNYC) May 3, 2018
Among other observations, Miller closed with what she likes most about Ginny, that she is "wise enough to know when she should say sorry" and that "she's unwavering."
Warwick Davis' Eugenius! Returns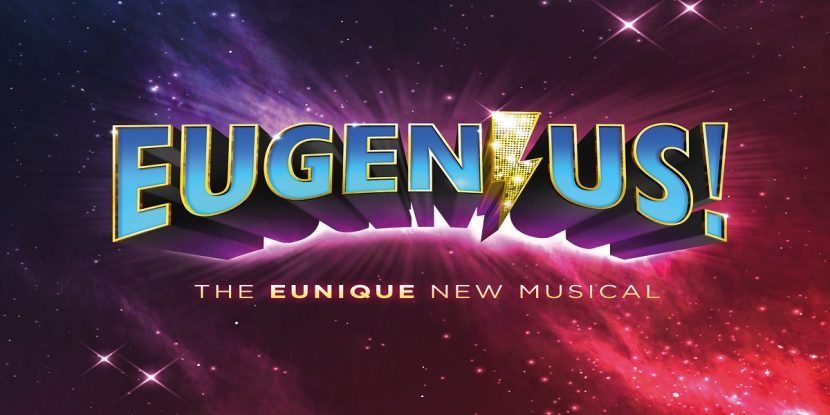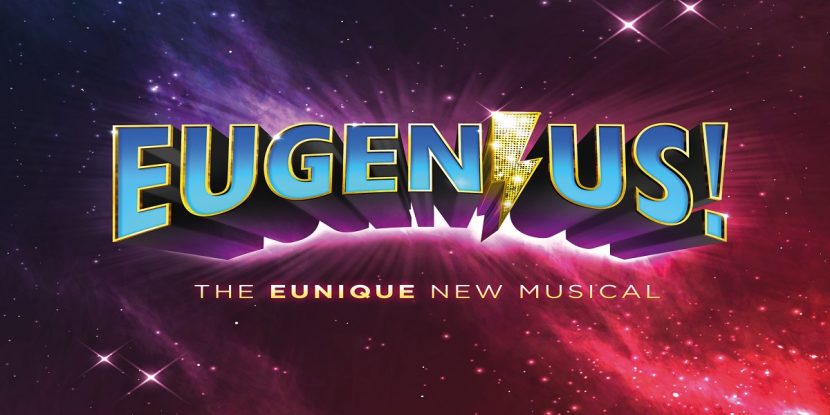 The '80s-themed musical from Warwick Davis (Professor Flitwick/Griphook) was so successful early this season that it has been tapped to return for a run in London from Sept. 1 through Oct. 7, according to Fanthatracks.
Leaky covered the run which ended March 3 and included the following description of the production:
"[There are] MANY, 80's pop culture references in the show, which is ultimately a musical about friendship, inner strength and turning dreams into reality. With references to Star Wars, Indiana Jones, Back to the Future, He-Man, Flash Gordon to name but a few, this musical is aimed at a geeks instead of a typical West End audience."
It also features voice cameos from Brian Blessed and Mark Hamill, of Star Wars fame, which no doubt cements its star-turning status and renders this nostalgic smash a must-see!
Fiona Shaw to Host Gala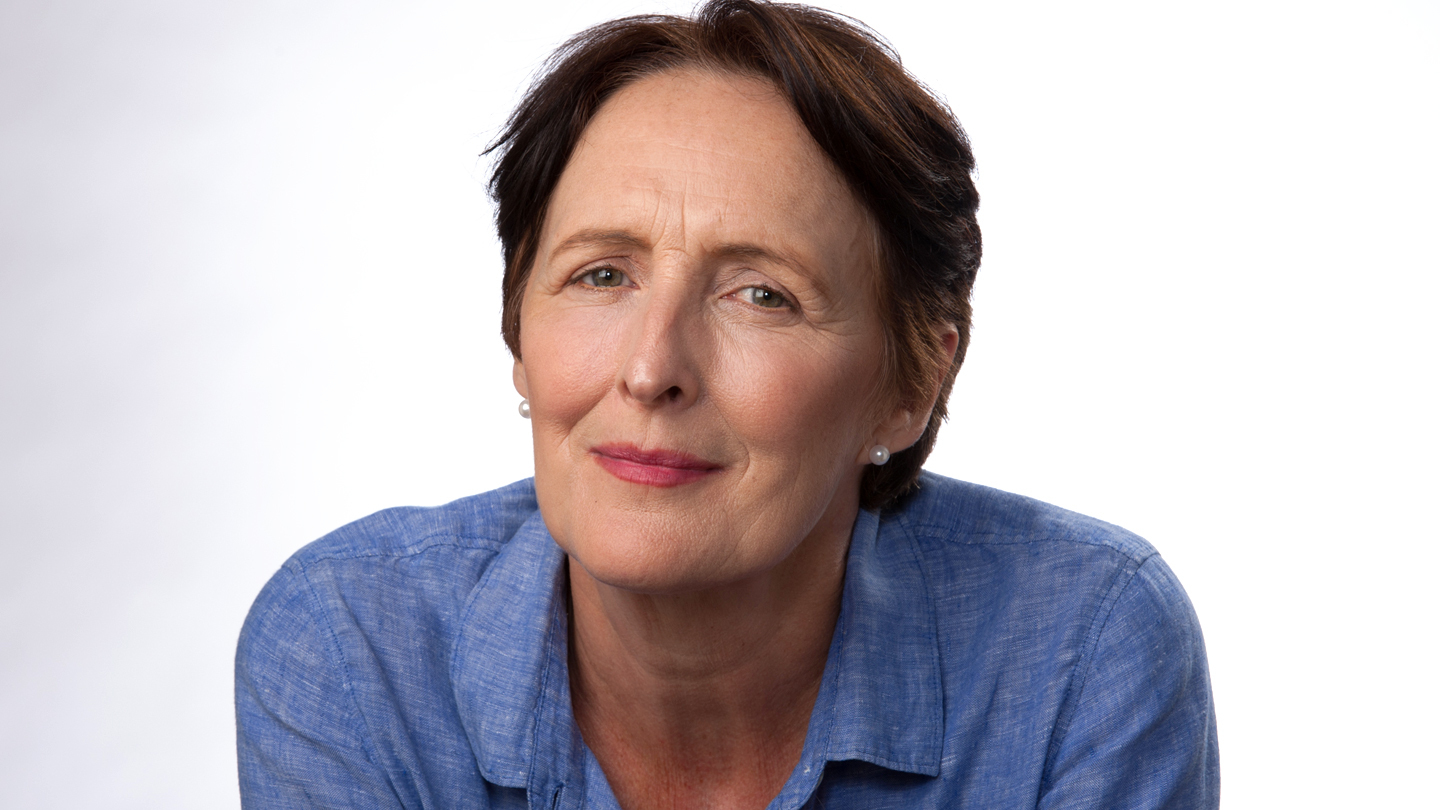 The Stage reported that Fiona Shaw (Petunia Dursley) has been tapped to host a gala for the new group Supporting Women and Parents in Opera, or SWAP'ra, established this February by five female artists "hoping to improve working conditions in the sector."
The event, set for July 31, will be an all-female concert featuring an all-female orchestra. The concert will include music from well-known operas Le Nozze di Figaro, Madama Butterfly and Eugene Onegin, while also showcasing the contemporary work of female composers Elena Langer, Roxanna Panufnik and Josephine Stephenson. The gala will also present almost 40 soloists, from newcomers to the leading ladies of opera.
All proceeds will go toward funding the fledgling organization, which aims to create performance opportunities, support females in the industry, develop a mentoring program and host round table discussions.