For the 'Harry Potter' Fandom on U.S. Mother's Day
May 13, 2018
Typically, I would set to indirectly honoring mothers of the fandom through a tribute to the remarkable qualities of resilience, generosity, determination and love found in the mothers of J.K. Rowling's Harry Potter series. As a mother herself, Rowling understood intimately the daily sacrifice and the fierce hearts of her invented characters, and she wrote them as genuine women we could see our own mothers in and, hopefully, ourselves as well.
The depth and relatability of her characters has always been a strong suit of the series, and one which draws us back to its pages again and again. For this reason, I wrote just that sort of tribute on U.K. Mother's Day, recalling to mind the moments, both large and small, that endeared us to Molly Weasley, Lily Potter, Nymphadora Tonks, Alice Longbottom and even Narcissa Malfoy.
For this Mother's Day, coming only two months later in the year, I wanted to focus the lens elsewhere. Not on the characters themselves and how they inspire us but on the books themselves and how they inspire us in our relationships with our families. There is a slight but altogether significant difference there–because the latter focuses on something tangible which can be shared.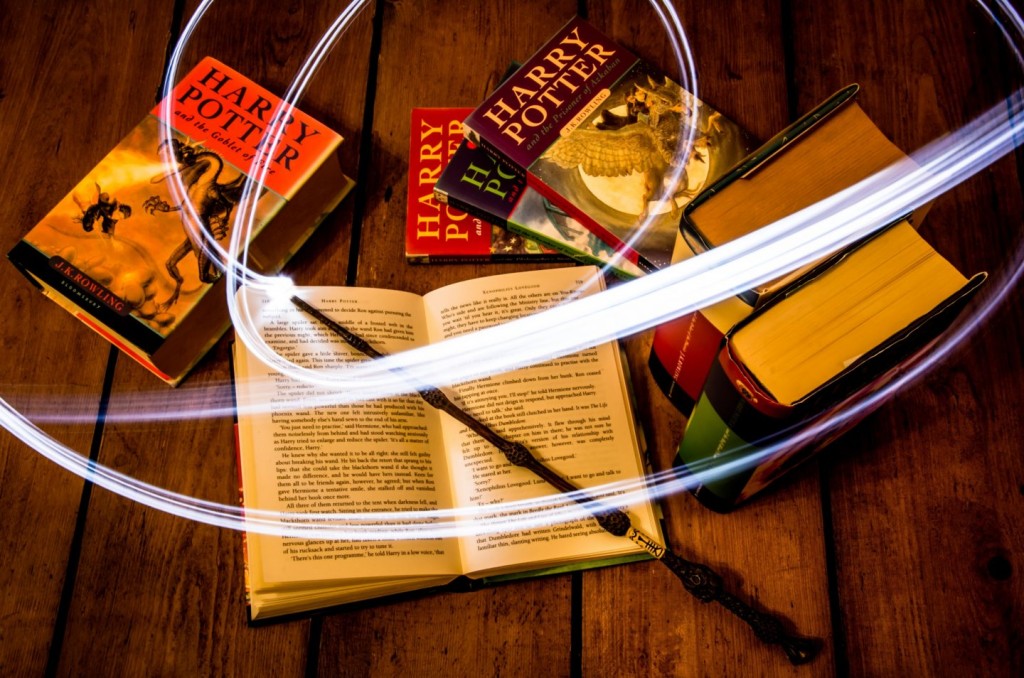 The story of The Boy Who Lived and the wizarding world in which he exists grabs onto the imagination. Not only do we commiserate with the characters, mourn the losses, celebrate the victories and nod our heads along with pithy statements and broad thematic overtures, but we also invest ourselves into it. We too want to go home to Hogwarts.
So we sort into our Houses and wear shirts and socks and scarves emblazoned in the colors. We commemorate important dates like the return to school and Battle of Hogwarts. We dress up as our favorites regardless of age and attend parties and events that bring people of all stripes together. We talk about our theories with fans we've never met, part of the worldwide family of Potterheads.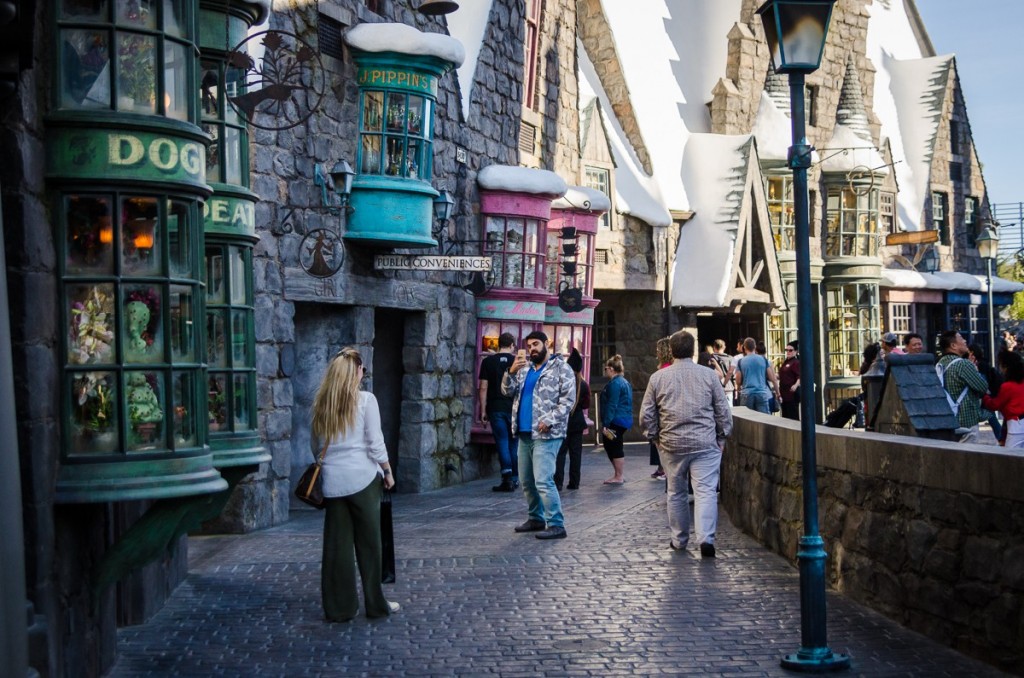 But it's all the better when we can share the magic of the Harry Potter world with our little insular families, too. As moms, we can delight in the delight of our children as they step foot inside Universal's theme parks and see the dragon perched upon Gringotts Bank for the first time. We can clutch them close riding through the chilly depths of the Gringotts ride and marvel at the thrill of boarding the Hogwarts Express. We can grin alongside them strolling through the cobbled streets of Diagon Alley and Hogsmeade, and enjoy the first sips of a frozen Butterbeer.
And although those visceral experiences stay with you, making memories that last for a lifetime, they are not the only ones cherished. We can snuggle down into a deep-set couch and spin the tale for little ones too young to read it on their own. For my own part, I read the books aloud to my children through Harry Potter and the Order of the Phoenix–until my eldest got too impatient to sit quietly through the story and wanted to tear through it on his own. He was hooked, and I got to share that with him.
Earlier in the year, I also wrote about unveiling the magic to one of my reluctant readers and of the joy I felt in finally opening up that big broad world for him. To see him immersed in a book, and one that I, too, love, was precious beyond words! Who can count the moments that may yet unfold between us as we talk over the events of the story, excitedly dress up with House pride and test homemade Butterbeer recipes?
It's a special thing that the Harry Potter books give us moments like that with our children, who all at once are growing up toward adulthood, too fast, like Harry before them.
And not just our children, but with other generations as well. My mother watched me from the outside for years, hovering on the periphery of the fandom, knowing just enough to follow our conversations but not enough to dive in herself. In the last two years, she finally picked up the books. Why? So she could share it with her grandchildren. So she could play the board games with them and be competitive. She gave me updates as she made her way through the epic tale and kept me informed when she bought her own set of the film adaptations.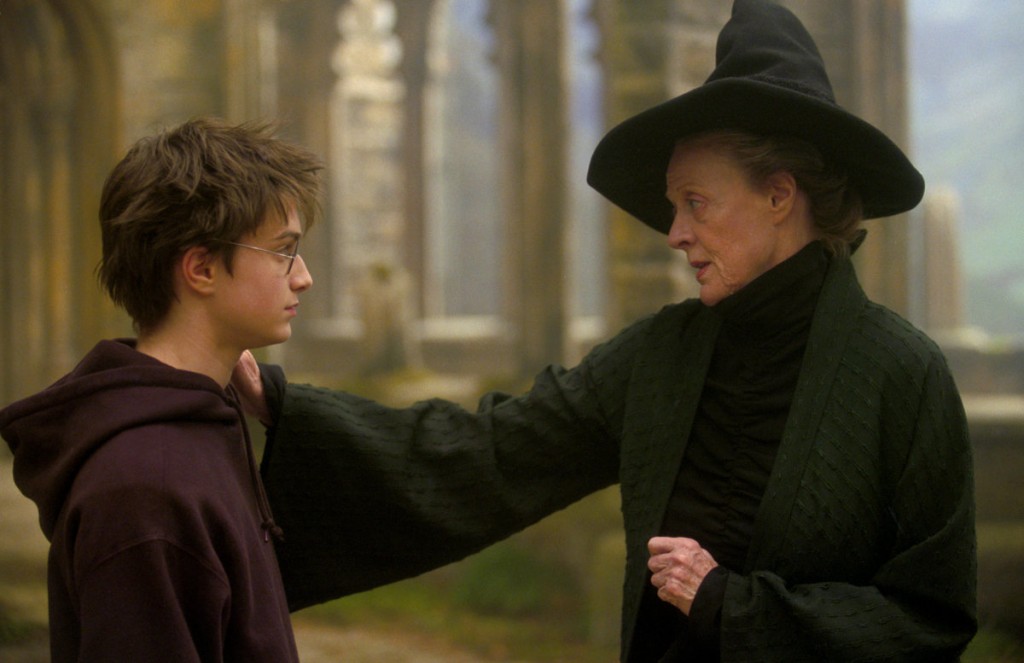 And if you are one of the many who long for that relationship but do not bear the title in name, if you are missing spots at your table through child loss or infertility or other deep sadness you are still struggling to speak of, please don't be discouraged. Share the magic as you can with those who love it, too. There are many "mothers" among us who adopt that role as mentors and supporters of friends, nieces, nephews and students–and we need you. I think of Minerva McGonagall and the relationships she forged with the many who came through her classrooms. She was far, far more than a professor to them, and we remember her today as well!
The Harry Potter series truly has a magical capacity for bringing us together in a way that is quite fittingly celebrated on Mother's Day. So put on your favorite film and settle down with your families, or take up a volume again for an afternoon of reading. Let's all go back to Hogwarts, today!