SDCC News: Tom Felton and Natalia Tena's 'Origin' Trailer, Dan Fogler's 'Walking Dead' Announcement and 'Fantastic Beasts' Teasers Released!
Jul 19, 2018
San Diego Comic Con 2018 opened its doors yesterday, but panels of interest to Harry Potter fans officially kicked off today, starting with YouTube's introduction to its new sci-fi thriller Origin starring alums Tom Felton and Natalia Tena and ending with hints of exciting news to come as fans look forward to tonight's The Dan Fogler 4DXperience Party and tomorrow's The Walking Dead panel!
YouTube's Origin Panel with Tom Felton and Natalia Tena
Billed by Deadline as a "mash-up of Lost, Alien and Invasion of the Body Snatchers," it sounds like an intense multi-dimensional story that defies categorizing–and with enough twists and turns to keep viewers on the edge of their seats. Series creator Mika Watkins confirmed, "I don't think Origin is just one thing — it's many different things," before going on to explain that it incorporates a variety of genres from German noir to Japanese mafia to a virtual reality love story.
Watkins continued the discussion alongside series director Paul W.S. Anderson and cast members Tom Felton, Natalia Tena, Sen Mitsuji, Nora Arnezeder and Fraser James.
Who's going to Comic-con?! ORIGIN panel Thursday 7/19 1pm-1:50 in the Indigo Ballroom at the Hilton Bayfront! #LeaveEarth#SDCCpic.twitter.com/JxSuJXHLjF

— JEFF PINKNER (@jeffpinkner) July 17, 2018
And given the complexity of description, we're not surprised Tena needed a run to de-stress before joining her costars.
Went for a run to feel ready of our @OriginSeries panels @Comic_Con today and came across this! My my, San Diego you are one sexy sausage. pic.twitter.com/bctF4IpuDV

— Natalia Tena (@NatTenaLady) July 19, 2018
Watkins remained vague about the time in which the story is set but did suggest it takes place in the near future. Though they've chosen to be mysterious about that aspect of the setting, Anderson chimed in with the news that "60 percent of the series takes place on the 'spectacular' spaceship but 40 percent goes into the characters' backstory and the horrible things they did to make them flee to the Origin."
Watch the suspense-filled trailer below and get a glimpse of Felton and Tena in action!
Read more on YouTube's Origin panel at Deadline here.
Dan Fogler Promotes Brooklyn Gladiator and Joins The Walking Dead Cast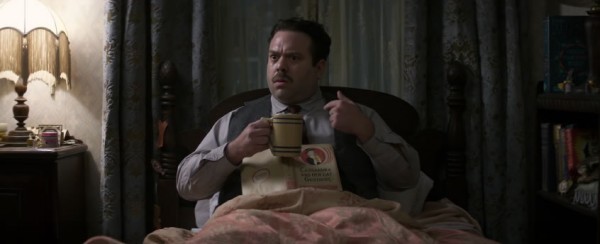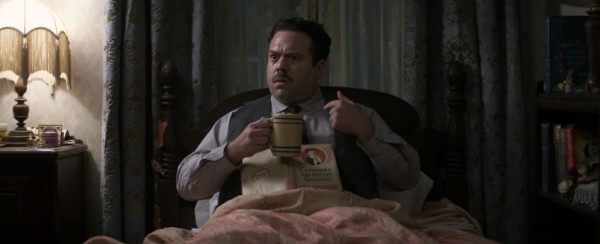 Dan Fogler, Fantastic Beasts star and author of the inventive new graphic novel Brooklyn Gladiator, has been putting in appearances to promote the project, published in April, as well as to promote his podcast, Fogler's 4DXperience.
caso vc tenha perdido o #askluba de ontem: rolou até uma colab com o incrível Dan Fogler ("Jacob" em Animais Fantásticos)

só vem ? https://t.co/jENWZpRFN8#convidadowb #animaisfantasticos #fantasticbeasts pic.twitter.com/2NuaG58upN

— Luba ? (@LubaTV) July 18, 2018
You can also catch up with him at 7 p.m. PST TONIGHT for the Dan Fogler 4DXperience Party!
And in HUGE news, Comicbook.com announced yesterday that Dan Fogler would be joining season nine of The Walking Dead in an unspecified role. The casting might seem like it's coming out of left field since Fogler's regular podcast and his recent performance in Fantastic Beasts play up his comedic talents, but the film also clearly showed he has the acting ability to tap into elements of drama and suspense as well, so we're excited to see how AMC uses him on the show.
This means Potter fans at SDCC may want to update their plans to include Friday's The Walking Dead panel in Hall H at 12:15pm PST/3:15pm EST!
Fantastic Beasts: The Crimes of Grindelwald Teasers
In related news, more Fantastic Beasts: The Crimes of Grindelwald teasers surfaced today, leaving fans all the more anxious for Saturday's Warner Bros. Theatrical Panel and the secrets it might reveal!
In an interview with Entertainment Weekly, Eddie Redmayne discussed the upcoming film and, echoing comments from his recent Buzzfeed interview, confirmed once again that J.K. Rowling takes our favorite characters into a much darker place–and we don't just mean the sewers of Paris. Redmayne observed:
"The most riveting aspect is the tonal change…It's darker and more rigorous and weaving in the Potter lore we're much more familiar with. So these characters you met in the first film are now in the wizarding world you understand more thoroughly. When I read [the script] it had these cryptic elements to it and it played like a thriller that made it a page-turner."
It definitely sounds exciting and, if we may be so bold, worth all the hype! Entertainment Weekly also released an additional "first look" photo, seen below.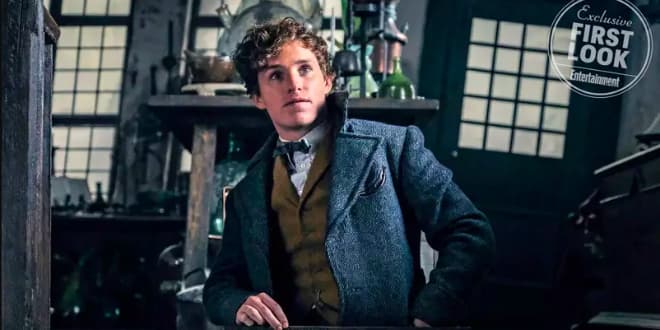 Newt appears to be emerging from his magically-expanded and enhanced case into a work room–or laboratory?–of sorts. Given the collection of bottles, kettles and what might be a chemists' workspace, we're guessing the room belongs to an apothecary or, more likely, the famous Nicolas Flamel. The big question is–what is Newt doing there? Or rather, how did his case get there?! Is he consulting? Has he come on a protective mission? Is this the task entrusted to him by Dumbledore?! Also floating around the internet today is a new image of Leta Lestrange.
EXCL dalla rivista @EW del @Comic_Con: @ZoeKravitz è Leta Lestrange nel secondi capitolo di @FantasticBeasts – #CrimesofGrindelwald#SDCCExclusive#SDCC#SDCC2018#FantasticBeasts#AnimaliFantastici#ICriminidiGrindelwald@WarnerBrosIta#LetaLestrangepic.twitter.com/lgWqqrwLXW

— Portus (@portkey) July 19, 2018
On close examination, it appears Lestrange may be in a Hogwarts classroom, but it's unclear which. The background differs from that shown in the image of Dumbledore sitting atop his desk.
Did she accompany her fiancé Theseus, a member of the Ministry contingent, on his mission to confront Dumbledore? If so, why? That would seem to be a conflict of interests. Unless she came on a mission of her own, perhaps to engage in a private discussion with Dumbledore. Perhaps, to discuss getting Newt involved… It's all very mysterious, and we expect more hints than direct answers at the upcoming panel, but it's evident there's much to be excited about!