Complete Hogwarts Castle Revealed by LEGO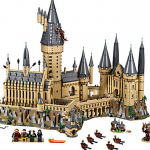 Jul 25, 2018
On the heels of some incredible brick-built displays at San Diego Comic Con, LEGO has revealled the ultimate brick set for Harry Potter fans. To add to the growing number of Wizarding World-themed sets on the way, including scenes from the first three installments of Harry Potter, as well as from Fantastic Beasts, LEGO has unveiled a 6000+ piece full Hogwarts Castle due out September 1.
LEGO Hogwarts Castle – accepting first year wizards and witches September 1. ??? https://t.co/eZKv9UxiQN @HarryPotterFilm #HarryPotter #LEGOHarryPotter pic.twitter.com/1nLFhmcWGz

— LEGO (@LEGO_Group) July 25, 2018
The toy brick company has really outdone themselves with this spectacularly detailed replica in miniature of the iconic castle. The set includes numerous Hogwarts classrooms and scenes from the story, like Harry's introduction to the Mirror of Erised in Sorcerer's Stone, his encounter with the Basilisk in Chamber of Secrets and detention with Umbridge in Order of the Phoenix.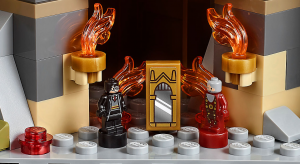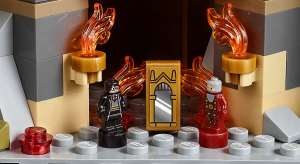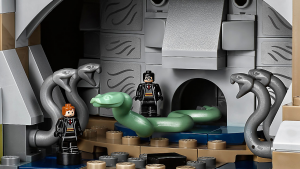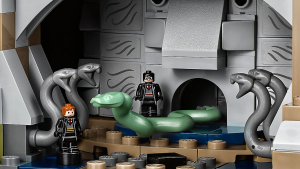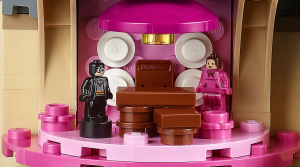 The set also comes with a collection of mini-figures including the four Hogwarts Founders!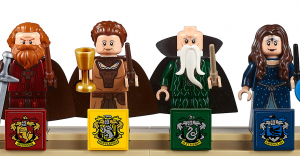 The 71043 Hogwarts™ Castle kit costs $399.99 (or £349.99), contains 6,020 pieces and contains mini figures of the four Founders of Hogwarts as well as 27 microfigures, he Whomping Willow, Great Hall, Defence Against the Dark SArts classroom, the Goblet of Fire,, Gryffindor Common Room and much more – they've even included the boats helping First Years get across the lake! Full details from the LEGO website are below – you're sure to see all the magic you're getting for your galleons! LEGO, who is certain to unveil its dedicated Wizarding World mini site any day now, states that the set will be available September 1, but other sources have reported the release date as August 15. How excited are you for this LEGO Hogwarts Castle?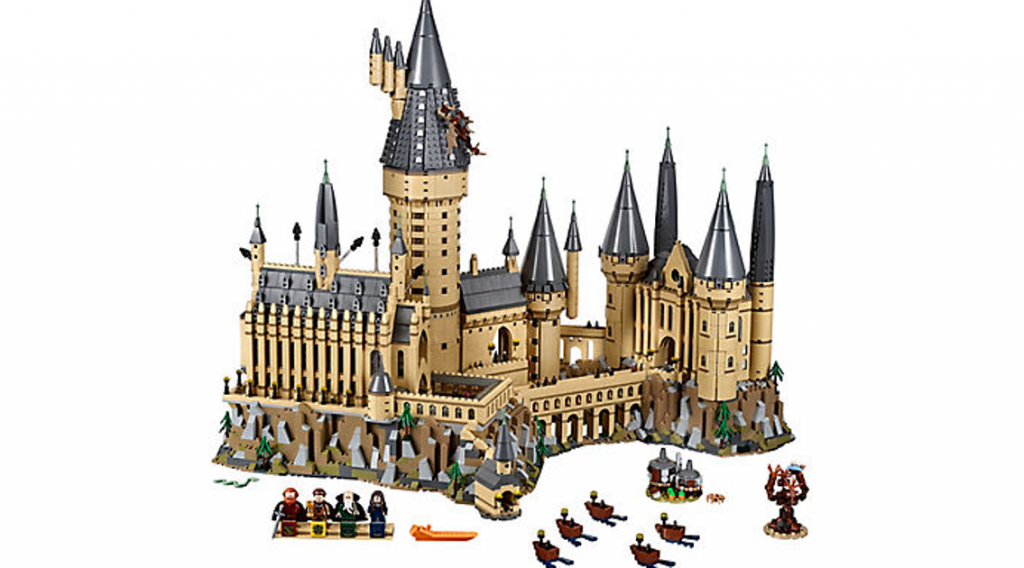 Includes 4 minifigures: Godric Gryffindor, Helga Hufflepuff, Salazar Slytherin and Rowena Ravenclaw, with a buildable minifigure display stand.

Also features 27 microfigures: Harry Potter™, Ron Weasley™, Hermione Granger™, Draco Malfoy™, Albus Dumbledore™, Professor Snape™, Professor McGonagall™, Remus Lupin, Professor Dolores Umbridge™, Argus Filch, Lord Voldemort™,

Bellatrix Lestrange, 3 students from each of the 4 houses, 2 chess pieces and the Architect of Hogwarts™ statue and 5 Dementors, plus Aragog the spider and the Basilisk figures, and a buildable Hungarian Horntail dragon.

Features a buildable microscale model of Hogwarts™ Castle, hut of Hagrid™, Whomping Willow™ tree and 5 boats.

Hogwarts™ Castle features the Great Hall with buildable 'stained glass windows', house banners, benches, tables, flaming torches and moving staircases; potions classroom with racks of jar elements; Defence Against the Dark Arts classroom with assorted potion jars, gramophone and a closet containing a boggart; Chessboard Chamber with chess piece elements; Room of Requirement with assorted elements, including the Goblet of Fire and the vanishing cabinet; Chamber of Secrets™ with the Basilisk and Tom Riddle's Diary; hidden Devils Snare room with vine elements; Gryffindor™ common room with fireplace and seating; Professor Dolores Umbridge's office with desk, chair and pink furnishings; library with bookcase and desks; and Professor Dumbledore's office with the Griffin statue entrance and Memory cabinet.

Hagrid's hut features Aragog the spider and buildable pumpkins.

The Whomping Willow™ includes the buildable blue Flying Ford Anglia car in its spinning branches.

Also includes 5 buildable boats.

Take a seat in the Great Hall and feast with the Hogwarts™ professors and students!

Sneak your way into the Chamber of Secrets™ through the secret entrance and face the Basilisk!

Attend a Defence Against the Dark Arts class to learn how to protect yourself from dark magic!

Climb the moving staircase!

Study for your Ordinary Wizarding Level exams in the library.

Accessory elements include the Sword of Gryffindor™, Helga Hufflepuff´s cup, wands, potions, house banners, flames, a cauldron and 2 magnifying glasses.

Microfigure accessories include 2 chess statues and the Architect of Hogwarts™ statue.

Hogwarts™ Castle measures over 22" (58cm) high, 27" (69cm) wide and 16" (43cm) deep.