Potter Fans Celebrate 'Back to Hogwarts' and Get a Fantastic Surprise at King's Cross!
Sep 01, 2018
Jude Law and Eddie Redmayne, set to portray an epic partnership which may rival the popularity of our beloved Harry Potter trio, surprised fans by apparating onto Platform 9 3/4 at the King's Cross station in London this morning.
Potter fans had gathered to celebrate the moment when The Boy Who Lived ran through the enchanted wall between Platforms 9 and 10, officially ushering him into the wizarding world. As they eagerly waited for the clock to strike 11 a.m., signaling the departure of the Hogwarts Express for the School of Witchcraft and Wizardry, the pair made their entrance.
Look who's arrived at Platform 9 ¾ to meet fans! ?
Stars of #FantasticBeasts Eddie Redmayne and Jude Law. #BackToHogwarts pic.twitter.com/jVx5CDnxH8

— Fantastic Beasts (@BeastsMovieUK) September 1, 2018
Fans of J.K. Rowling's original series and the recent entry, Fantastic Beasts and Where to Find Them, are anxiously awaiting the release of Fantastic Beasts: The Crimes of Grindelwald in November, so the meeting of the two worlds at this year's "Back to Hogwarts" celebration was a true magical experience for the lucky fans at the station.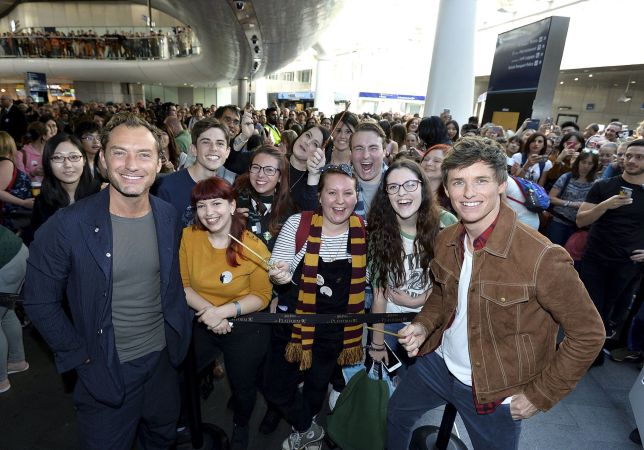 Picture courtesy of Getty Images)
According to Metro News, Law, who plays the young Professor Albus Dumbledore, and Eddie Redmayne, tapped to portray the lovably-awkward and earnest magizoologist Newt Scamander, even joined the excited crowd for the countdown.
All aboard the Hogwarts Express! #BackToHogwarts pic.twitter.com/zl0q5sXR5V — Fantastic Beasts (@BeastsMovieUK) September 1, 2018
The duo appeared to have a fittingly-fantastic time, making the most of photo ops and, perhaps, engaging a bit of their own Potter nostalgia.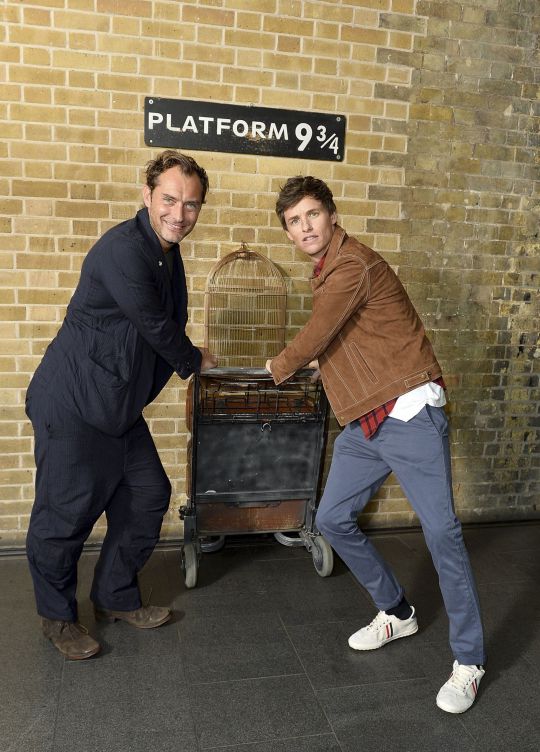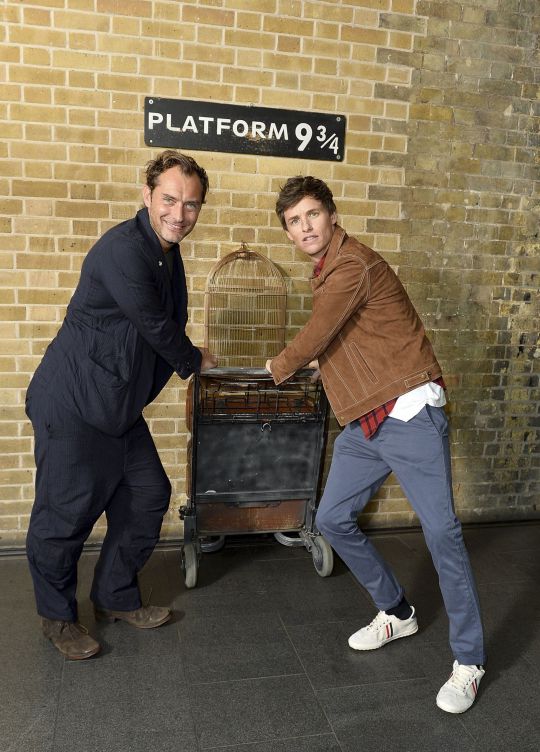 (Picture courtesy of Getty Images.)
The delightful surprise came on the heels of a "Back to Hogwarts" featurette, shared via social media yesterday, which included Rowling, Redmayne, Zoe Kravtiz (Leta Lestrange) and Law's thoughts on returning to Hogwarts in Crimes of Grindelwald, inviting fans to reminisce along with them as they looked forward to Sept. 1.
Rowling enthused, "I loved going back to Hogwarts–of course I did. It looks very familiar to anyone who saw the Potter movies, but obviously the teaching staff are different."
Redmayne followed, observing, "Those names, the stories, the histories that sit in the back of our mind from the Potter series begin to weave their way into Beasts."
Christian Manz, the VFX supervisor, noted his excitement at being on location in the old familiar haunts, saying that it's "quite amazing really."
Finally, Law added, "It was a slightly odd out-of-body experience because I've watched with everyone else those classes, and suddenly to be in it, you're in there doing it but then you look back, as yourself, and realize how special it was."
We agree with Rowling that this year's trip "Back to Hogwarts" is an incredibly sentimental journey, especially as we anticipate seeing the school's hallowed halls onscreen once again! In fact, many of the Crimes of Grindelwald cast members filmed another special message to fans celebrating around the world today.
Hogwarts is home. Watch a special #BackToHogwarts message from the #FantasticBeasts cast: pic.twitter.com/YJAOb72POq

— Fantastic Beasts (@FantasticBeasts) September 1, 2018
We honestly can't wait–though today's festivities do make it more bearable! However, for those who are particularly anxious for November to arrive, you can return to Hogwarts weekly by submitting evidence of your own inspired magic to Fantastic Beasts–new fan-created pieces will be shared every Friday!
Your magic deserves to be seen. Every Friday we will share a new #FantasticBeasts fan-created piece here. Submit yours using #FantasticFans for a chance to be featured. pic.twitter.com/mI03p93veb

— Fantastic Beasts (@FantasticBeasts) August 31, 2018