Emma Watson and Our Shared Shelf Author Rupi Kaur Talk Poetry, Process, and Permission to Use the "F" Word
Sep 06, 2018
Two prominent voices of the  #Metoo movement, who share a passion for literature and the empowerment of women, Emma Watson and her summer Our Shared Shelf author, New York Times bestselling "Instapoet" Rupi Kaur, sat down recently for a conversation on the positive effects of poetry, the pros and cons of writing for an online audience, and why feminism shouldn't be a 'dirty word'.  
Watson, as poised as ever, began the interview, which was posted today on her book club's site, by citing the fact that in 2015 only 6.7% of Americans had read a poem in the previous year and that many of this literary rock star's 2.8 million followers may have been introduced to the medium of poetry through her Instagram account. Kaur explained that for her, poetry is a vehicle for processing and expressing emotion, and she is often astonished by the small percentage of people using it to share feelings and heal wounds. Watson disclosed that she too employs Kaur's work, including the author's self-published first book, and Watson's Our Shared Shelf choice, Milk and Honey as a "tool in her arsenal to draw from" when communicating hard-to-express ideas and applauded Kaur for "giving people more words."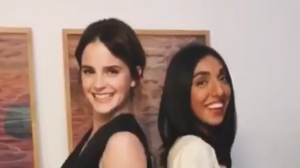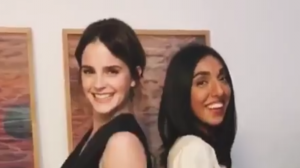 Watson then homed in on the phenomenon of Kaur's "Instapoet" status and how it affects her writing,
"You're a poet in the day and age of– you post something on your Instagram account and you get instant feedback, so you know, most writers will put a book out into the world and maybe they'll read a review or maybe they'll meet someone that's read their work and has an opinion but you have to come face-to-face with people's responses and feelings toward your work on a daily basis in droves."
Kaur responded with some insight on her creative process,
"Writing for me is like a romantic relationship with a partner. It's like a spiritual connection that I have. It's when I feel closest to myself and you wouldn't let a third party enter your romantic relationship."
These two "kindred hearts and spirits", as Watson once deemed them, also discussed a potential downside of the platform that has brought Kaur fame,
"Social media can be a difficult place to maintain a healthy sense of self and self-esteem I'm curious how you navigate those choppy waters and keep finding this well of self-love as a woman in a world that does not support that?"
Kaur shared her own panacea for the situation to which Watson wholeheartedly agreed,
"I realized self-love is like a consistent thing that you have to work towards and it's always going to happen in cycles it's like every day work."
Watson praised Kaur for her deeply moving words, which she said allowed her personally to discuss the sometimes controversial subject matter in Kaur's poems. She also noted Kaur's traditional dress she often wears for public appearances, which Watson believes is so empowering for other women from similar cultures and backgrounds. Kaur reciprocated telling Watson that as a result of her vocal support of women's equality, Kaur feels she's been given permission to use "that word"- feminism without the burden it typically bears. Watson confessed that she's spent a lot of time trying to help men understand that "male feminists are a thing" in an effort to use the word inclusively, but often finds herself apologizing for it. Which by the way, we can completely imagine as a scene with our Golden Trio in the Gryffindor Common Room.

Watson made certain to leave time for questions for Kaur from her Our Shared Shelf readers. They asked everything from where do you do you best work, to looking for writing advice. Watson also asked Kaur about her future projects, which include another book of poetry before trying her hand at prose, some possible audio work, and the adaptation of one of her books for the stage.
Watson wrapped up their time together with a request for Kaur's Our Shared Shelf suggestions. The guest author recommended Odes, a collection of poetry by Sharon Olds and the Pulitzer Prize winning novel The Color Purple by Alice Walker.
Do you follow along with Emma Watson's Our Shared Shelf books? Did you read Milk and Honey this summer? If you'd like to hear the poet's powerful words recited live, check out Rupi Kaur on her U.S. Tour this fall.