It's 'Lethal White' Publication Day!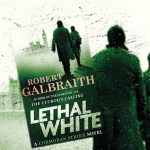 Sep 18, 2018
The day has finally arrived! After months of teasing from J.K. Rowling, to the announcement that her close friend Robert Galbraith had finally finished the book and the release date reveal, it's finally September 18th – meaning it's publication day for the fourth Cormoran Strike novel, Lethal White!
Publication day will always be a thrill for me, no matter how many books I write. Hope you enjoy #LethalWhite! https://t.co/24l4J5o12x

— J.K. Rowling (@jk_rowling) September 18, 2018
Those wondering what J.K. Rowling's mysterious twitter headers have meant over the past months to those debating how Robin and Cormoran's dynamics may change as a result of Robin's marriage will finally be answered, and by the end of today (most likely, let's not pretend us Potter fans have any restraint when it comes to reading books on publication day) we'll have even more questions for book five!  
All this #LethalWhite love is making me want to take the afternoon off, sit in the sun, and keep reading 📖🙌🏼 pic.twitter.com/zBujZTYqIe

— Tonile (@tonilehelena) September 18, 2018
There will definitely be a book 5! https://t.co/d9I9oTWHsh

— J.K. Rowling (@jk_rowling) September 18, 2018
Of course, we won't be seeing Robert Galbraith at book signings anytime soon, so The New York Times published an interview with the bestselling author – it really takes Jo's talents in character development to the next level. Whilst discussing his background, he points out his "uncanny resemblance to J.K. Rowling":
"I previously worked in the plainclothes S.I.B. (Special Investigation Branch) of the Military Police. After leaving the army and while writing my first novel, I worked in the world of private security, which explained my initial reluctance to be photographed, interviewed or take meetings, lest my uncanny resemblance to J.K. Rowling be noticed."
The choice of the name "Cormoran Strike" was also explained in the interview – aside from being named after a Cornish giant, "Cormoran", "Strike was chosen to a
"I wanted Strike to have an odd name because his dead mother was a flamboyant, unconventional character who had only herself to please when it came to christening him. She returned to her family in Cornwall to give birth and I thought it would be like her to fix on a Cornish name, a quixotic and almost paradoxical choice given how much she wanted to escape her backwater roots. If she'd waited a week or so he might have been Elvis, but I think she was feeling momentarily sentimental about home"
Speaking on the musical references throughout the series, Robert also gives suggestions for tracks to include in a playlist to listen to whilst reading the novels, and discusses the complexities of planning a crime novel (it involves the use of detailed spreadsheets!). Speaking on future plans, Robert also gives a hint as to where J.K. Rowling is headed next – she's still working on that children's book (alongside Strike and Fantastic Beasts, of course!):
"I'll definitely write more Cormoran Strike novels. I've already got the plot of the next one. And my good friend J.K. Rowling is writing a new (non-Potter) children's book and is also working on the third Fantastic Beasts screenplay."
Rowling has previously suggested that as many as ten Strike novels are in the works, so we should be celebrating publication days for years to come! Read the full interview with NYT here. Of course, the release of Lethal White means we should be seeing the TV adaptation of the book in an upcoming new series of Strike / C.B. Strike, so look out for updates as they come our way…
Join us in wishing a very happy publication day to Robert Galbraith / J.K. Rowling! Let us know what you're thinking of Lethal White so far, and show us photos of your copy via Facebook, Twitter and Instagram!