'Fantastic Beasts: The Crimes of Grindelwald' World Premiere Casts Lumos on Paris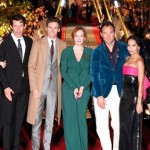 Nov 09, 2018
After two years of waiting for the sequel to Fantastic Beasts and Where to Find Them, J.K. Rowling and the cast and creative of Crimes of Grindelwald welcomed eager fans in Paris tonight for the film's World Premiere, and Leaky was right there to bring you all the magic from the red carpet.
Our Senior Editor began the evening with a virtual tour of the sights surrounding the red carpet, met some friends from fellow fansite Mugglenet, and even took a sneak peek inside the cinema, where we found Newt waiting for the arrival of guests, with his Niffler buddy at his side: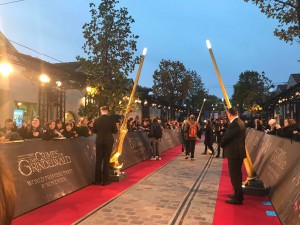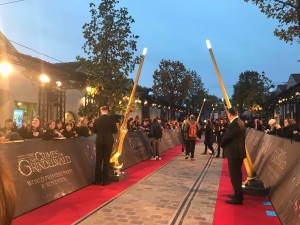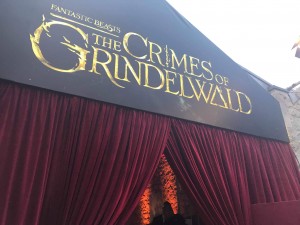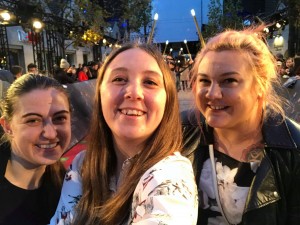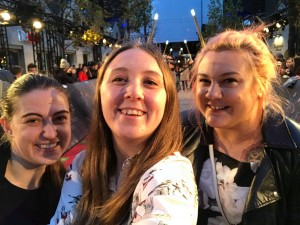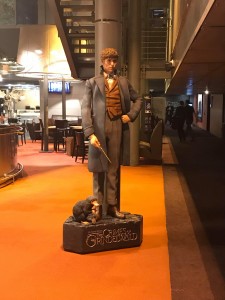 The event began with a spectacular screen show, featuring scenes from the film and sky high promotional images incorporated with light and music from the the Crimes of Grindelwald soundtrack.
Ezra Miller, who plays Credence Barebone was the first to arrive and definitely had heads turning with his usual flair. We didn't get the chance to speak with him at the event but our recent press tour interview with Miller is on the way!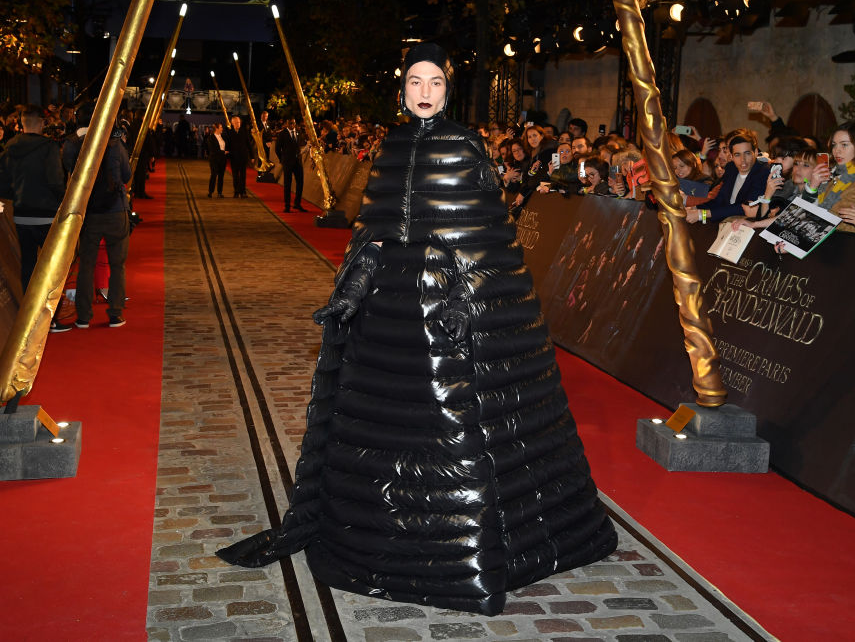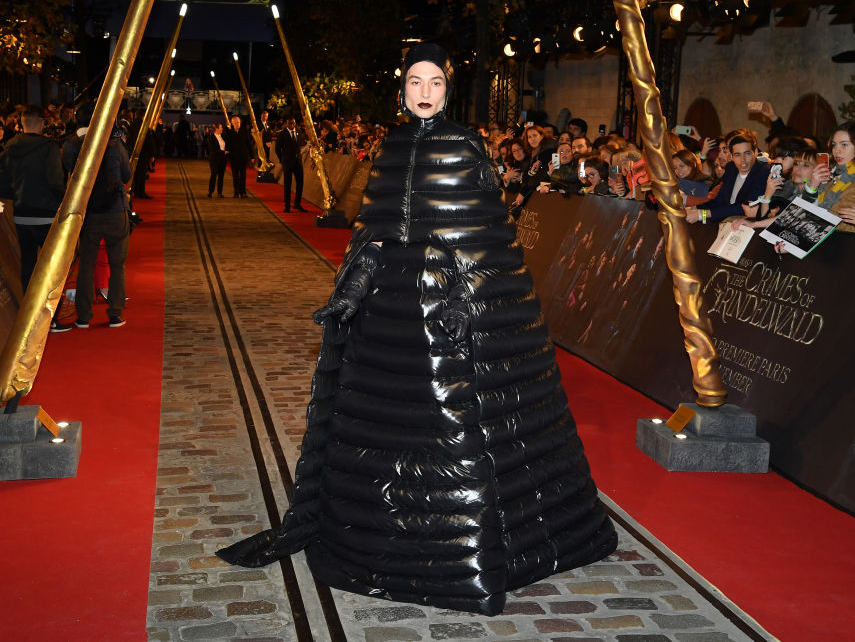 After signing fan autographs and posing for media outlets, many of the stars were whisked down the carpet to the main stage where they were introduced to the excited crowd, so there were quite a few of the cast and creative we missed, including J.K. Rowling herself! Though we were able to visit with three individuals who are pretty important to the series!
The first to make it down to us was none other than Jude Law, who of course plays the young Albus Dumbledore, or as it was pointed out to him earlier this week in an interview with Stephen Colbert "Yumbledore". After confirming to our neighbors on the carpet, Mugglenet, that he was lucky enough to get Dumbledore's entire history early on in the process from J.K. Rowling, we mentioned to Law the fact that Rowling has said Dumbledore is not manipulative and asked what he thought about her statement. He replied he thinks Dumbledore is maneuvering people to what he thinks is right, with the best interests at heart for those around him. Isn't this exactly what we want to think of Dumbledore!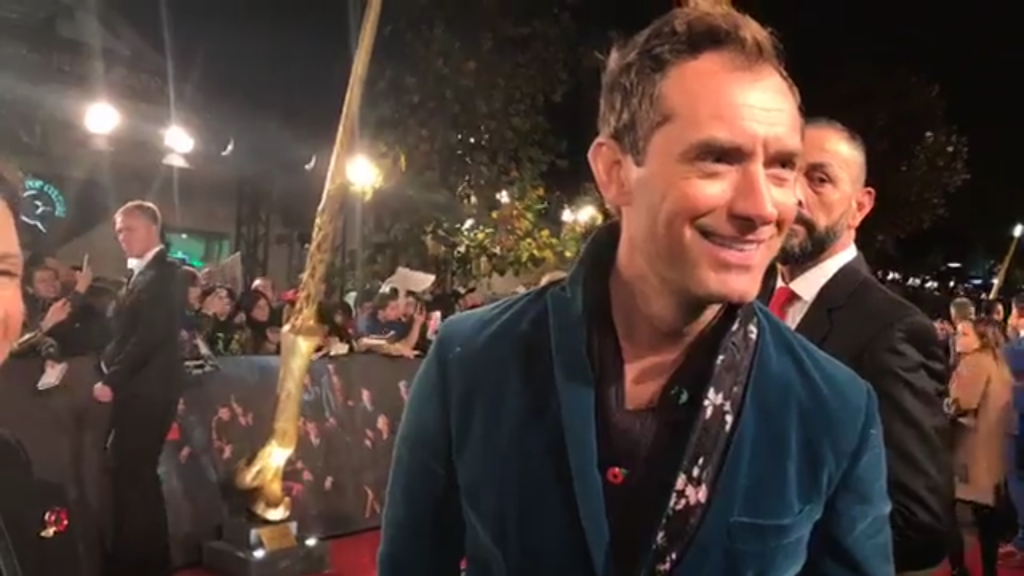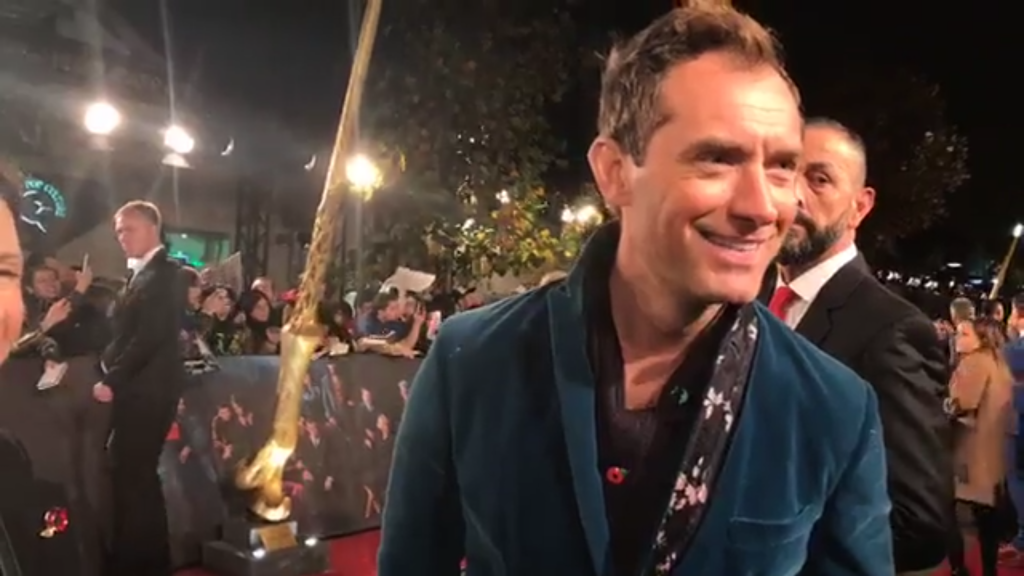 Next on the red carpet was Claudia Kim, who was revealed earlier this fall at the Crimes of Grindelwald New York  fan event to be the future Horcrux and pet of He Who Must Not Be Named, Nagini. She told Mugglenet when they asked how it felt to keep such a huge secret for so long that she really didn't want to spoil the surprise for the fans. Then we had the chance to ask her how it felt to be at the center of so many fan theories, and she said she had watched a lot of videos and was surprised how accurate they were! Wizarding World fans definitely have proved to be very critical thinkers when it comes to speculation on the series!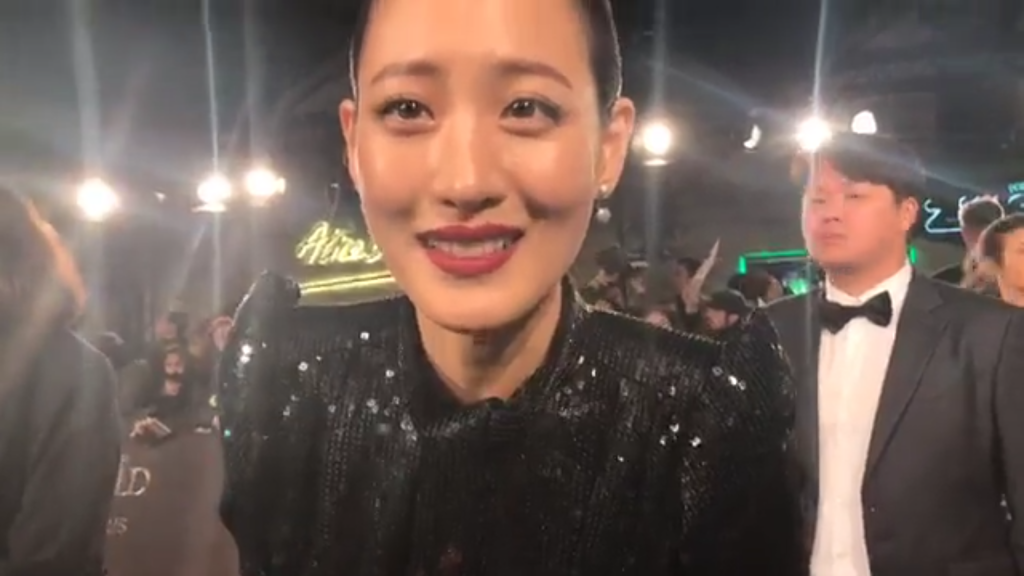 Our last red carpet interview came from director David Yates. We asked him how the looming presence of war would affect the film and the darker feel that we've been told this installment possesses, to which he replied,
"We reflect the world around us and can't help but feel the tensions in the world and it finds its way into the narrative. Yes, Grindelwald wants to take the Wizarding World to a point of conflict with the No-Majs and Muggles– that's his game plan. He feels so superior to them and he also feels really frustrated that wizards have to hide their gifts and so he thinks he has a legitimate case to really create conflict. And creating that conflict will make him supremely powerful. Grindelwald as a character is quite scary because he is so seductive and he's got this great gift of bringing others to his side and he can make the most poisonous ideology sound palatable, so he is dangerous."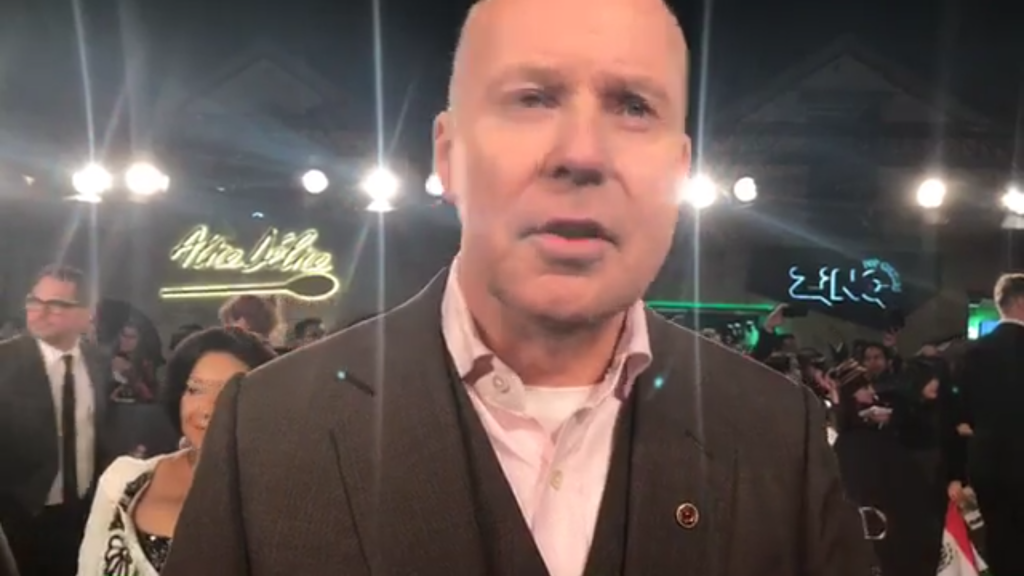 What incredible insight into this villain that we are really just getting ready to know. We feel sure there is so much more of Grindelwald's story to come in the series.
There were many other cast members in our midst at the premiere including Brontis Jodorowsky, who plays alchemist Nicolas Flamel, Callum Turner, who plays Newt's brother Theseus Scamander, and Zoe Kravitz as Leta Lestrange. We also had glimpses of producer David Heyman and Wizarding World graphic arts duo Miraphora Mina and Eduardo Lima of Minalima.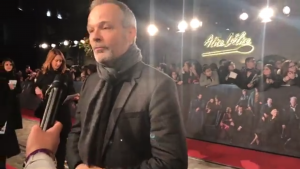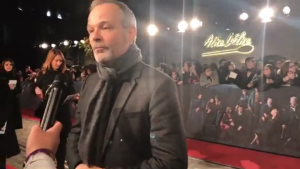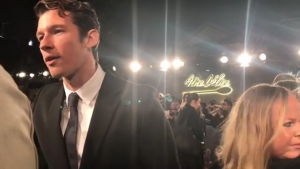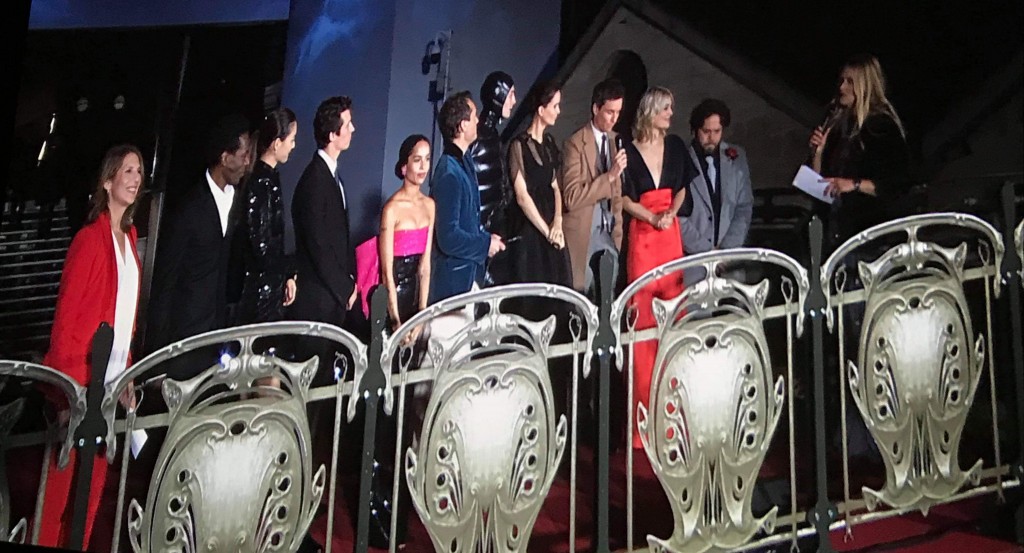 Just prior to the screening, the cast and filmmakers gathered on stage to wrap up the red carpet and countdown to the premiere. Eddie Redmayne said the combination of thriller, joy, romance and comedy makes the Fantastic Beasts series special. Then Jude Law said that it's an exciting time for fans as the worlds of Harry Potter and Fantastic Beasts to come together as described in this new video below which couldn't make Potterheads more excited to continue on this Fantastic Beasts journey-definitely goosebump material! 

Then J.K. Rowling joined the stage and Yates said that it is Rowling's work that,
"inspires and unites them all in a profound way."
and producer David Heyman said
"her words bring them together. It's like a family."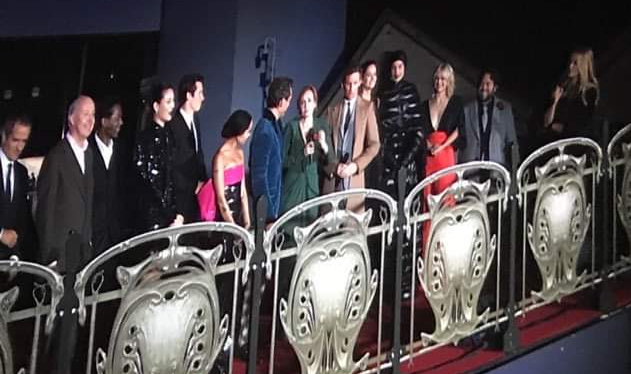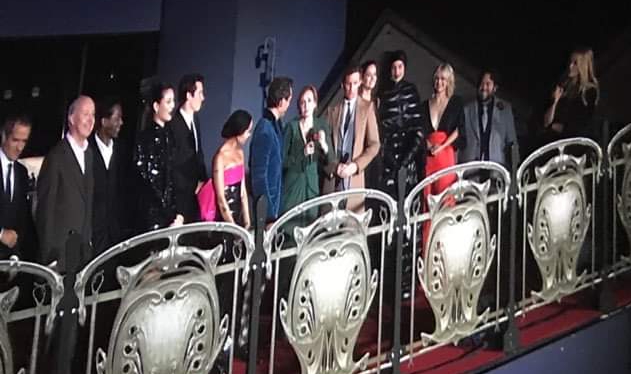 To get the whole magical experience from the Paris premiere of Crimes of Grindelwald take a look at the full live stream from the red carpet below:

Join us next Tuesday, November 13 live on Facebook for the London premiere of the film, where we're told we may see Johnny Depp who wasn't able to attend the Paris event. We hope to be able to bring you interviews in London with the cast members we missed in Paris and fingers crossed, with J.K. Rowling! While you're waiting to finally see Crimes of Grindelwald for yourself, take a look at our spoiler-free review from our fan first cast press tour screening in Los Angeles and our viewing tonight in Paris!
feature image from Getty Images