A Hidden Treasure: Bespoke Handwritten Hogwarts Letters From MinaLima!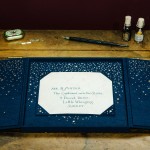 Mar 22, 2019
MinaLima have been designing graphics of the highest quality for J.K. Rowling's Wizarding World for over a decade. First they worked on the Harry Potter films, then went on to design aspects of the Wizarding World of Harry Potter at Universal Studios theme parks. Now they continue their work on the Fantastic Beasts film series.
Potter fans will be familiar with practically all of their designs, and delighted by their more obscure ones – hidden from the camera view or never used at all, but given new life in their collections. Of course, Harry Potter's welcome letter to Hogwarts is one of the first magical props we see in the movies. MinaLima are now offering a bespoke replica of the letter, handwritten by Miraphora Mina herself (yes, she is the hand of McGonagall!), with the option to personalise your letter if you so choose.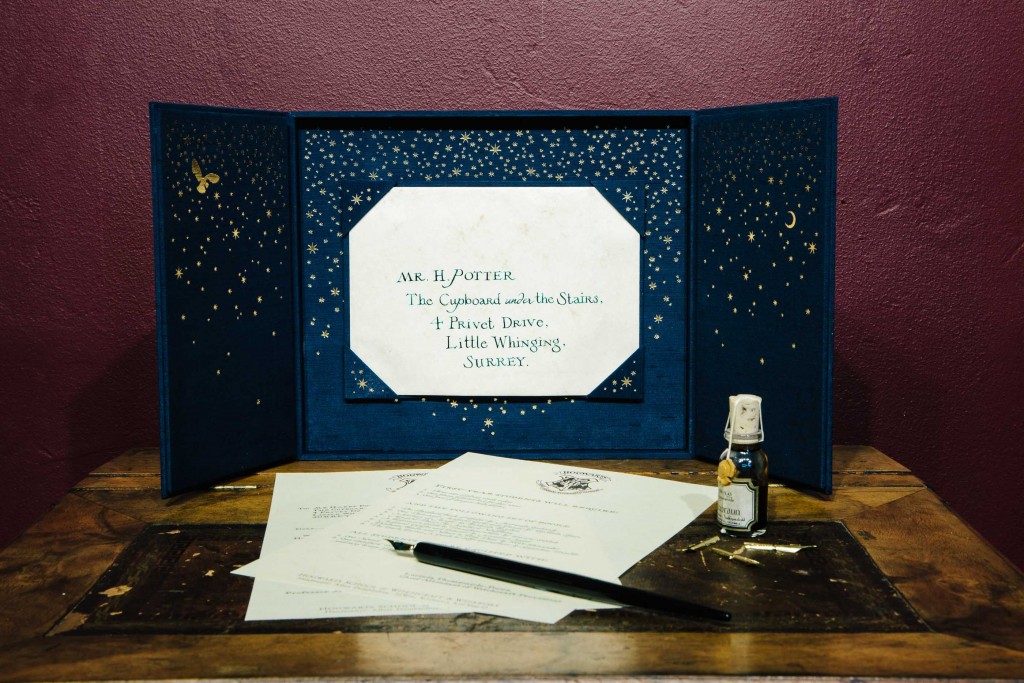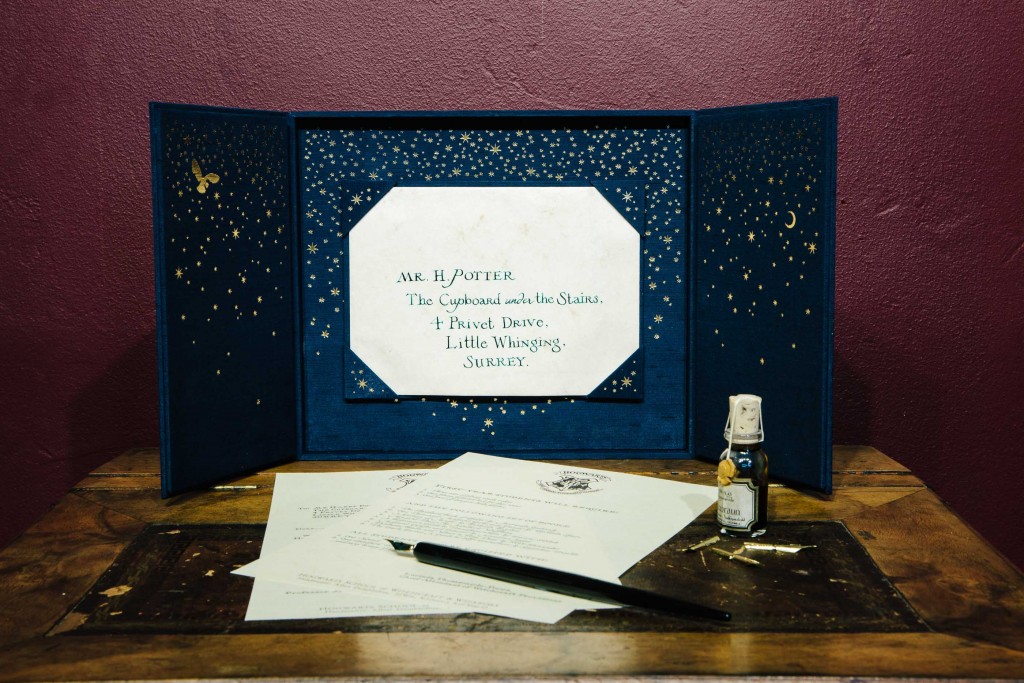 'Without this there would be no story. We wouldn't be at Hogwarts, Harry wouldn't be there. It's the very beginning' says Eduardo Lima, the latter half of the MinaLima design duo, sharing with us the handwritten letter in person for the very first time. The hand-bound display box is itself a thing of absolute beauty. Tied up delicately with a bow, decorated with golden stars and an owl, holding the letter in a silk display. You can see every single emerald green stroke of the quill on the envelope, crafted expertly by Mira. Eduardo's right, of course. Selecting this prop as one of their bespoke replicas is an obvious choice. But how is it created?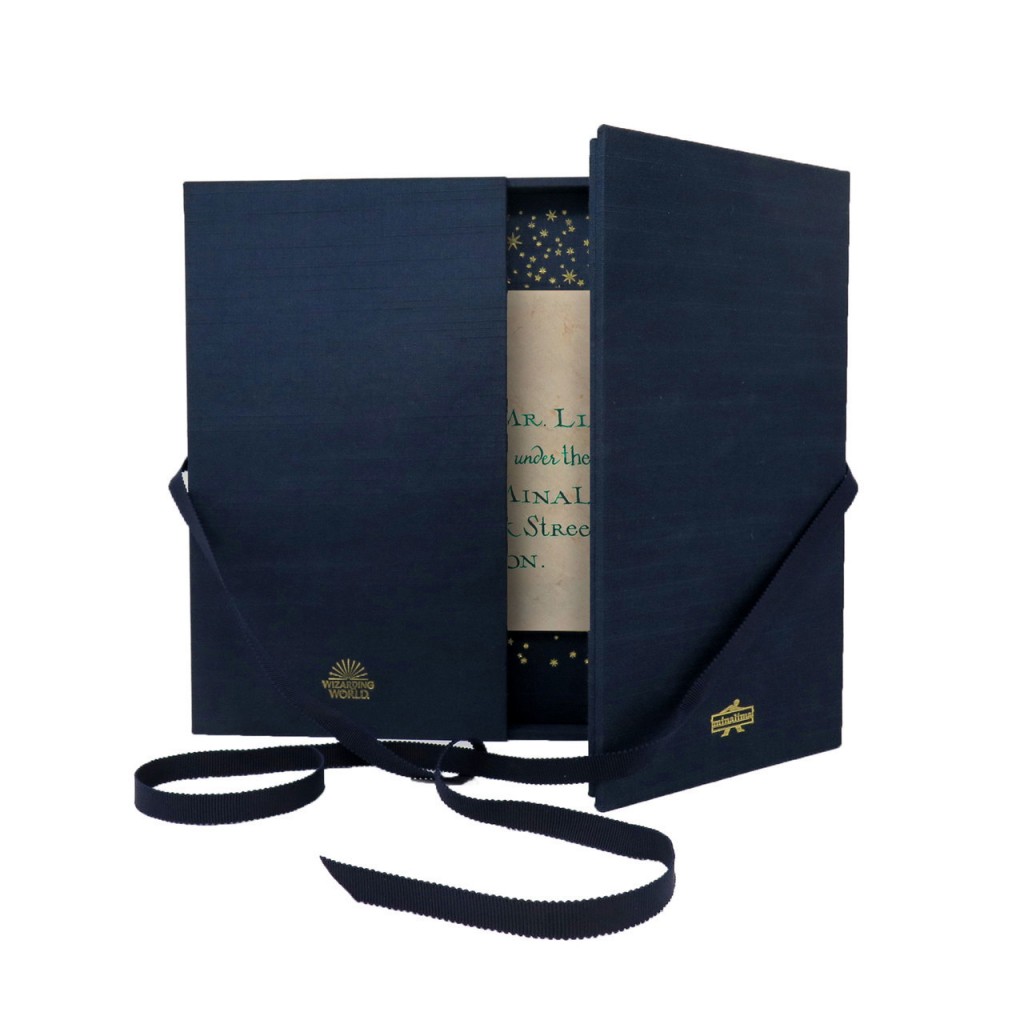 Mira tells us that each letter takes a few hours, with each letter crafted stroke by stroke, blotting the pen to make sure there are no smudges or scratches. The pen itself – sadly not included in the box – is an old-style fountain quill that wouldn't be at all out of place in Hogwarts!
The set includes Harry's equipment list from Hogwarts, which took some impressively tiny writing on Mira's part. Having designed the Marauder's Map we suppose she's used to that by now, and she says that her experience with tiny-calligraphy actually goes even further back than her days on Potter: 'This is what I spent my childhood doing, writing really tiny!'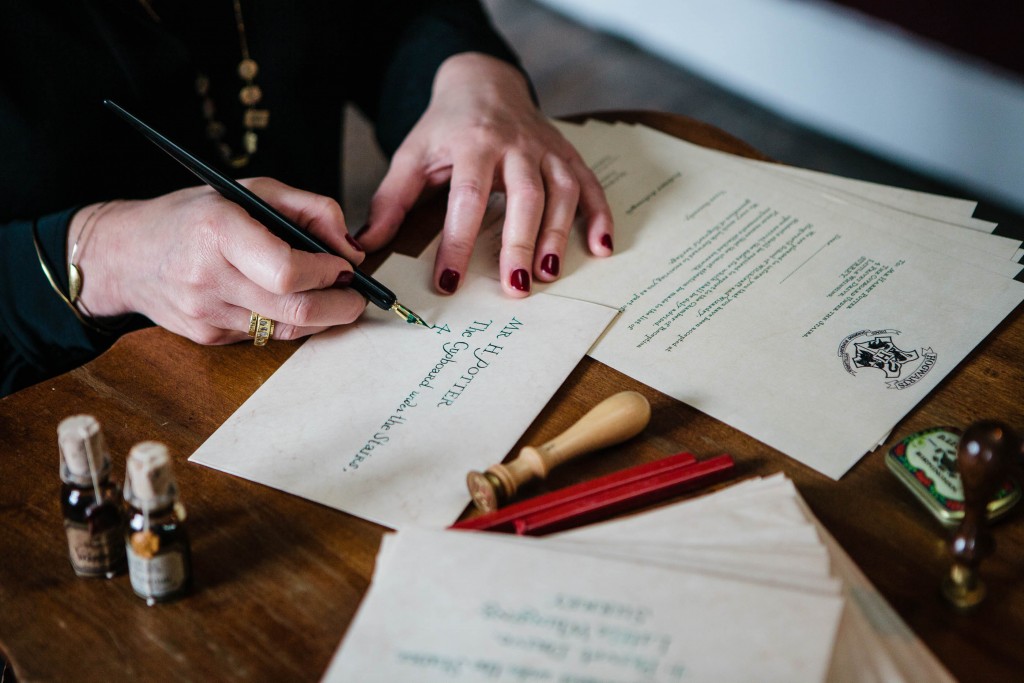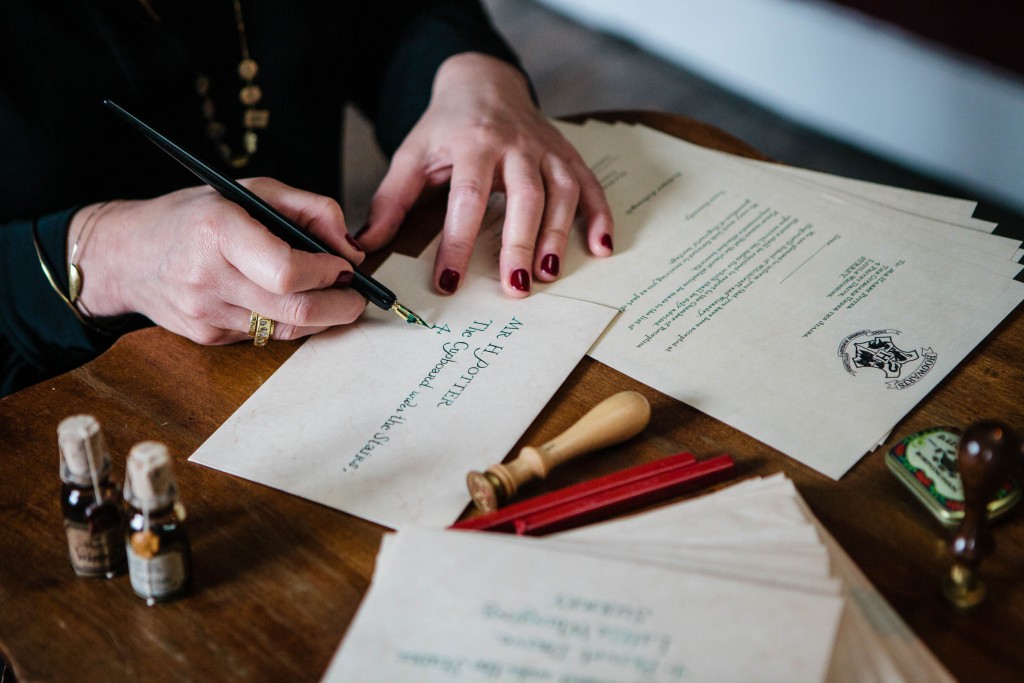 Not every letter in the film was handwritten, making this an extra-special offer. Rather than a printed replica on plain A4, you're receiving an invaluable prop you can be assured was created by the designers for special, close-up shots on the movies. Mira explains how the letters were crafted on set of Harry Potter and the Philosopher's Stone:
'There was probably around twenty to thirty handwritten letters used in the film, the rest were all printed, and we actually had some really thin, well, blank copies. I think the one Dan [Radcliffe] picks up is actually one of the blank ones – isn't it? It was, because I watch it like, 'Why did he choose that one?'! They had to have the thin, lighter ones to send through the air compressors'
Of course, there's a version of this at the Warner Bros Studio Tour. We even caught a demonstration at A Celebration of Harry Potter 2018:
Mira shared another adorable secret about the letters – she crafted special versions for the owls on set to make it easier on them when flying! 'I even made smaller ones for the owls to carry because they couldn't pick the big ones up!'
She tells us 'all the instructions I needed were in the book, it was one of the only props we had very clear instructions on', meaning she crafted the letter exactly how J.K. Rowling wanted to see it, and how fans would have expected to read it – no detail is left out in these carefully created replicas. Even down to the red Hogwarts seal!
The letter is available at House of MinaLima in print form, as a magnet, a card holder – even a tea towel! Eduardo says that Mira actually designed all the letters Harry received from Hogwarts throughout the series, as well as the letter Dumbledore wrote to the Dursleys when leaving him on their doorstep, which is one of the very first shots in the first movie. What we wouldn't give to see their archives!
Explaining the choice of making the letter available for fans to order as a complete replica, Eduardo says:  'We wanted to make something bespoke that you could display, that was something fans could enjoy.'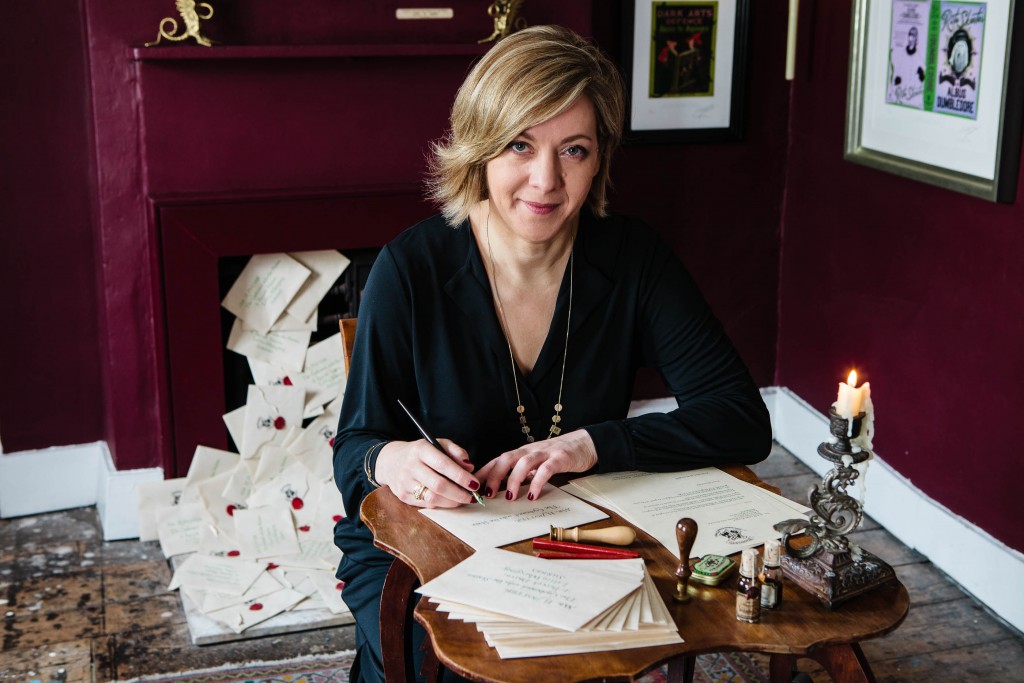 Mira was in charge of this prop, and when a fan orders one of these bespoke replicas, it's Mira who picks up the quill and crafts their order – Eduardo jokes that if Mira was suddenly Out of Action this would be over – he'd have to pick up the mantle! But that's testament to just how special these letters are – try as you might, nobody will never master McGonagall's handwriting quite like Mira!
Personalising the Hogwarts Letter opens up the opportunity for all sorts of fun – we saw a letter addressed to a customer with a 'museum under the stairs', and addresses that reach across the globe. We wanted to know if anybody had ordered a different character's Hogwarts acceptance letter – Hermione's, perhaps, or Ron's? Mira and Eduardo said they had actually received an order for Sirius Black's acceptance letter!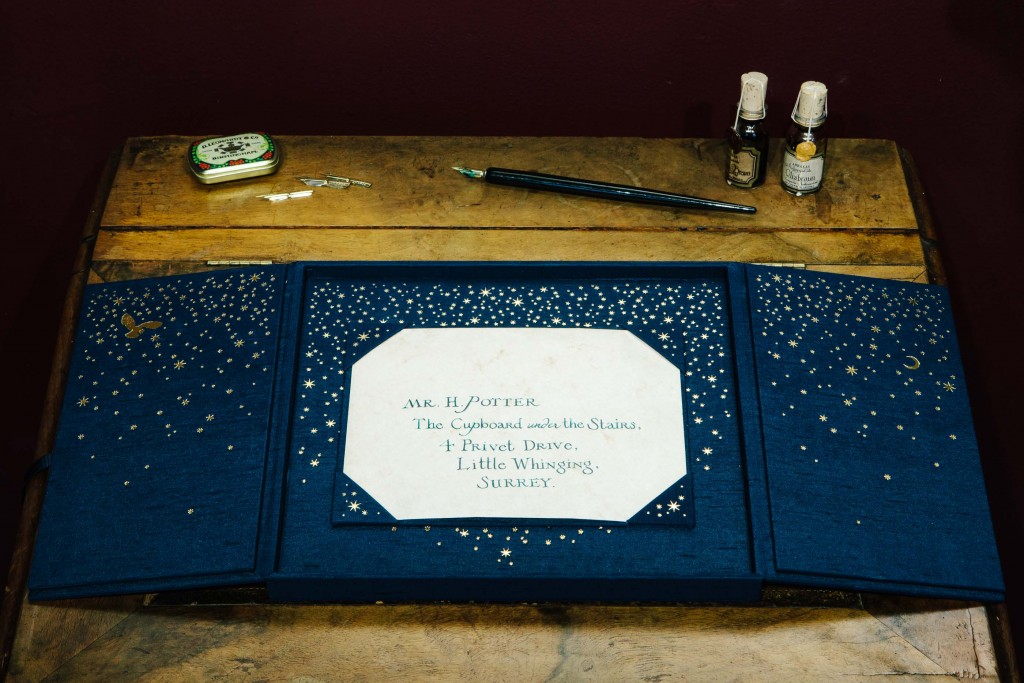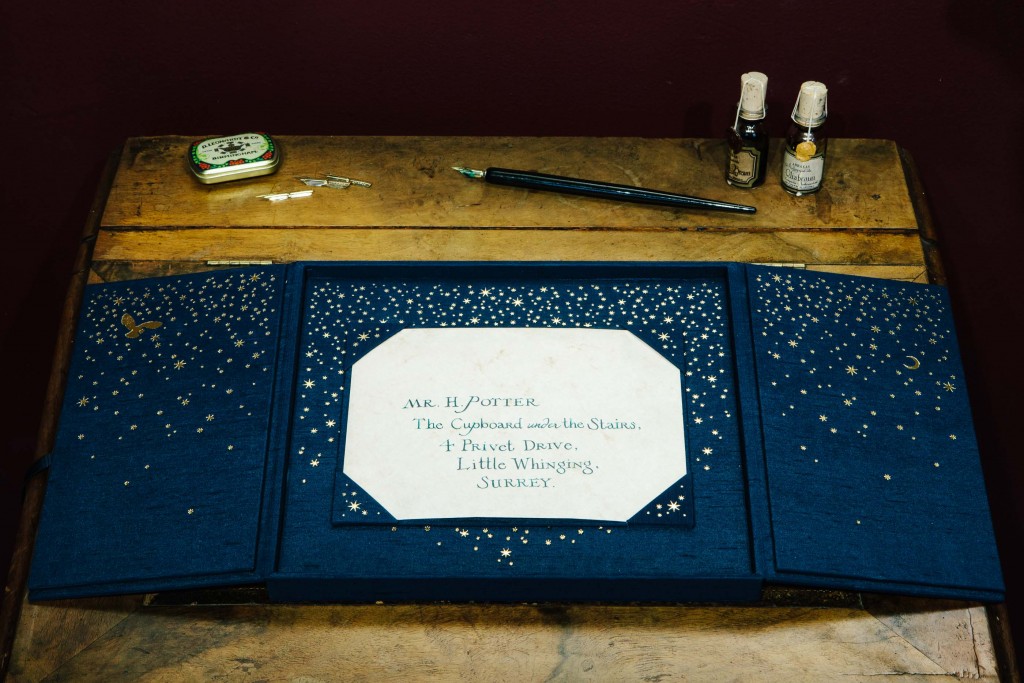 It's a one-of-a-kind opportunity to own a treasured memory from the films. Order your exact prop replica of the iconic Hogwarts Acceptance Letter at minalima.com, or a personalised version of the letter here.
Thanks to the MinaLima team for their take on the story of the Hogwarts letter, and for giving us a look at this beautiful new replica!