Leaky is on YouTube! The Magical Emporium: Episode 1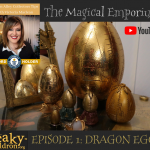 Apr 21, 2019
Victoria Maclean – expert collector and Guinness World Record holder for most official Wizarding World memorabilia – is helping Leaky kick off our YouTube channel with a brand new bi-monthly collectors series, The Magical Emporium!
The series will see Victoria explore the world of collecting official merchandise, featuring trends, tips and others with the know-how in all things Wizarding World merch. Do you know your official products from your fan-made wonders or rip-off copies? In a special feature exploring more of the questions and collections she posts to her own YouTube channel:
This week's episode, Dragon Eggs, features a Potter-themed egg hunt (seeing as it's Easter weekend – this is clearly how Potter fans celebrate, right?), and Victoria shares her collection of dragon eggs and triwizard eggs, including a Japanese musical triwizard egg, a beautiful necklace and an incredible replica of the golden egg Harry uses to solve the riddle leading up to the second challenge of the Triwizard Tournament.
See the video below, and subscribe to Victoria here, and Leaky's new channel here!