Weekly Round-Up: Emma Thompson Hosts SNL, Emma Watson Continues to Lead Gender Equality Movement & More!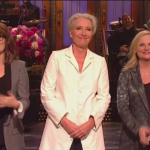 May 12, 2019
Another busy week wraps up at Leaky! We released the second episode of our new YouTube series The Magical Emporium, "Protego Maxima: Protecting Your Collectibles" hosted by Guinness World Record Holder Victoria Maclean and we had the opportunity to see the brilliant new production of Rosmersholm at the Duke of York Theatre starring Cormoran Strike Series lead Tom Burke. We gave fans a look at all that's going on in the Wizarding World while we wait for the next Fantastic Beasts film, as well as some Fantastic fan theories. We also announced a huge reveal from Universal Orlando; the incredibly lifelike animatronic Hagrid that will be featured in the park's new ride, Crimes of Grindelwald's Golden Trailer Award nominations, and some brand new Harry Potter brick sets on the way from LEGO.
In this week's round-up Emma Thompson hosts SNL, some of the Wizarding World's best dressed hit the red carpet at the Met Gala, Emma Watson leads the gender equality movement at G7, Alison Sudol releases new music and a tour dates, Jason Isaacs joins the cast of Scoob, a sneak peek of Killers Anonymous with Gary Oldman and more!
Dame Emma Thompson Hosts SNL
As all Seers amongst us would have foreseen, Dame Emma Thompson earned big laughs in her SNL takeover last night. Her intro saw her joined by comedy legends Tina Fey and Amy Poehler for a Mother's Day bit – definitely the highlight of the episode!
Although there were no nods to her role as Professor Trelawney in the Harry Potter film series, we did get a Beauty and the Beast sketch where Thompson reprised her role as Mrs Potts, as well as an impression of Dame Maggie Smith (Professor McGonagall) in Downton Abbey!
Let us know if you saw the episode – it's certainly been Thompson's week this week! Her movie Late Night will premiere in the UK shortly at Sundance Film Festival London.
Camp Wizarding World Magic at the Met Gala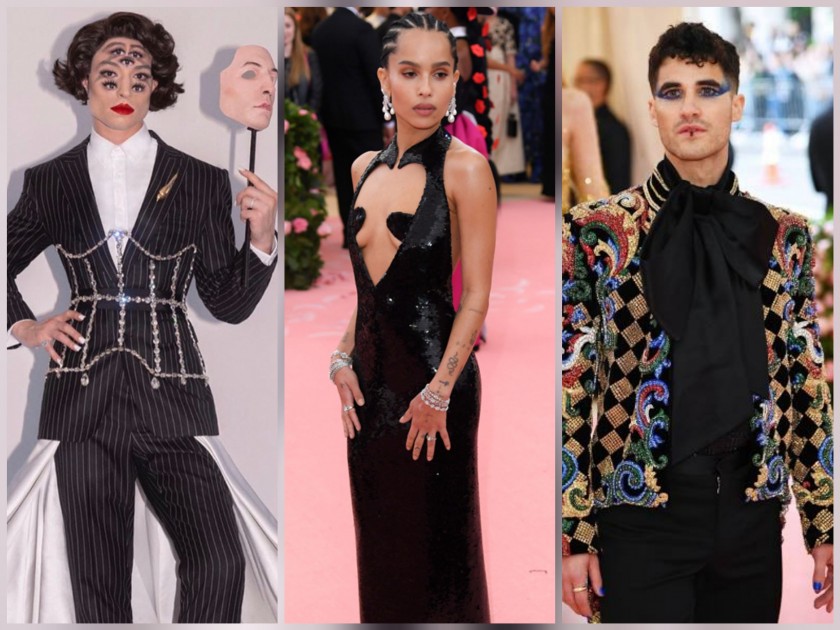 All eyes were on three of the Wizarding World's fashion standouts earlier this week at this year's Met Gala. Ezra Miller who was featured in a photoshoot for Vogue ahead of this year's exhibition themed "Camp: Notes on Fashion", rarely fails to turn heads on a red carpet. Vogue had this to say about his take on the theme,
"the pressure was on for him to deliver on the camp theme. And deliver he did: his trippy beauty look garnered the evening's biggest (and best) double-take."
Zoe Kravitz, another Fantastic Beasts alum also brought her own brand of magic to the carpet in a black sequined cutout gown. She may have located an invisibility cloak for the event just in case of a wardrobe malfunction!
And Darren Criss, co-founder of Starkid Productions, the musical theater company that created the Harry Potter parody A Very Potter Musical and mega award winner for his role as serial killer Andrew Cunanan in FX's The Assassination of Gianni Versace: American Crime Story would have impressed Versace himself.
Ahead of this year's Met Gala Vogue is highlighting the museum's spring exhibit "Camp: Notes on Fashion," based on the 1964 essay "Notes on Camp" by Susan Sontag's with a photoshoot featuring Fantastic Beasts Ezra Miller with actor and musician Keiynan Lonsdale The exhibit will focuses on the history of camp fashion describing it as "love of the unnatural: of artifice and exaggeration." The full article can be found on Vogue.com. The Met's spring exhibit runs May 9-September 8, 2019.
Emma Watson Supports Women In and On the Field
Emma Watson, a champion for women's rights, continued her work for gender equality at a meeting of the G7 Gender Equality Advisory Council in Paris this week. French President Emmanuel Macron launched the panel in February as a subsidiary of the G7, a group made up of the seven most advanced economies in the world that convene regularly to examine global issues. Watson is back in Paris meeting with the council to finalize their proposal before G7 Leaders Summit in late August.
  Watson was also one of a select group of famous faces asked to reveal the names of this year's England Women's World Cup team. In order to bring extra attention to event Watson, Prince William and David Beckham came out to announce the squad individually:
Congrats to @DemiStokes on joining the @Lionesses!!! #BeReady ??? pic.twitter.com/KTZFknOXbA — Emma Watson (@EmmaWatson) May 8, 2019
Congratulations to Defender Demi Stokes and her teammates. No need for a dose of Felix Felicis with Emma Watson on your side! The FIFA Women's World Cup is scheduled for June 7- July 7, 2019.
We'll be seeing a talk by Emma Watson on creating a safer, fairer world for women and girls worldwide on Wednesday 15th May in London at 18:45pm BST, as she speaks to Dr Denis Mukwege about his work in ending the use of sexual violence as a weapon in armed conflict. Emma sat with on the G7 summit and as the UN Global Goodwill Ambassador for Women, Emma will discuss the importance of his philanthropy and activism, and what needs to happen next. Find out more here, and look out for our live coverage on Twitter.
Alison Sudol Takes Her New Music on the Road
After a long period away from the music industry, Alison Sudol, Fantastic Beasts Legilimens Queenie Goldstein, released her EP Moon, last fall along with a brave and heartfelt confession of some emotional issues that had taken her away from her music career. Earlier this week she announced the arrival of another new single "The Runner" as well as her upcoming tour dates! Take a look at her post below to see if this Wizarding World witch will be heading to your city later this year. Who know, maybe she'll give her concert audiences a clue as to Queenie's future!

Jason Isaacs Voices Scooby Doo Villain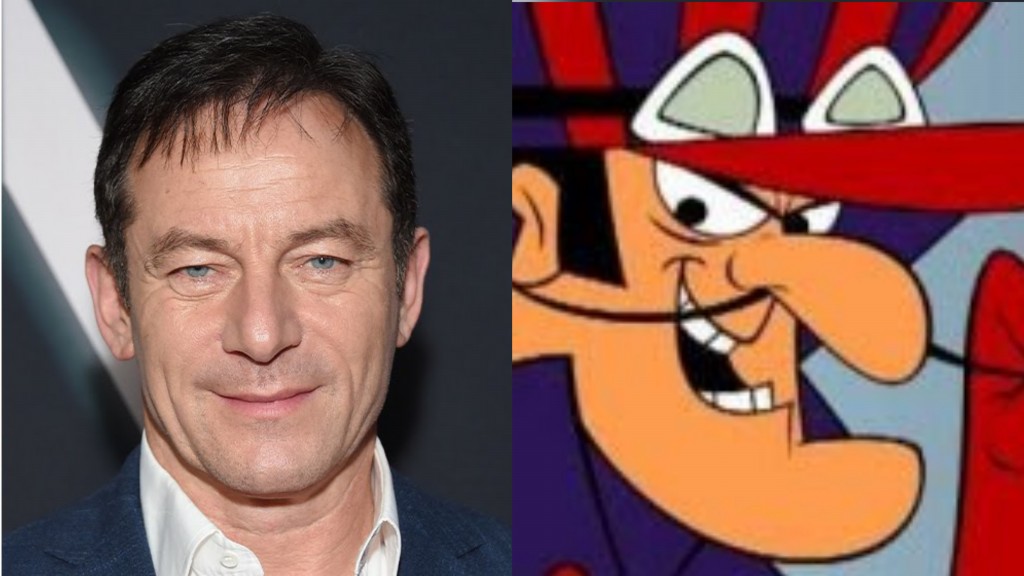 Potter fans have no trouble imagining Jason Isaacs as a baddie. We guess the creators of the upcoming animated Scooby Doo movie Scoob didn't either, which is no surprise since this feature length reboot has Warner Bros and Harry Potter director Chris Columbus behind it. Isaacs will voice one of the iconic antagonists from the original Hanna-Barbera cartoons, Dick Dastardly, who brought catch phrases like "Drat, drat and double drat!" and "Curses, foiled again!" into pop culture vernacular. Isaacs' character, a pilot and race car driver whose vehicles carry bombs and traps, will be the main villain in the new film that chronicles how the Scooby Doo gang all met. It's good thing Lucius isn't around to learn any new tricks from Mr. Dastardly.
It seems to us that someone should change this baddie's attire to green and give him a serpent topped walking stick. Scoob will hit theaters May 15, 2020.
A First Look at Gary Oldman in Killers Anonymous
Gary Oldman, Potter fans favorite godfather Sirius Black, has been busy with screen projects since his 2017 Academy Award winning performance as Winston Churchill in Darkest Hour. His latest film about a support group for a bunch of murders is described this way by Screen Rant,
"Killers Anonymous reveals what happens when the titular support group discovers one of their members is responsible for an assassination attempt on a U.S. senator that has local police on high alert."
Take a look at the preview for the film below which opens in a limited number of theaters as well as video on demand July 4, 2019.

Two Upcoming Films for Brendan Gleeson
Brendan Gleeson who's known best to Potter fans Alastor Mad-Eye Moody stars in the upcoming romantic comedy Hampstead opposite Diane Keaton. The film was actually released in the UK two years ago but is finally making its way to US audiences this summer. Below is a quick synopsis of based on a true story,
"Though Emily (Diane Keaton) and Donald (Brendan Gleeson) live in the same idyllic London neighborhood of Hampstead, the worlds they inhabit could not be more different. She is an American widow occupying a posh apartment she can no longer afford and filling her time with charity work as she struggles to figure out a next step. He is a gruff Irish loner who lives off the land in a makeshift cabin and wants nothing more than to be left in peace. When his home is threatened by greedy real estate developers, Emily believes she has found her new cause-but gets more than she bargained for when unexpected romance blossoms."
Take a look at the trailer below for Hampstead which is available in US theaters and video on demand June 14. Maybe Gleeson starts out like the gruff Auror we know and love but it seems like we'll see a different side to this guy!

Gleeson is also in another upcoming film which will have its world premiere at the Cannes Film Festival May 20.  Frankie is a French American drama about a family one a vacation in Portugal dealing with a life changing situation. You can get a look at Gleeson as the family patriarch in Frankie below which opens in theaters August 28.

Jude Law to Produce True Things About Me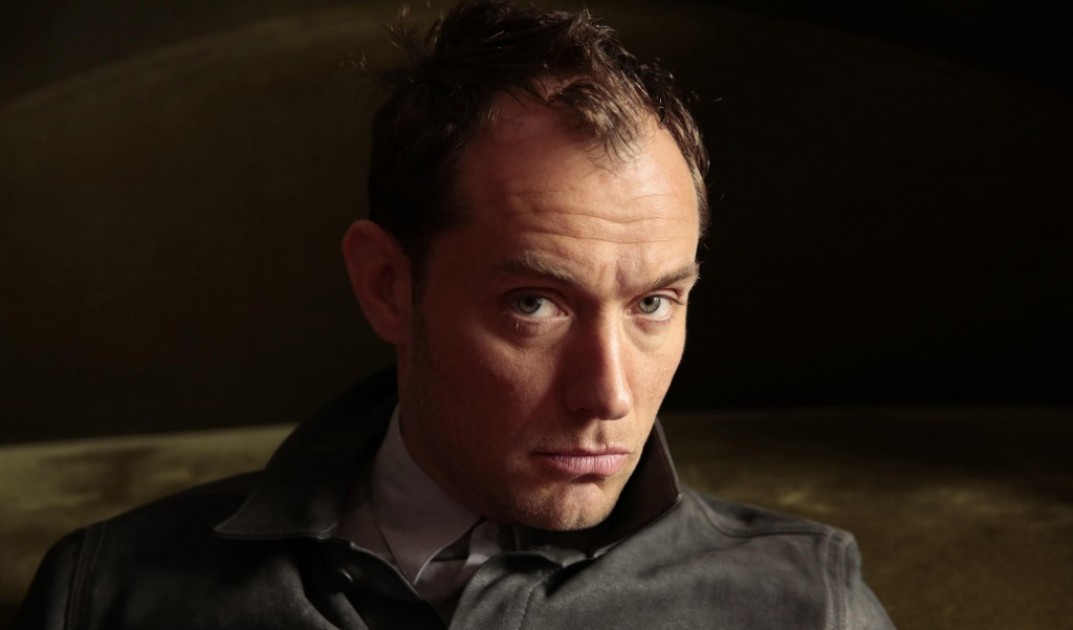 Fantastic Beasts Jude Law is apparating behind the camera and taking a creative role in one of his upcoming projects. The actor who plays a younger Albus Dumbledore in the Wizarding World is producing the BBC Film True Things About Me based on the Deborah Kay Davies 2011 novel by the same name. The story follows a young woman that lives a secluded life who becomes obsessed with a mysterious stranger. The woman will be played by stage and screen actress Ruth Wilson. Law will not appear in the film.
Ok-that's it for now. We'll be back with more news from the Harry Potter and Fantastic Beasts wizards next week. Don't forget to take a look at episode two of Leaky's new YouTube series The Magical Emporium and subscribe to our channel!!