"Dark Arts at Hogwarts Castle" returns to Universal Studios Hollywood this summer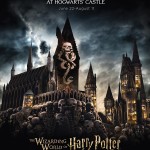 May 31, 2019
The  "Dark Arts at Hogwarts Castle" attraction comes to Universal Studios Hollywood this summer from June 22 – August 11, unleashing a creepy display of lights, music, and special effects that showcases dark magic, and the creatures and wizards within the Potterverse who practice it.
"As darkness falls on Hogwarts castle, Dementors, Death Eaters and other unspeakable creatures from Aragog and Mountain Trolls to Thestrals will cloak the castle with sinister images from the darker side of magic—even conjuring the visage of Lord Voldemort himself, until the Patronus spell—one of the most famous, difficult, and powerful defense of the Dark Arts charms in the wizarding world—is cast.
This spectacular light projection experience is accompanied by an exclusive musical arrangement that emanates in a surround sound environment. It was conducted by prolific arranger William Ross and recorded by the London Symphony Orchestra in London, based on the original scores composed for the film series created by Academy Award-winning composer John Williams."
Leaky was able to attend the premiere of this new attraction in April.  Our coverage includes a livestream of the event plus an interview with Stephen Siercks, Senior Director of Entertainment Production.  Check it out but be aware that the recorded livestream video has spoilers if you want to wait and see the show for the first time yourself.
Locals who are lucky enough to have the opportunity to make repeat visits can purchase a California Neighbor Pass for $149.  This pass is good for 175 days over nine months, excluding most weekends.
More information about the California Neighbor Pass and other Annual Pass options, are available at www.UniversalStudiosHollywood.com/tickets.
Will you be heading to the Wizarding World at Universal Studio Hollywood to experience this new Dark Arts at Hogwarts Castle show? Lets us know in the comments or via our Facebook, Twitter, or Instagram!