Interviews: Hagrid's Magical Creatures Motorbike Adventure Opening Event with Gary Blumenstein and Alan Gilmore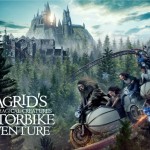 Jun 11, 2019
During the day-long media event culminating at Hogsmeade in Universal Orlando Resort's Islands of Adventure theme park on Tuesday, June 11, Leaky previewed Hagrid's Magical Creatures Motorbike Adventure in advance of its official public opening on Thursday, June 13. As a part of that inside look at the attraction, Leaky correspondent Kathy Paz and editor Dawn Johnson spoke to Universal creatives Gary Blumenstein and Alan Gilmore about the design process that went into creating the magical new ride.
In these exclusive interviews, we also sought to bring fans more information about hidden details, the storycoaster's backstory, the featured creatures, the incredible animatronics, future attractions and, of course, Blumenstein and Gilmore's favorite parts of the ride!
Gary Blumenstein – Creative Director – Universal Creative 
Q: One of the things about Harry Potter fans is that we're sticklers for detail – we look for theories and meaning inside everything. 
As a creative, what are some of the special details – especially some of the ones that aren't as obvious, that fans aren't gonna want to miss – that they're going to want to look out for?
A: That's a very good point. We always start our design with that in mind, that Harry Potter fans are so in tune with what the [Wizarding] World is and what they expect from the world, so that's how we basically start out our creations.
From the queue all the way through to every detail and prop, we have references that refer to the books, we have references that refer to the films. We go through a long process with Warner Bros. and the UK film team in making sure that everything we're doing is authentic to the books, or if it's a new bit of content, that it makes sense in the world, and that they approve on it."
Q: Do you have a particular favourite?
A: The motorbikes and sidecar, the idea that you actually get to ride the vehicle you see in the movie, that Harry rides with Hagrid. It has such a strong, important moment in the beginning of the series when Hagrid rescues Harry, right to the end when they're in the Battle of the Seven Potters.
Also creating for the first time the visuals of the Skrewt – something that fans read about and loved but never really had an official design to it, and I think we've brought those to life in an incredible way.
Q: We've heard a little about the ruins, that they existed long before the Hogwarts castle was built, but what's your backstory? In your mind, what are these ruins? 
A: More from a design standpoint, it's not really an official story behind the ruins, we just think there's this large ruin behind Hagrid's Hut – that's always been there in our footprint, but this is a great place. If you're a student at Hogwarts you might ditch class, you might hang out here, you might write messages to each other on the walls.
There's also references in the books where Hagrid has students stay after class and help him out with things. So there's references to where Harry and Hermione stay after class to help Hagrid with the Skrewts, trying to figure out what they ate, so there's a reference to that in the queue as well.
Q: Among the creatures that we've seen, a lot of them are ones we've either seen before, in the books, in the movies or at least heard about. While we were walking through the queue, I couldn't help but notice everyone's favourite, the Niffler. Is that a way that you guys kind of tried to also integrate some of the Fantastic Beasts influence?
A: Well because it was referenced in one of the Harry Potter books too, part of one of the classes Hagrid taught, so whilst it's tied to Fantastic Beasts it's still rooted in the original series, but we're excited to bring them to life visually in our queue!
Q: Can you tell us a little bit about what went into creating these animatronics?
A: Quite a bit – this whole effort's been around three years, just under three years, and we really wanted to make the most advanced animated figures we've ever done.
I'm really proud of Hagrid – Hagrid looks incredible. The Blast-Ended Skrewts are amazing, and we have other surprises along the way that you'll see!
Q: Can you hint at those surprises? 
A: Well we've hinted that you'll see Fluffy the three-headed dog, and you see a unicorn and her filly, theres a centaur, devil's snare – it's not a creature as such, but it acts like one!
Watch our interview with Gary Blumenstein below!
Alan Gilmore – Art Director behind Harry Potter's Prisoner of Azkaban and Goblet of Fire and Universal Orlando Resort rides
Q. I have to tell you, for starters, I absolutely loved the teaser that you did with Tom Felton.
A: We love Tom Felton!
Q. It was wonderful! 
A: Tom and I have kind of known each other a long time, and we have a bit of a rapport now, I think.
Q: We could tell…
A: Yeah, even though we see each other once every couple of years, it's like two friends–like, instant connection.
Q: Did you tease him that you left out the Hippogriffs just for him?
A: Absolutely. There's a lot more we did that night you didn't see. We were teasing each other continuously. In fact, we all played music together, hung out together–it was pretty fun.
Q: That's fantastic! Well, we're so excited to see all these magical creatures that we've read about but have only imagined, because, like the Blast-Ended Skrewt, you know, [it's] not in the films…
A: No one's ever seen it.
Q: Right! We have noticed though, that with the increased interest in Fantastic Beasts and the expansion of the Wizarding World, there are so many creatures.
A: Absolutely.
Q: How did you choose the ones that you did?
A: Well, it was a process of joining all the creative forces really–Universal Creative, Harry Potter Warner Bros. film-making team and J.K. Rowling's creative team. We all joined together. We discussed what this should be. As we know, J.K. Rowling's books go in every direction; she's created so many–many, many, many–characters and creatures. We had to edit that down to the best storytelling, so we created our story, and then we designed around that. It was a case of bringing the right creatures in–more, studying Hagrid, what creatures did he nurture.
We went deep into the books. There are a lot of details here from the books. Even though the place is new and different, it's actually very familiar, and you'll find many of these stories come straight from them. We went deeper into the Monster Book of Monsters, and we created new pages that have never been seen before. So if you go deep under the rooms here, you'll find a room that's his Magical Creatures class, and all on the walls there's these new pages of the Monster Book of Monsters that have never been seen before. They're created by the same people who created the Monster Books, so everything we've done here is authentic and absolutely perfect for what we'll be seeing in the films as well.
Q: Now, can you tell us, will we potentially see more of these creatures in some future attraction?
A: You never know, like, I always get asked this question–what's next? What's the next big thing?–and I'm always throwing out ideas. It's all about the collaboration really, what feels right. We want to see how this goes. We want to see how people enjoy it and what they get from it. We'll then watch what they say and that will help us create the next thing.
Q: Now, what's your favorite part of this ride?
A: I like it all. I have to say, I like it all.
Q: No, no, what's the best part?
A: I think just being on the motorbike. It's stunning. It's absolutely stunning. It's unexpected, really, when you get on it the first time.
Q: Sidecar or driver?
A: The motorbike. Up front. You have to go up front.
But every position is different, that's what's really interesting. 'Cause unlike many theme park rides, in a way, where you have the same experience all the time, this actually does give you a lot of unique perspectives. If you go right to the back, you see different things. You see how everybody else reacts. If you go right to the front, you're the one leading, and you get to see everything firsthand. And that's quite exciting.
Watch our interview with Alan Gilmore below!
It was a pleasure interviewing both gentlemen, and we could have asked them questions for ages! We love that so much thought went into the design of the attraction and that the team behind the process was clearly committed to creating an immersive magical experience that remains authentic to the wizarding world J.K. Rowling imagined. Which details did you find most interesting, Potter fans?
For the full recap of this media event celebrating the opening of Hagrid's Magical Creatures Motorbike Adventure, including these interviews, the Q&A with Harry Potter cast and the spectacular evening ceremony on Tuesday, June 11, read here.
For our detailed description of the Hagrid's Magical Creatures Motorbike Adventure ride, read here. If you've had the opportunity to ride it, tell us your favorite part! If you haven't, beware, there are spoilers within–so if you'd rather be surprised, proceed with caution!