MinaLima to exhibit at inaugural ComicCon CCXP in Cologne, Germany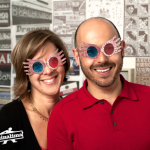 Jun 18, 2019
Magical world graphic designers Miraphora Mina and Eduardo Lima, the dynamic duo behind the London-based House of MinaLima, will attend the inaugural ComicCon CCXP Cologne from 27-30 June 2019.
MinaLima do a fair amount of amazing non-Potter-related design work, but we known them best as the creators of the iconic retro-style designs from the Harry Potter and Fantastic Beasts films.  Their exhibit at the Cologne Comic Con will showcase their Wizarding World creations, including 35 collectible graphic art prints, as well as posters, stationery, and accessories all featuring artwork from the films.
"Miraphora and Eduardo have designed a vivid and visually immersive homage to their 18-year journey through the eight films of the Wizarding World. The walls of the installation will be adorned with a colourful collage of their most recognised designs. Countless graphic props such as The Marauder's Map and Black Family Tapestry have now become iconic designs. Fans and visitors will be greeted with a magical feast for the eyes."
Both Mina & Lima will be available to greet fans at the following dates and times:
Miraphora and Eduardo will meet fans at the MinaLima stand E-023 in Hall 7 on:
Thursday 27 June: 12-1.30pm; 3-4.30pm and 5.30-7pm
Friday 28 June: 12-1.30pm and 3-4.30pm
Saturday 29 June: 12-1.30pm; 3-4.30pm and 5.30-7pm
They will also participate in a panel on Friday 28 June, at 6.30pm in the Thunder Theatre:
"In this panel, they will share insights into their role as graphic designers for the Wizarding World film series, outlining typical tasks and challenges and the process of taking a graphic prop from script to screen. Images of their work will be projected throughout the panel. During the panel, questions are welcome from the audience regarding MinaLima's broader experience designing for the Wizarding World, from publishing to their involvement in Universal Orlando Resort's, The Wizarding World of Harry Potter – Diagon Alley."
Will you be attending ComicCon CCXP in Cologne?  Tell us about your experience!  Tag @Leaky in your tweets and Facebook posts, and  @theleakycauldronnews on Instagram.