Evanna Lynch Will Apparate to Orlando for LeakyCon 2020!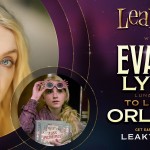 Aug 24, 2019
Mischief Management announced that Evanna Lynch will be joining the lineup of special guests for LeakyCon 2020 in Orlando, Florida yesterday!
Lynch is best known to Potter fans for her portrayal of kind-hearted Ravenclaw Luna Lovegood in the Harry Potter films based on J.K. Rowling's iconic book series of the same name. Lynch was a fan of the series before she was cast in the role and perfectly embodied the beloved Lovegood, who was unique among the characters for having an other-worldly, flighty aura and open-mindedness which no way conflicted with her love for knowledge and learning.
After the eighth film, Harry Potter and the Deathly Hallows Part 2, wrapped, the actress expanded her repertoire to include television and stage appearances and has in recent years turned in some fresh, stunning performances in productions such as Disco Pigs and the recent Games for Lovers. She also filmed Addiction: A 60's Love Story (2015), My Name is Emily (2015) and Madness in the Method (2019).
Lynch has also made a name for herself as an outspoken vegan activist, launching her own vegan podcast–The ChickPeeps. And like Lovegood, she continues to surprise and enthrall us, competing and making it to the finale of Dancing With the Stars in 2018!
Her addition to LeakyCon's 2020 programming schedule is a huge treat for Potter fans as she will undoubtedly feature in some exciting ensemble panels as well as a mainstage special guest panel.
As reported by Leaky earlier this month, LeakyCon returns to the Orange County Convention Center July 31 through Aug. 2, 2020, which means LeakyCon attendees will be celebrating Harry Potter and J.K. Rowling's birthdays at the convention! Whatever Mischief Management conjures up to mark the event, it is sure to be a once-in-a-lifetime magical weekend.
Melissa Anelli, CEO of Mischief Management and Leaky webmistress, issued a warm statement with the announcement of the big news, saying:
"Orlando has been such a wonderful home to us in the past, and we are always being asked to bring LeakyCon back there. Gathering the Harry Potter community together there again for Harry's birthday will mean a magical weekend full of fandom, fun, and family."
Having Evanna Lynch in the mix confirms the premiere unofficial Harry Potter fan convention as the go-to destination for the fandom in 2020–and fans can now purchases tickets, which went on sale yesterday at 1:00 p.m. EST. So, mark your calendars and gather your galleons! Don't miss out on the opportunity to attend LeakyCon in Orlando and meet the fabulous Luna Lovegood. Tickets are sure to fly faster than a Firebolt!