Wizarding World app now available in UK, Ireland, and U.S.
Sep 24, 2019
Pottermore's new sister site, Wizarding World, recently launched an app.  You already know this if you have registered for your "Wizarding Passport" and received an email invite to be amongst the first to explore the app.  The app was first tested in New Zealand, rolled out in Australia and Canada, and is now available in the UK, Ireland, and the United States.
You'll need your Wizarding Passport to login.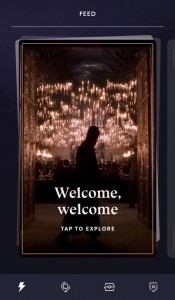 Once you've logged in, your Wizarding Passport is viewable in the app, in the fourth icon, shaped like a badge, on the far right.  It displays your House, your Patronus, and your Wand from your past Pottermore sorting.  They've promised a new Sorting Ceremony coming soon but the backlash against this idea has been strong, with most commenters stating firmly that they refuse to risk not being sorted into their preferred house again.  Let's hope the new Sorting Ceremony is optional, for those who wish to change houses and new users only, and not mandatory for everyone to be re-sorted.  Many fans have warned that they will refuse to use the app if they are required to be re-sorted and don't get into their house again.  Without more information yet on whether the re-sorting is mandatory, we can only hope that Pottermore/Wizarding World take these concerns seriously.
Features are still being added to the app but it is already shaping up to be a wealth of both information and fun and games.  As you explore further, you find more content, kind of like a virtual version of Hermione's beaded bag with its Undetectable Extension charm.  Most of this content is replicated from the Pottermore website, but some features are unique to the app.
Today, Tuesday, is designated to be Trivia Tuesday, with new questions added every week.  Have found on my phone that the fourth answer choice is below the bottom of the screen and the screen will not swipe up to reveal it, a minor glitch I expect will be fixed soon.
In addition to the weekly trivia questions, there are a variety of quizzes that you can take.
A "Vault" with "a variety of treats and offers" is listed as coming soon.  This sounds like it could be an area for forthcoming in-app purchases.  It's the third icon from the left, shaped like a treasure chest.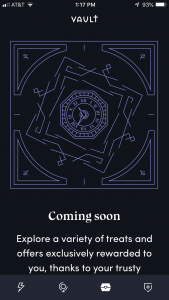 The second icon from the left, which is in the form of a globe, takes you to the "Discover" section, comprising News, Features, Quizzes, Wizarding Weeklies, and Featured Topics.   There is a lot of content here already, and it's easy to just start clicking and reading everything, and get lost for hours.  This is ideal if you are commuting to and from work or school (erm, assuming you aren't driving!).  I'm particularly excited about the Wizarding Weekly feature, which is like an in-app magazine.
From the first icon, the lightning scar, you can swipe left to reveal polls, where you can compare your answers to the responses from others in your house, video clips, quotes, and more.
The Wizarding World app can be downloaded from App Store and Google Play where available.