Theater Round-Up: First Look at 'Cursed Child' San Francisco Cast, New 'Cursed Child' Trailer, New Details on '1917' and 'The Accident'
Oct 18, 2019
This week's theater round-up covers this release of first-look photos for the San Francisco cast of Harry Potter and the Cursed Child and includes the new trailer for Cursed Child featuring the London cast. It goes on to recap updates on alums' other projects, including Jamie Parker's 1917 and Jack Thorne's The Accident and His Dark Materials. As for appearances and recognitions, Maggie Smith and Sonia Friedman have been honored as part of the Evening Standard's Progress 1,000 and Helen McCrory will join as cohost of the 65th Evening Standard Theatre Awards to participate in honoring leading industry colleagues. Finally, James Snyder will make a special appearance for Russ Kaplan's Broadway Jazz Session next week.
Read on for more details!
First Look Photos Released for Cursed Child San Francisco Cast
The first official portraits of the Cursed Child San Francisco cast have finally been released. With preview performances beginning Wednesday, Oct. 23, 2019 and the Dec. 1, 2019 opening fast approaching, it was time to get these actors in costume!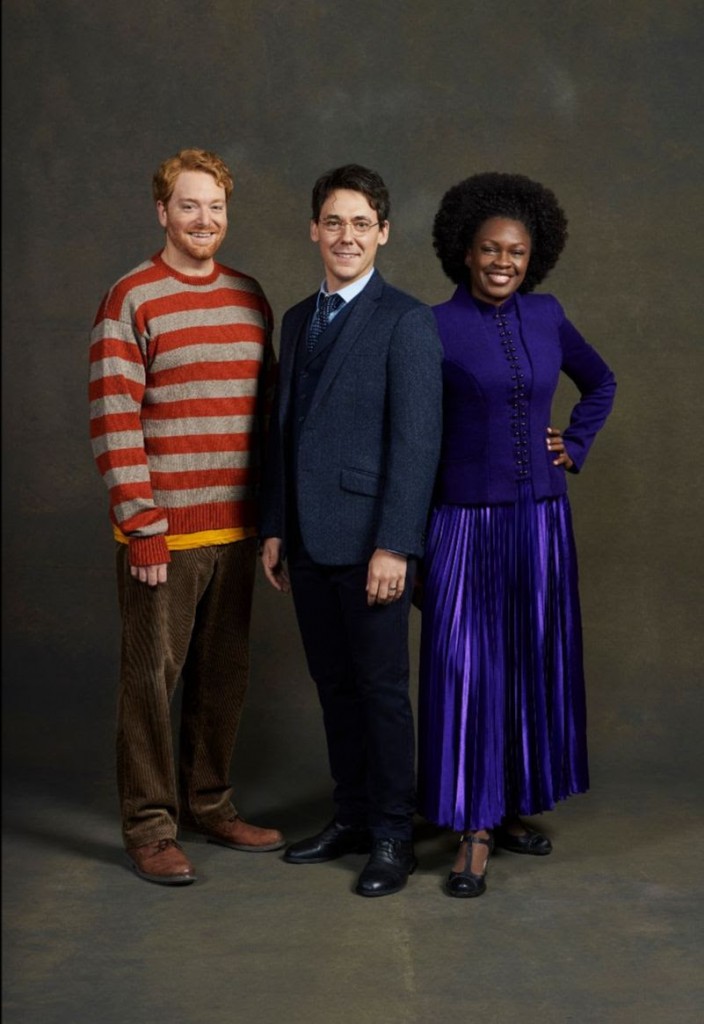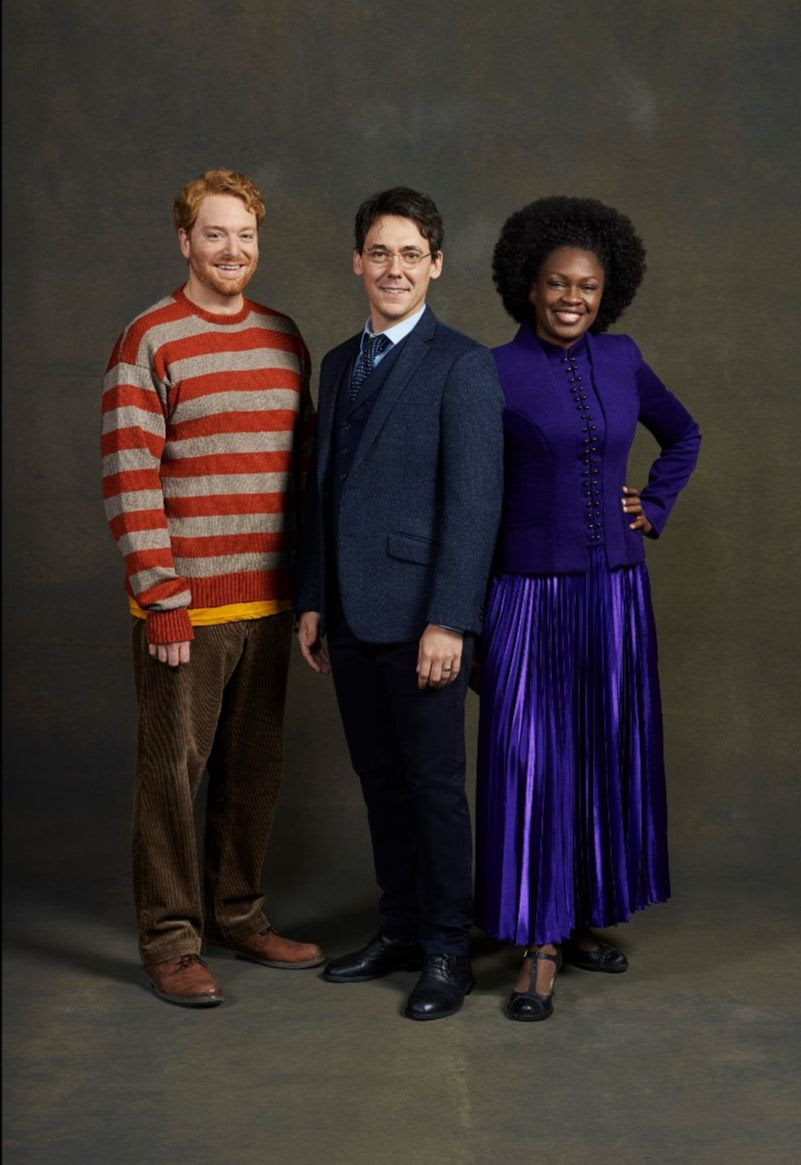 First up, photographer Kevin Berne captured longtime friends Ron Weasley (David Abeles), Harry Potter (John Skelley) and Hermione Granger (Yanna McIntosh). This Golden Trio looked quite comfortable with one another!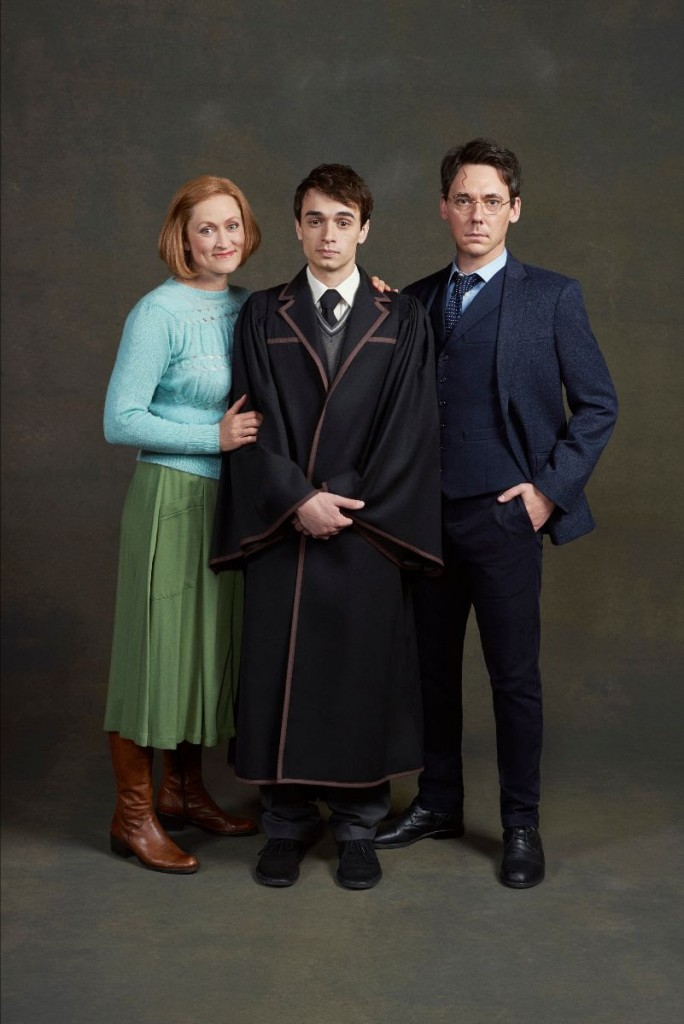 Next, a serious Harry Potter (Skelley) was joined by his smiling wife, Ginny, portrayed by Angela Reed, and their uncertain son Albus Severus Potter (Benjamin Papac) for a Potter family portrait.
Likewise, Ron (Abeles) and Hermione (McIntosh) were joined by daughter Rose (Folami Williams) for a family portrait, and this crew wore smiles all around.
An unflinching Draco (Lucas Hall) and anxious Scorpius (Jon Steiger) make up what remains of the Malfoy family.
And though future best friends Scorpius and Albus appear on edge with their parents, hinting at the tensions in those relationships, they appear much more relaxed with Rose, a trio in their own right!
Tickets to the two-part production are currently on sale through June 20, 2020, at HarryPotterOnStage.com or in-person at the Curran Theater box office.
To further ramp up anticipation for the show, watch the newly-released trailer, which features the current London cast, below!
New Details on Sam Mendes' Upcoming WWI Epic 1917
Jamie Parker, the first actor to bring Harry Potter to life in the London production of Cursed Child, is set to star in an unspecified role in 1917, Sam Mendes' upcoming WWI epic. While nothing is yet known about Parker's character, some interesting details about the film, which opens Dec. 25, have emerged.
Mendes revealed in a recent Vanity Fair article, as well as at New York Comic Con, that the story will unfold in real time, and the film will appear to hold a single unbroken shot in order to maintain that continuity and immersion over its 1 hour and 50 minute run.
According to Movizark, he explained:
"It was fundamentally an emotional choice. I wanted to travel every step with these men—to breathe every breath with them. It needed to be visceral and immersive. What they are asked to do is almost impossibly difficult. The way the movie is made is designed to bring you as close as possible to that experience." 
In order to accomplish this in a film with incredibly complex exterior shots and special effects, the crew not only needed an advanced camera system but also a special script that plotted precise camera moves. Mendes elaborated:
"Every location had to be exactly the correct length for the scene. We had to walk every step the characters would take long before we designed the sets and built them. I've never rehearsed a movie for as long, or in such detail."
Mendes felt this was the only appropriate treatment for the subject matter, maintaining respect for the soldiers involved while also providing unique entertainment value with the chosen structure. According to the Hollywood Reporter, he went on to explain the plot of the film to audience at the NYCC panel, saying:
"'The movie's set in two hours of one day in the spring of 1917. The Germans — this is obviously true — retreated to the Hindenburg line and, for a few hours, the British had no idea where they'd gone.' In their wake, the Germans had rigged the area they'd abandoned with landmines and snipers, as well as destroying the towns they'd left.

 "'It's across this landscape that the two young men are sent to preserve the lives of 1,600 men who are to be sent to attack the Hindenberg line.' 
Mendes concluded by reflecting on the place of this film in his professional filmography, well as its appeal and import. He said:
"For me, it's been the most exciting job of my career. I want people to see it en masse. I think there's a human story that speaks to men and women alike. I'm really proud of it, and I hope people see it."
We're excited to see the role Parker plays in this groundbreaking wartime drama. It looks to be a tour de force of directing and cinematography, and one not to be missed!
 Jack Thorne Talks The Accident, Previously Titled The Light, and His Dark Materials
Jack Thorne penned an exclusive for iNews in which he discussed his reasons for writing the Channel 4 drama The Accident, previously promoted under the working title The Light. The Accident completes his trilogy of "blame" series about cultural and social issues of import in modern Britain.
Thorne began by addressing the difficulty of dealing with a true tragedy–and the real pain of those involved. He acknowledged that you never want to appear to profit from someone else's misfortune, so he shied away from the Grenfell story when approached by three difficult producers. He said:
"I ran away from them all, partly because it's very clear all the facts are yet to be told in that case, but mostly because the idea of getting it wrong – of having people who have lost so much watch something in which you haven't told their story properly – made me incredibly scared. I couldn't cope with the responsibility.

"But I also couldn't stop thinking about it. The idea that this tragedy – one caused by cost cutting and apparently poor safety management – could have occurred on our doorstep, in a supposedly rich country, felt like something that needed writing about. I waited for others to announce projects, they didn't. I waited for the Government to respond in a worthwhile way, that didn't happen either."
Increasingly dissatisfied with the inadequate response, Thorne eventually realized that he did have something to say, and a unique platform through which to say it. He observed:
"Drama is one of the key ways to shine a spotlight on something, and Grenfell felt like something that drama needed to use its spotlight for.

"It couldn't be a fact-based drama about the events of that night – I hope that comes, and soon, by a writer more capable than me. But I felt by fictionalising something, perhaps we could dig into the questions surrounding it."
He spoke to the challenge of getting it right, which he takes very seriously, having an intimate understanding of how people will perceive any failure to correct misconceptions of them. On top of shouldering that responsibility, there is also the complicated nature of law and justice and how it is applied or misapplied. Considering all those factors while developing a television series is a weighty matter. Thorne noted:
"Hard especially, because you're trying to create something which has nuance – no one wants to watch a lecture where the writing is saying: 'Think this, think that.' They want to watch a drama about real people confronting a real problem, and that means imperfection. That means people behaving like people, with flaws, and making the wrong decisions at key moments.

"I hope I haven't let people down with this show. I know that our director Sandra Goldbacher and the incredible cast we managed to assemble, led by Sarah Lancashire, have done my writing more than justice. They were all brilliant, so if there is failure, it is mine. I'm aware of my responsibility, and hope I've delivered on it."
The Accident premieres on Channel 4 at 9 p.m. on Thursday, Oct. 24. Watch the trailer below and read Thorne's full exclusive with iNews here.
Not long after this hard-hitting new drama debuts, you'll be able to view another highly-anticipated series from Jack Thorne. His adaptation of Philip Pullman's acclaimed series His Dark Materials launched Tuesday in advance of its premiere on BBC and HBO next month.
Today is the "global premiere" of #HisDarkMaterials – holy sweet monkey rabbits – I really hope people like what we've done. Everyone has worked so hard. It's been an honour to work with these amazing people on these incredible books. Feel a bit sick. pic.twitter.com/gLZGUXrZEZ

— Jack Thorne (@jackthorne) October 15, 2019
Thorne spoke about the relevance of the adaptation at the world premiere in London. According to the Hollywood Reporter, he observed:
"We live in scary times. And I think there's so much in Philip's books about now and where we're at now, even more than when he first wrote it…The thing that I most admire about his telling is that there's an obvious story to be told, and that's Asriel's story, and he doesn't tell it, he tells Lyra's, and that choice between following the person intent on greatness, Asriel, and abandoning that in order to follow the person intent on goodness in Lyra is such a bold and brilliant choice. And you know, Greta Thunberg…Lyra…there are quite a lot of similarities there."
The first eight-part season of His Dark Materials airs on the BBC Nov. 3 and on HBO Nov. 4.
Harry Potter and Cursed Child Alums Make Evening Standard's Progress 1,000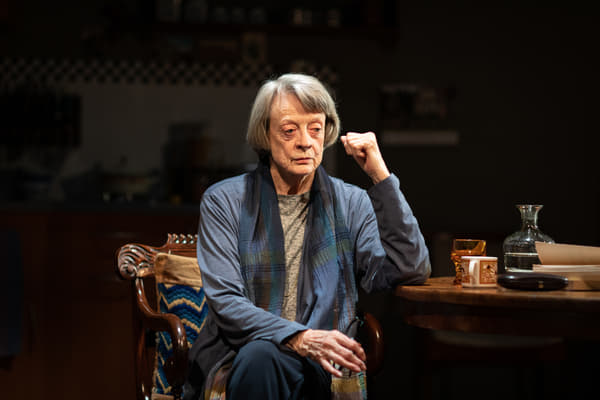 The Evening Standard has released its Progress 1,000 list, naming London's top contributors to theater.
Among this year's most influential people in the industry are Sonia Friedman, producer of Harry Potter and the Cursed Child and Dame Maggie Smith, known to fans as Minerva McGonagall and, mostly recently, star of the stage production A German Life.
As previously reported by Leaky, the production is a solo drama about the life of Brunhilde Pomsel. According to the Hollywood Reporter, Pomsel's story takes place in 20th century Germany and follows her experiences as a secretary in Berlin during the 30s working for employers ranging from a Jewish insurance broker to the German Broadcasting Corporation and, later, Joseph Goebbels.
Broadway World featured a gallery of photos from Smith's preview performances. View more here!
 Helen McCrory Named One of the 65th Evening Standard Theatre Awards Hosts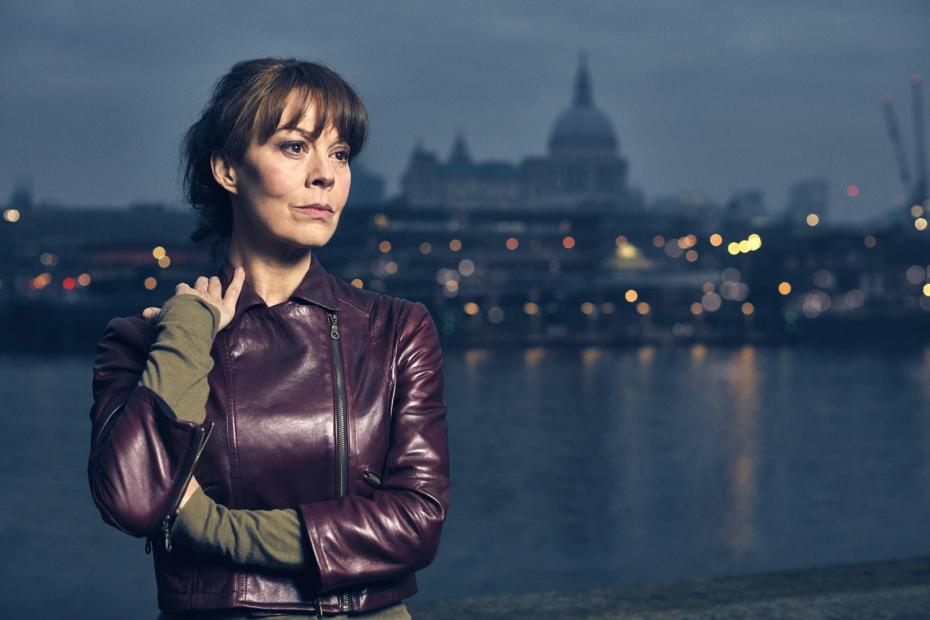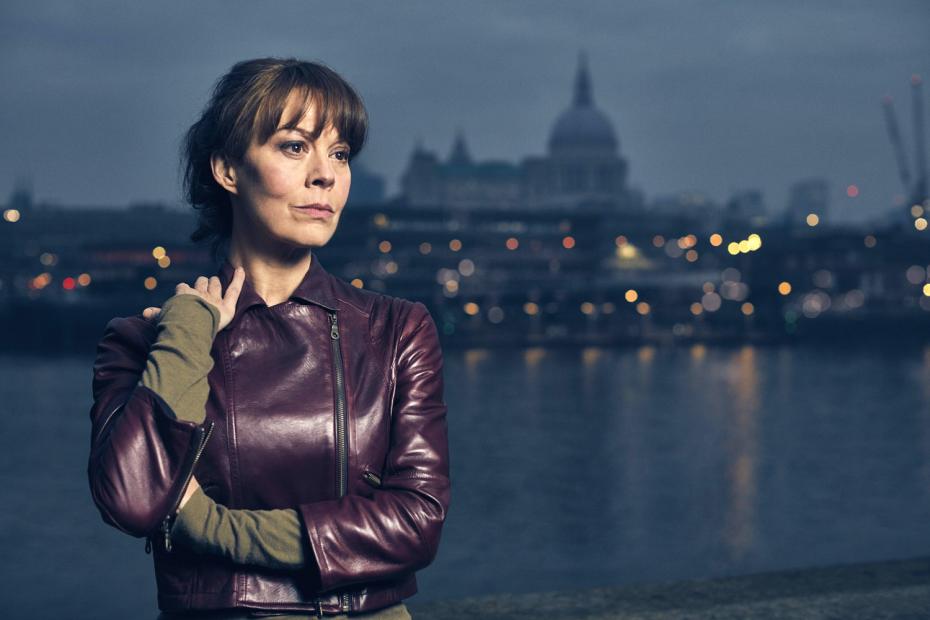 Vogue reported that the hosts of the 65th Evening Standard Theatre Awards have been announced, and this year's guest hosts will be Cush Jumbo, Damian Lewis and Helen McCrory, familiar to Potter fans for her portrayal of Narcissa Malfoy in the Harry Potter film series.
They will join regular hosts Anna Wintour and Evening Standard owner Evgeny Lebedev at the event, which will be held on Sunday, Nov. 24 at the West End's London Coliseum. They will recognize some of the best talent in theater with notable awards such as Best Play, Best Actor, Best Musical and the Natasha Richardson Award for Best Actress.
Anna Wintour enthused:
"London's theatre scene continues to thrive, and I am so thrilled to be cohosting the Theatre Awards again with Evgeny, Cush, Damian, and Helen, celebrating the talent for their outstanding achievements in London theatre."
Stay tuned for more information on how to watch the ceremony; we'll keep fans updated on all details as they are announced.
James Snyder Featured in Russ Kaplan's Broadway Jazz Session
Having some fun next Tuesday with @RussKaplanPlus and the cursedchildus gang @thegreenroom42@eriswea@sarmanisays willcarlyon you guys NEED to hear this! Ticket link in bio! https://t.co/8M6njIMusX

— James Snyder (@thejamessnyder) October 16, 2019
James Snyder, star of Harry Potter and the Cursed Child, doesn't just love theater, he also has a well-established musical background. In July the Broadway cast of Cursed Child performed at "Light in the Darkness: A Variety Show" at the Birdland in New York City. While there, Snyder performed a duet with Nicholas Podany (Albus Potter). Podany called the hilarious song Pigeons, and the duo gave a spirited and immensely entertaining performance before the appreciative crowd.
Now he'll be performing as part of Russ Kaplan's Broadway Jazz Session on Tuesday, Oct. 22 in The Green Room 42. The ticket link is in the bio!